If you're looking for fun epoxy resin crafts projects to DIY look no further than these awesome resin pour ideas!
There are so many resin pour ideas! Whether your just getting started with resin or you've used it before, resin pouring is a fun way to work with resin. Any time you work with resin you are technically pour it, right? When mixing you pour from the first cup to the second and after that you usually pour into your molds. When we talk about "resin pour ideas" what we mean is the ART of resin pouring.
What is resin pouring?
What is usually meant by this is a DIRTY pour. A dirty resin pour is when you have something besides resin mixed in. Paint pouring has been popular for a while and the results look beautiful. Here's an example of a paint pour project: these DIY earrings! In order to make this even better, you can mix with resin as well. This creates a hard durable finish for your resin art! The most popular resin pours are a mix of resin and small amounts of acrylic paint.
The below resin craft ideas all require the same basic supplies. You'll need the following items: two part epoxy resin, disposable gloves, plastic cups with measurements, and stir sticks. These are the 4 basic supplies you need for ALL resin DIY projects. For resin pouring, you also need colorants. You can use acrylic paints, alcohol ink, or mica powders.
Optional supplies include a heat gun (to get rid of air bubbles so you have crystal clear resin!) and many craft stores sell resin kits that have everything to get started. I recommend picking out your own supplies so you can choose silicone for the cups and stir sticks. Once you get started with resin crafting, you will want to keep creating! Having reusable supplies is less wasteful and saves you money. That's a good idea all around!
Resin Pour Ideas
If you're looking for fun resin epoxy crafts projects to DIY look no further than these awesome resin pour ideas!
Tips for working with Resin:
Temperature can affect your project. Make sure your workspace and the resin are slightly warmer than room temperature. You won't get a proper hardened surface if it's too cold. You can also use warm water to prepare your resin before starting your project.
Temperature also affects the curing process. Always check the instructions for your specific resin and verify the resin cures time and make sure you've got optimal conditions.
Temperature also affects the working time! The amount you mix will also affect this. You may have to work in layers – don't try to mix too much at once.
There are LOTS of ready-made molds you can use for projects but you can also make your own molds!
There are different types of resin. My go to is Epoxy resin: it's the most inexpensive, has the widest variety of uses, and is long lasting. It's usually your best option for DIY resin crafts. A type of epoxy resin I also love is Casting Resin. It's a low viscosity resin so it's thin and easily fills in spaces (great for casting!). Another type of resin (epoxy) I also use coating resin a lot! Other types are Polyurethane and Polyester resin.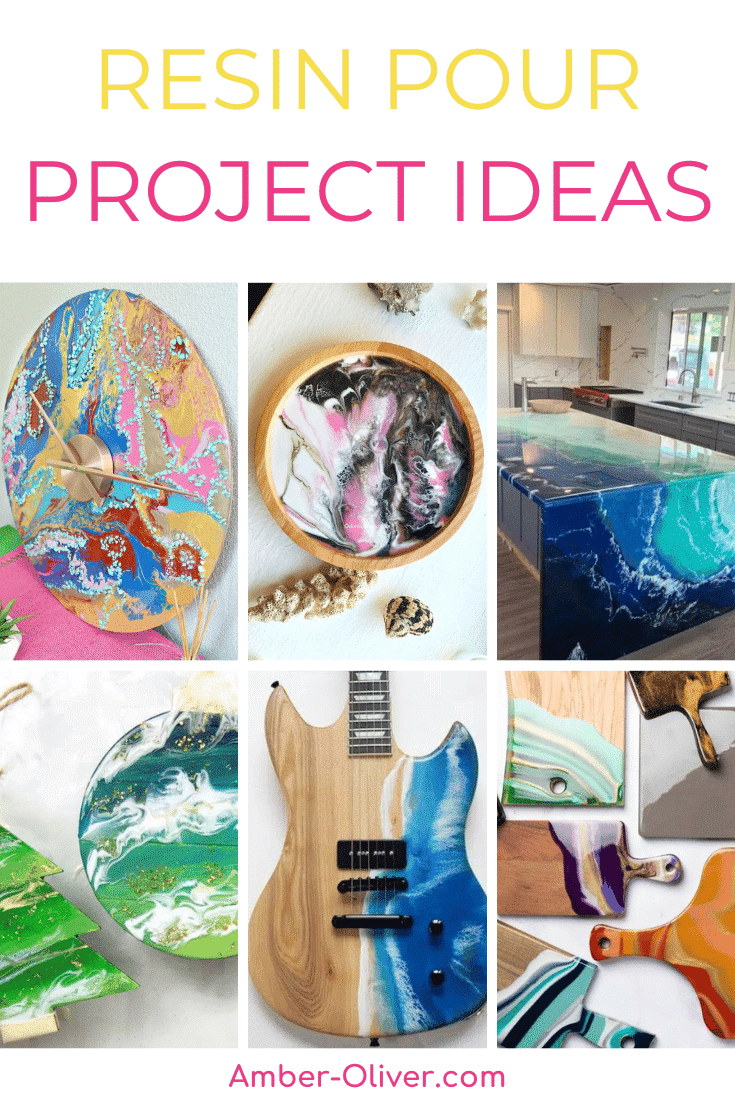 Here are more fun resin projects: