A roundup of 19 DIY epoxy resin tables you can make or buy! From epoxy river tables, coffee tables, dining tables, and more.
DIY epoxy resin projects have become all the rage lately – and for good reason! Not only does epoxy resin achieve an absolutely gorgeous finish, but it's also extremely versatile. You can use it to create epoxy river tables, coffee tables, dining tables, and more. The good news is epoxy tables are relatively easy to make, even if you've never worked with epoxy before.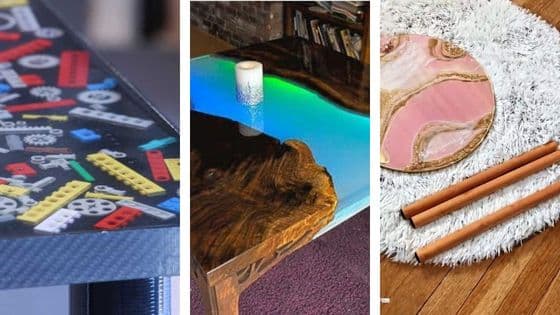 If you follow me on social media like Facebook or Instagram you may have seen the resin pour plant stand I made recently, or the faux marble countertops we added to our bathroom makeover.
It's seriously a special thing to see the transformation when working with epoxy resin! I've done tons of projects as a Resin Crafts Blog ambassador as well! First things first, let's learn a little bit about epoxy resin. 
What is Epoxy Resin?
Epoxy resin is a clear, plastic-like material that hardens when mixed with a hardener.
After the components have been mixed with each other it is converted from a liquid to a cured state.
The mixing ratio of resin to hardener is normally 1 to 1 so that the material can cure perfectly.
However, you will want to follow the step-by-step instructions for the product you are working with to determine how much epoxy to use.
Different products may require a change in the amount of epoxy to hardener ratio.
For example if you are using a deep pour resin you may need to adjust the ratio.
This will ensure you get the best results with the first layer.
What is Epoxy Resin Used for?
It can be used to coat surfaces or fill in voids, and it's often used in place of glass for projects like tabletops.
You can also start with smaller projects like coasters or jewelry dishes if you're new to working with epoxy resin.
For a more advanced project, try using a live edge wood slab like black walnut, or keep costs down by using an mdf panel.
With a little practice, you'll be able to create beautiful, one-of-a-kind table tops that will last for years.
Supplies Needed for Epoxy Resin Projects
It's important to have the right materials and tools when working with epoxy.
The good news is once you have your supplies there is no additional cost for labor.
One of the many things I love about DIY projects!
Start by prepping your work area and ensure you are working with a flat surface.
This is the easiest way to achieve a smooth finish and is especially important with the first pours of resin.
Here are some basic supplies you will need:
heat gun or propane torch (be careful with high temperatures)
plastic trash bags
orbital sander
plastic cups (mixing cups)
plastic knife
disposable gloves – (to avoid a chemical reaction)
100 and 250 Grit Sandpaper
stainless wire wheel (to remove rust from metal)
Tyvek tape (for some projects)

If you are working with uv resin you will also need a uv light.
Depending on the piece of wood you are using for your project, you may also need a circular saw or angle grinder.
The important thing to be aware of is potential problems like air bubbles. You will want to remove these so that your finished project is high quality.
Another quick tip for working with resin is the ambient temperature should be between 65-80 degrees. These are the best temperatures for your epoxy to cure to a perfect finish, and for the two chemicals to combine seamlessly.
In this article, we'll show you 19 different epoxy resin table ideas that you can DIY in your own home. There's sure to be a project here that catches your eye. So grab some epoxy resin and get started on your next project today!
19 DIY Epoxy Resin Tables
Here are 19 DIY epoxy resin tables to inspire you. With just a little experience and hard work you can easily make your own. Plus, it doesn't take much time to make these projects. For the first step you want to determine the best resin to use for your project. The next step is to have fun with it!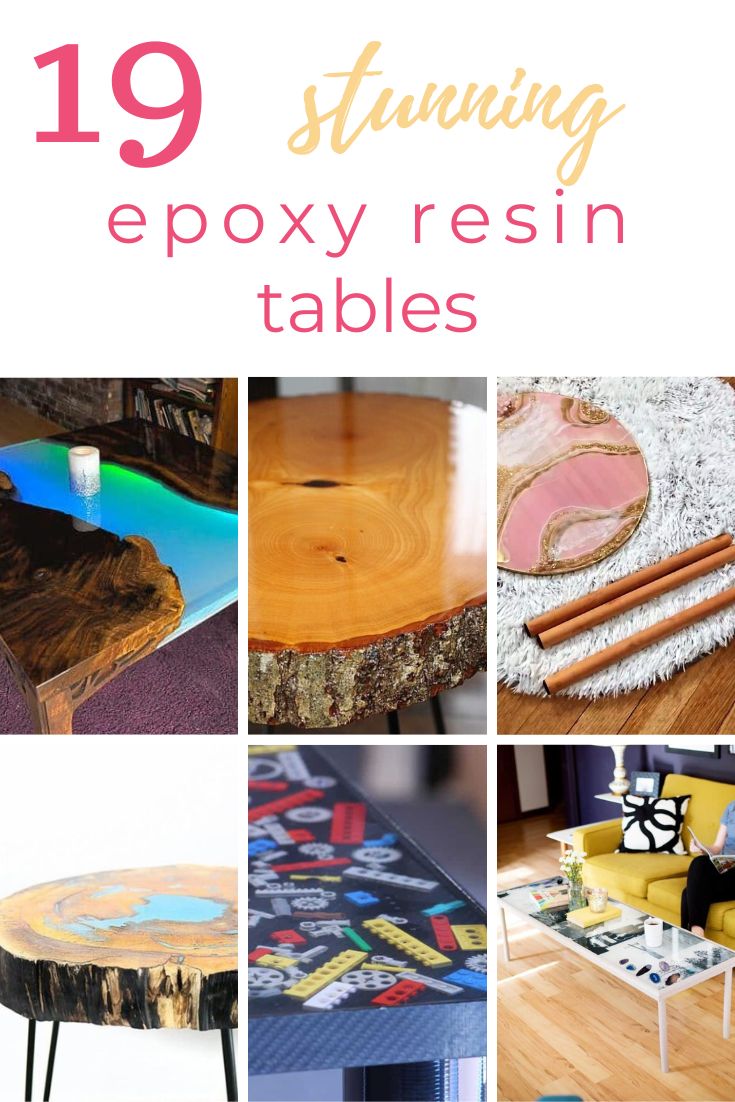 See even more resin projects here: