Learn how to make DIY notebook covers from resin! This project sponsored by The Resin Crafts Blog.
Some people collect stamps or magnets – I collect office supplies! I've never been into journaling or keeping a diary but I make a ton of lists and love to write down things on paper so I always keep a bunch of little notebooks on hand.
I've been working with resin a lot lately and when I found these awesome notebook molds, I knew I HAD to make my own DIY notebook covers out of resin! Of course I had to make them my style with PINK and GLITTER but you could customize these any way you want!
Yield: 1 Notebook Cover
DIY Notebook Covers from Resin
Total Time
1 day
30 minutes
Materials
Acrylic Paint in the color of your choice
Instructions
Prepare the resin. This is a multi-step process so make sure you don't start mixing until you are ready to do the whole process from beginning to end!
Mix EQUAL parts of the hardner and the resin.
Slowly stir for 2 minutes (be sure to scrape the bottoms and sides) then pour from the first cup into the second and mix with a new stir stick for one additional minute.
Add in a few drops of acrylic paint (a little goes a long way!
Pour slowly and carefully into your mold. NOTE: DO NOT OVERFILL! make sure you are NOT covering the holes on the sides!
After your DIY notebook covers have set, you can add the paper in between and put together with notebook rings!
Recommended Products
As an Amazon Associate and member of other affiliate programs, I earn from qualifying purchases.
I love how easy it is to customize resin projects. There are so many things to create (who'd have thought you can make your own DIY notebook covers!?) and they're so easy to make your own style. Adding acrylic paint is my favorite way to color them and I love putting add ins like glitter!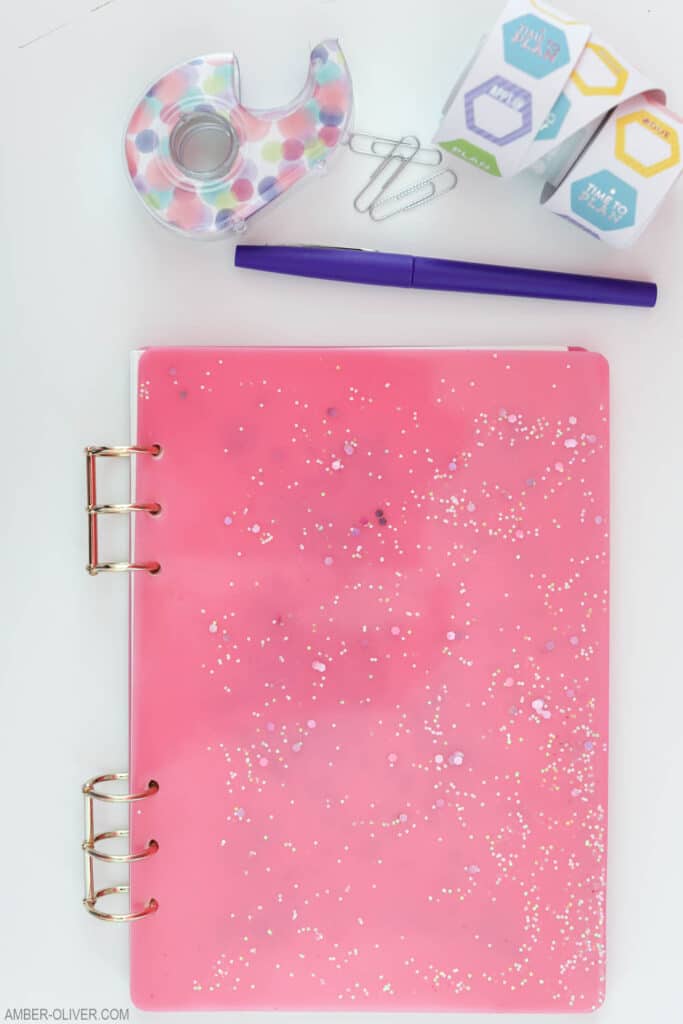 I hope this project inspires you to try creating with resin – it's really a simple project with so many possibilities!