Transform your tired, old wooden floors into something new and exciting! We have 15 DIY painted wood floors to inspire you!
Are you tired of your old, worn-out wood floors but don't have the budget for a full replacement? Consider painting them!
Not only is this an affordable option, but it's also a wonderful way to add a personal touch and creativity to your own home.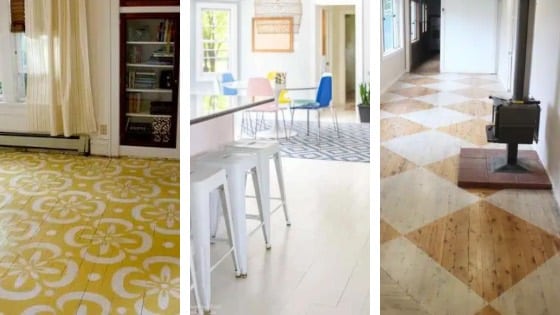 Painted Wood Floors Supplies
With just a few supplies and some elbow grease, you'll have beautiful, customized floors in no time.
You can easily find the supplies at Home Depot, Lowes, or your local hardware store.
Here are some common supplies needed:
High-quality paint – use oil-based enamel paint, wood paint, or latex paint for the best results
Primer
Paint Roller
Paint Brushes
Painter's Tape
Grit Sandpaper
Clear Polyurethane
Damp Rag
Dry Towel
Tips on Painting Wood Floors
A crucial step for your paint project is to choose the best type of paint for your floor.
You can consult with customer service at the paint store, or interior designers to help choose your paint.
This is especially helpful if it is your first time painting a floor.
Benjamin Moore and Sherwin Williams are highly recommended brands. The first step is to determine if you need a coat of primer for your wood floor.
Some paints have primer built-in the paint. Start by painting the outer edges of the entire area with your base coat or first coat of paint.
You don't want to use too much paint. A nice, even coat is the best way to achieve a good paint job. Fill in the rest of the floor using a floor paint roller to save time.
Be sure to follow the instructions for the amount of dry time needed. You will need at least 2-3 coats of paint for full coverage.
Once dry, add your second coat of paint. Repeat with a final coat if necessary.
Consider a Top Coat
Determine if you need a top coat of polyurethane for your wood floor. It's important to follow the instructions for the top coat.
Some finishes take a couple of days to cure, while others can take up to 30 days.
Now that we've talked about some of the common supplies and tips, let's see some real-life DIY painted wood floors. Good luck!
15 DIY Painted Wood Floors
Learn how to paint wood floors in your new home or add a unique spin to your old floors! Adding a fresh coat of paint can do wonders to any room in your home!
So are you inspired to paint your wood floors now? If you have a tile floor that needs a little love, check out my bright and colorful painted tile floor.
See even more home improvement projects here: