If you are looking for a great way to get the unique look of a custom-made vanity, check out these 17 DIY bedroom vanity ideas.
Whether you need more storage space in your bedroom or you want to create a stylish makeup vanity that fits in with your home decor, there are plenty of ways to do it on a tight budget.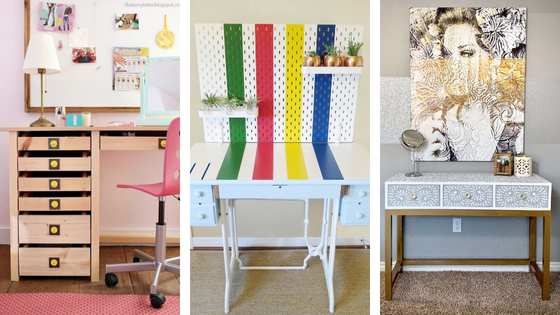 DIY Bedroom Vanity Ideas
There is nothing more relaxing than a room that makes you feel like you are at the spa.
A bedroom is a place where we can relax and unwind after a long day. So we want to make it as comfortable as possible.
Adding a piece of furniture with extra storage is always an amazing idea.
A makeup vanity desk in your bedroom is the perfect way to organize your skin care products, makeup items and beauty products.
And you don't need a lot of space to do it! Even if you have a small room or small apartment, you can still incorporate a beautiful makeup table by incorporating these simple design ideas.
DIY Makeup Vanity Table Ideas
Garage sales, flea markets and thrift stores are the best thing when decorating on a budget.
You can save so much money on old furniture that you can give a new look to with a little paint and elbow grease. Plus it's an easy way to decorate in your favorite color scheme!
When looking for makeup vanities it's best to measure your room to ensure there is enough space to fit the vanity.
Determine where you will be placing your new vanity table. If the vanity will be going in a corner of the room be sure to take exact measurements so you can find the perfect choice for your small space.
Best Makeup Vanity Ideas
Here are some helpful things to consider when shopping for your new bedroom vanity makeup station.
Mirrors – do you want a modern mirror, hanging mirror, or will you be building a DIY vanity mirror? Perhaps a round mirror or lighted mirror is the best choice for your interior design style. If going with a lighted mirror be sure to purchase the correct size light bulbs. This will save so much aggravation later! If you get a lot of natural light, a small bedroom wall mirror may be the right choice.
DIY Makeup Vanity Ideas – think outside the box when shopping for a store-bought vanity table. Are you looking for a modern vanity desk or do you want a vintage piece? Consider turning an old sewing machine table or vintage sewing table into a unique vanity. Another idea is to turn an old dressing table into a custom makeup storage unit. You can easily add a glass top for the top of the table. Look for a piece with large drawers so you have ample space to store cosmetic products, makeup products and cosmetics items.
Old Chairs – decide ahead of time if you want a modern look for your vanity chair, or if you want a vintage chair. Kitchen stools may be altered to fit your makeup vanity desk. Do you prefer clean lines or a modern design? You may find a chair with a solid wooden frame that just needs to be reupholstered.
The possibilities are endless when thrifting! Though, you do have to be in the right place at the right time.
Now that we've talked about some great options, let's take a look at this great gallery of DIY vanity table ideas.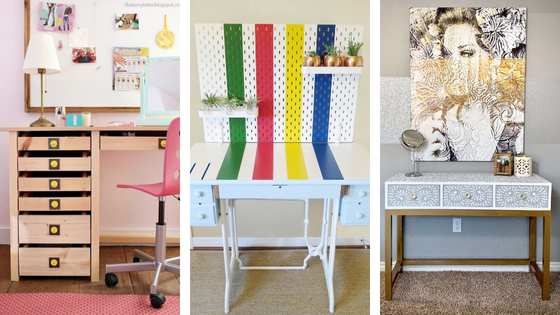 17 Must-See DIY Bedroom Vanity Ideas
Whether you are looking for a floating vanity, simple floating shelf or a classic white color vanity, we have so many great ideas to inspire you! Take a look around and let me know which vanity is your favorite.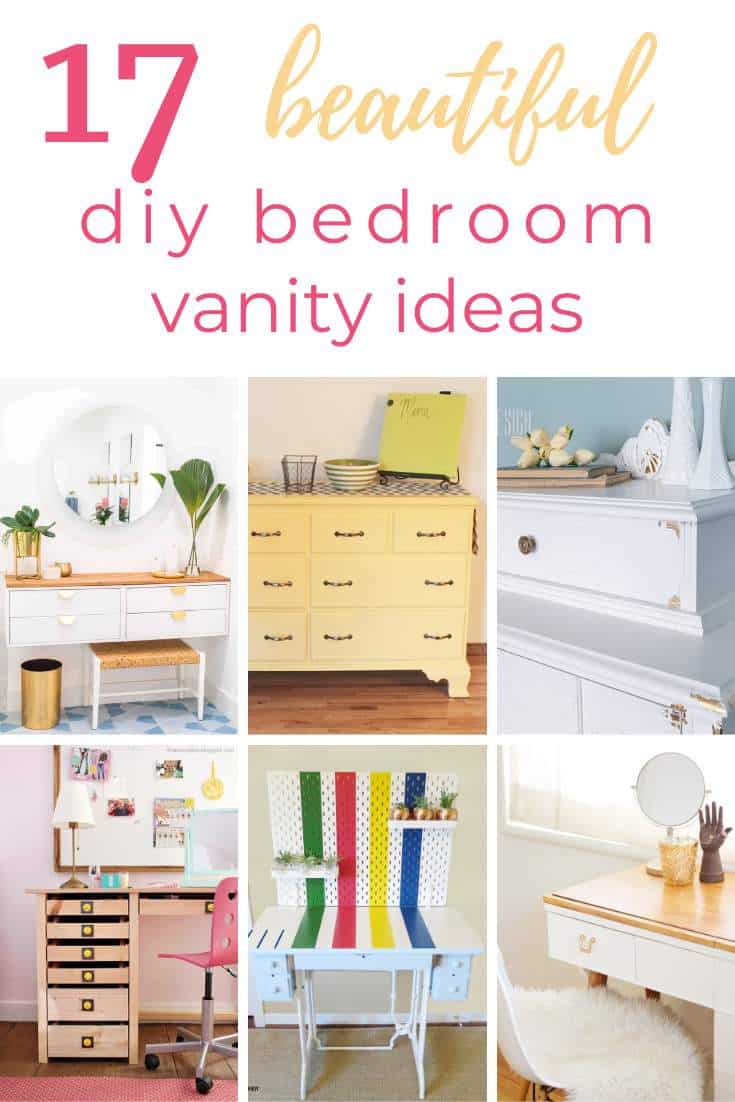 You may also like these ideas:
What are some tips for decorating a bedroom vanity?
Some tips for decorating a bedroom vanity include choosing a theme or color scheme, using storage to organize items, and choosing complementary pieces of furniture. For example, if the bedroom has a white bedspread and walls, incorporating colorful pillows and accessories would be a good idea. Another way to add personality to the space is by selecting unique vanity mirrors or lighting. The main thing is to choose items that speak to you and that you love!
What are some easy ways to add personality and style to a bedroom vanity?
There are many easy ways to add personality and style to a bedroom vanity. One way is to customize a vanity with a unique design. Another way is to use color or prints on the vanity surface. You could also choose a vanity with storage space that can be used for cosmetics, hair products, and other personal items.
What is the purpose of a vanity?
A vanity gives you another workspace, similar to a desk. It can also be used as a makeup station where you can put on makeup, dress up, or do your hair. It also provides another seating option in the bedroom. If you choose a vanity with drawers, it provides extra storage.
Why do you need a bedroom vanity?
A vanity is not a necessity but it will free up extra space in your bedroom and primary bathroom. It helps make your bedroom retreat more relaxing and convenient. Many people don't realize that a bedroom vanity is a great way to organize and clean up your space. It can hold all of your cosmetics, hair products, towels, and other toiletry items. It can also be used as a place to store clothes or accessories. Having a bedroom vanity in your space will help you to stay organized and clean!