Can you paint shower tile? YES! We made over our entire bathroom with PAINT! Let me show you how to paint shower tile.
The ugliest part of our guest bathroom was the tile. If there's one color I hate, it miiiiiight be brown. (Sorry, chocolate!) This entire bathroom was brown. The shower walls were brown. The floor was brown. The vanity was brown. YUCK. I wanted to brighten this room up and BOY DID THIS DO IT!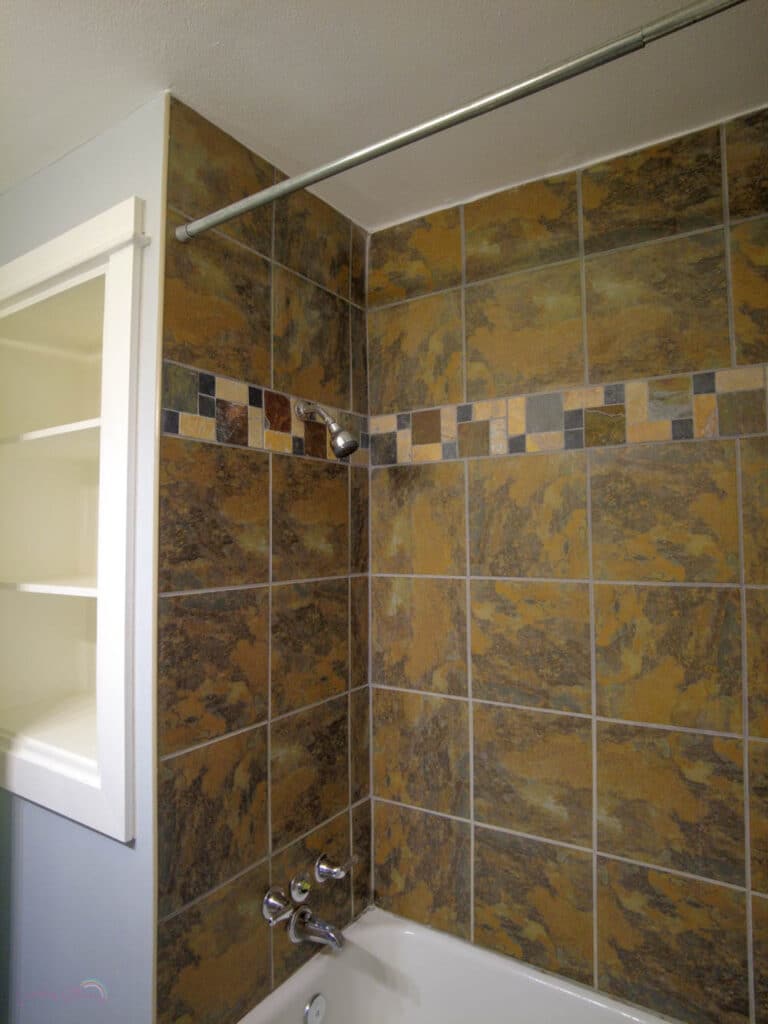 Can you paint shower tile?
YES! How do I know? Because I did it! By doing the right prep and using the right products you can paint your shower tile too! The best part? It only cost about $50 and only takes a few hours! What are you waiting for!?
What to use for shower tile paint?
Here's the secret: using the right primer is JUST as important as the shower tile paint. If you want to paint bathroom tiles in a shower you need to make sure you do all the proper prep in order for it to last. I'll go through the steps below, but the primer you need to use is called INSL-X Stix Acrylic Waterborne Bonding Primer. This stuff is MAGIC y'all.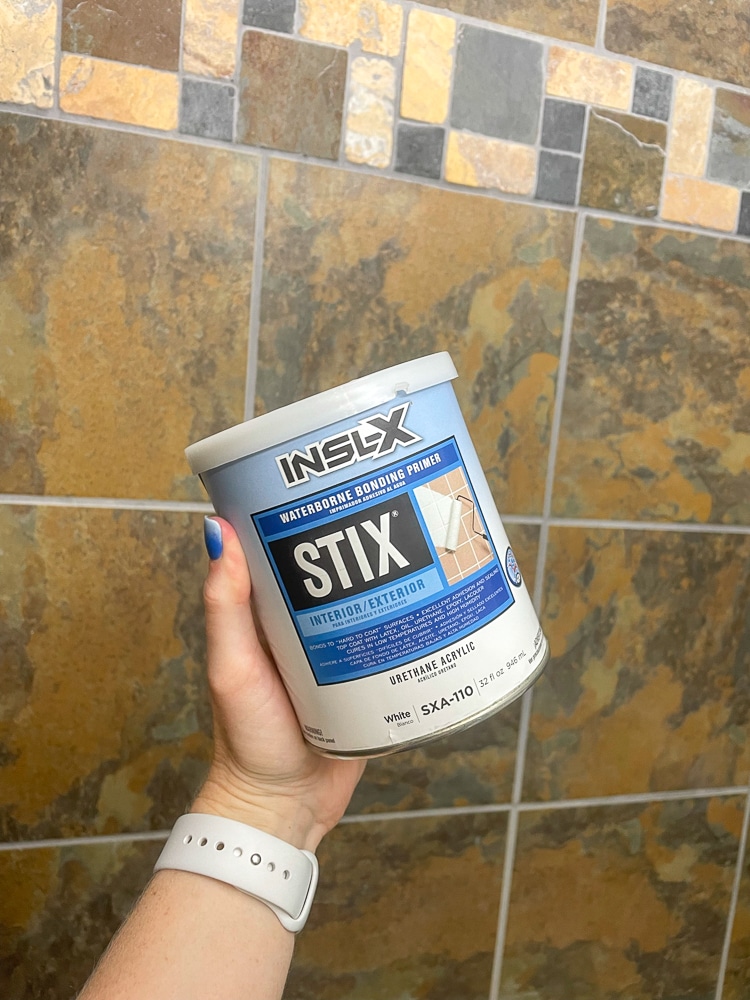 Stix primer is made specifically for adhering to challenging surfaces like glossy tile, PVC, vinyl, plastic, glass, etc. It's made to bond to to hard-to-coat surfaces LIKE YOUR SHOWER TILE!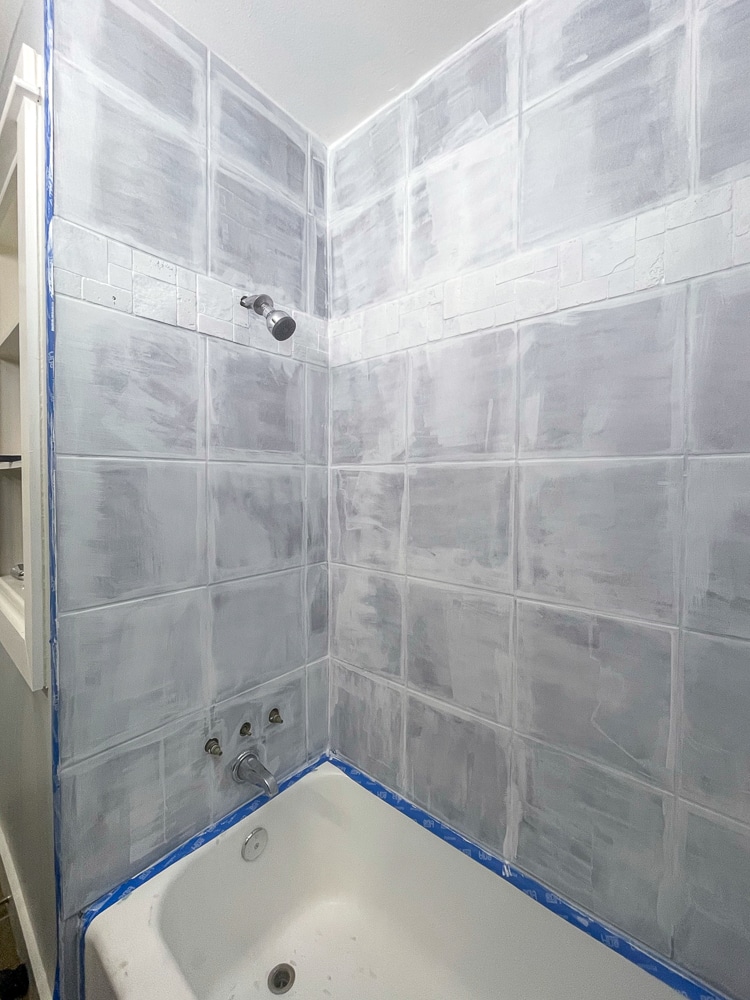 For the actual shower tile paint, you can use whatever color you want! I chose white, but you could do any color you want. When picking your paint, go with a Satin Oil-Based Enamel. It's made for indoor and outdoor use, cures to a hard/durable finish, and resists household chemicals. We used BEHR PREMIUM Oil-Base Satin Enamel and you can geek out over the product details here.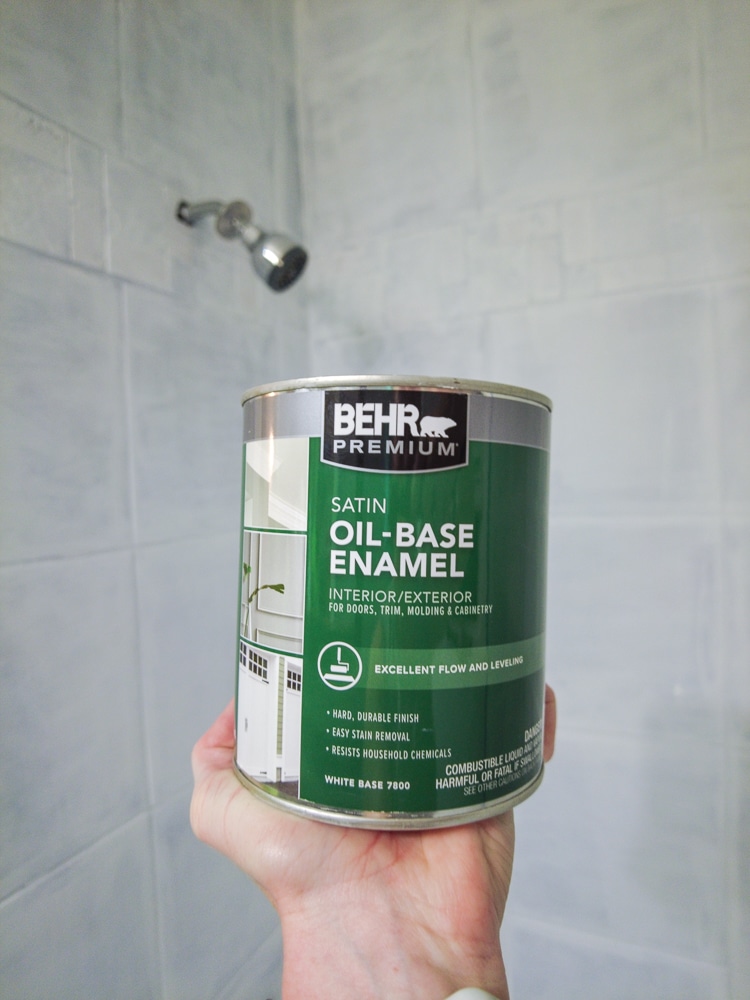 Just adding the primer to the shower tile made a huge difference! It was SO MUCH BRIGHTER! Now let's paint the shower tile!
How to Paint Shower Tile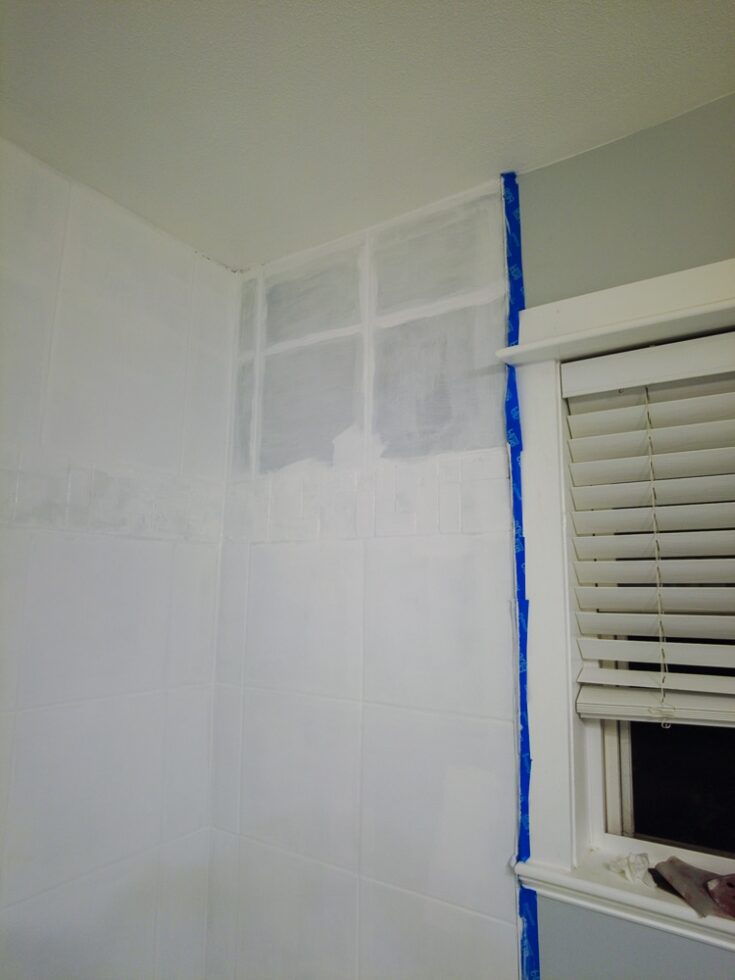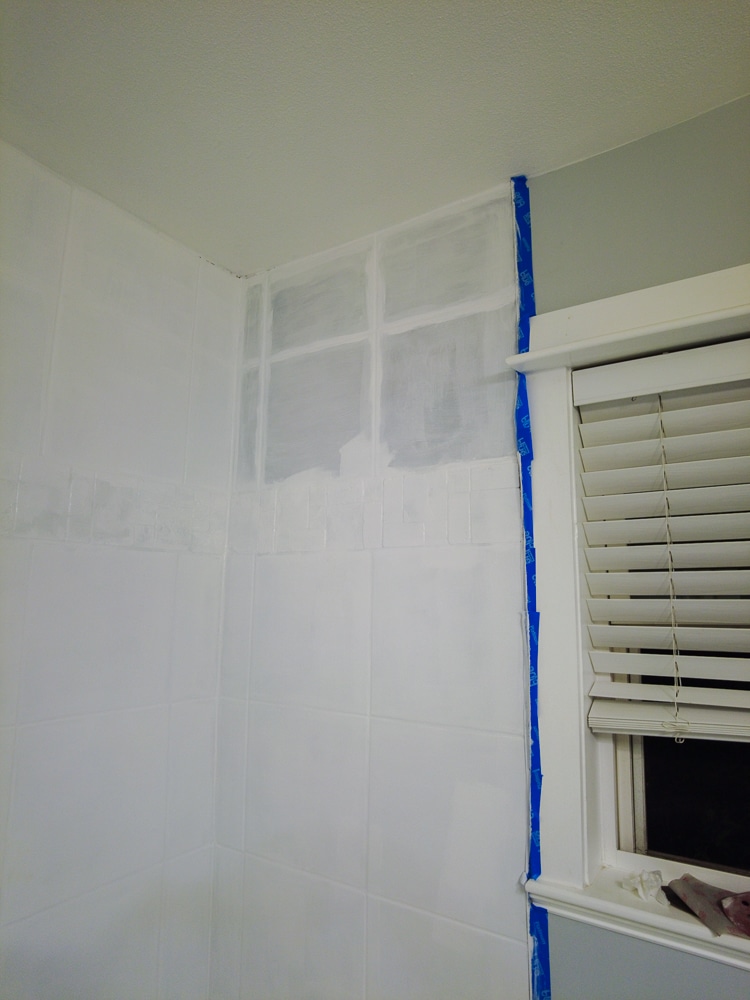 Can you paint shower tile? YES! We made over our entire bathroom with PAINT! Let me show you how to paint shower tile.
Materials
Instructions
Remove plumbing fixtures or tape around them
Remove caulk
Tape edges and cover tub (you don't want drips!)
Clean the tile like it's never been cleaned before
Sand the tile so it's roughed up and ready for primer and paint
Prime the tile
Paint with Satin Enamel Oil-Based Indoor/Outdoor paint
Allow sufficient time between coats (consult paint instructions!)
Allow to fully cure according to paint instructions before using the shower.
Reinstall hardware
Re-caulk
Recommended Products
As an Amazon Associate and member of other affiliate programs, I earn from qualifying purchases.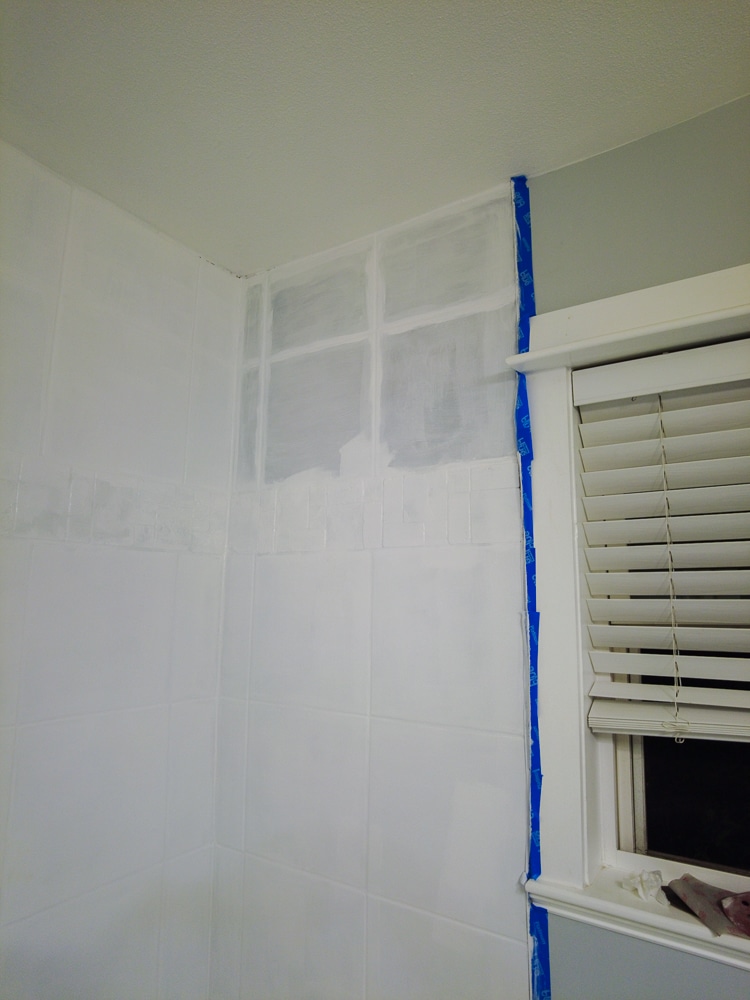 I was 1000% shocked with how GREAT this looked! I kept pulling up pictures on my phone and thinking OMG THIS USED TO BE BROWN! It's so much brighter and I'm so happy with the bright white color.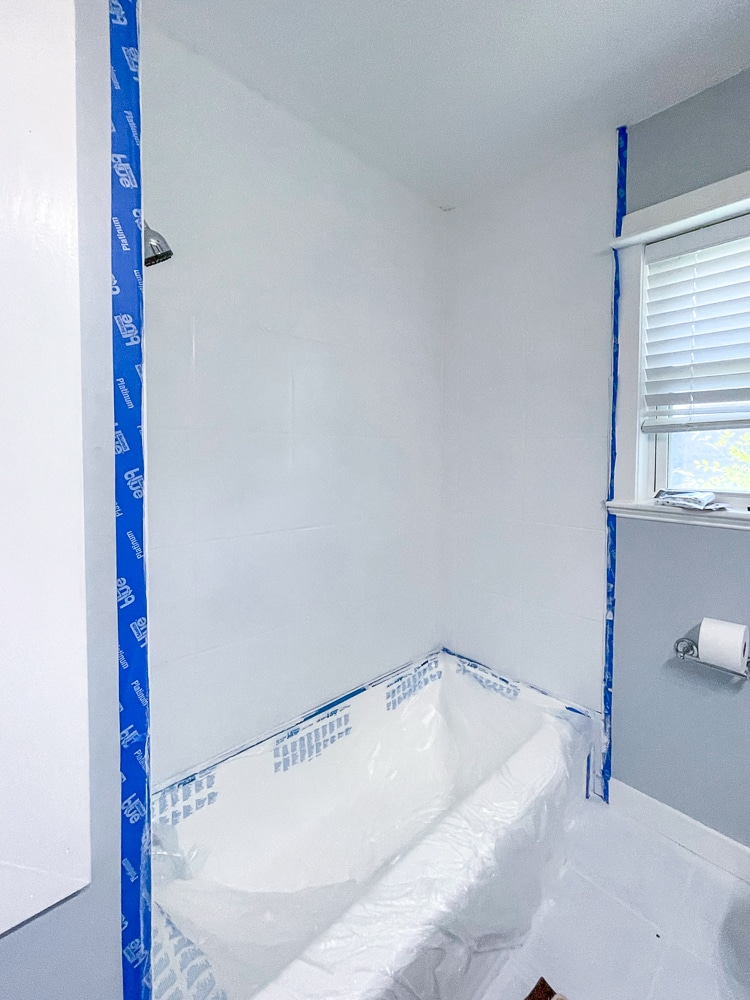 Now it's time to replace the hardware and install a DOOR! I loath shower curtains and since we went to so much trouble to paint and brighten this space, I think a clear glass door is going to do wonders for opening up the space!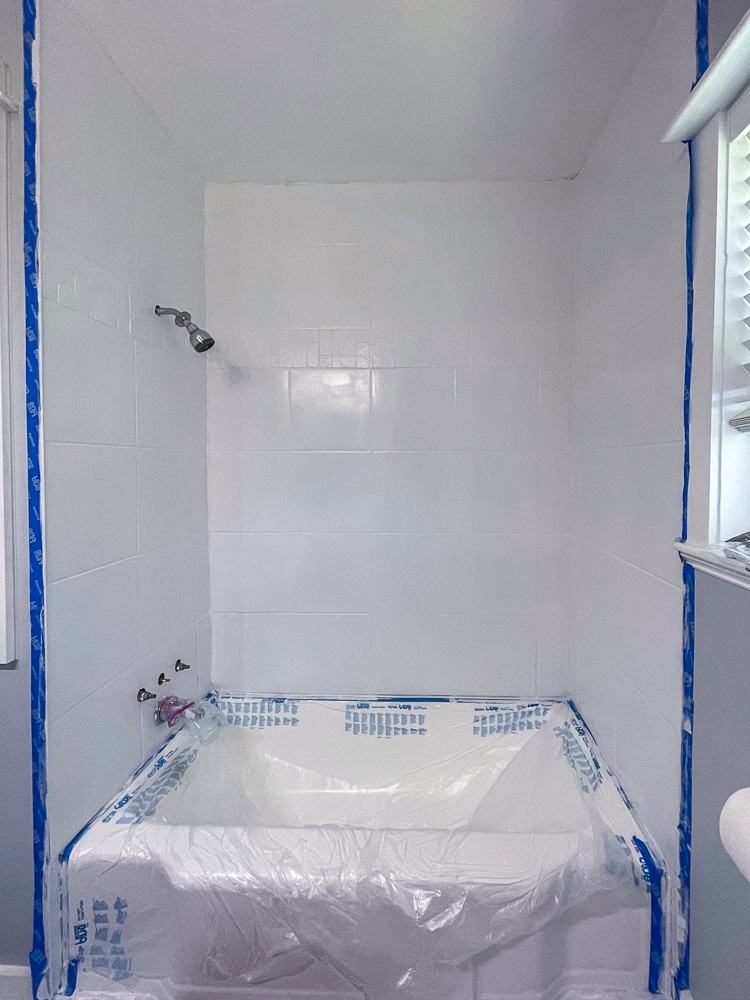 Since the same tile was used on the floor, I also went ahead and primed it when I primed the shower tile. Be sure to follow along to see what we do in this space next and to see what we do with that floor! (Hint: I'm using a stencil and bringing in the COLOR!)
One Room Challenge: Guest Bathroom