Setting up a home office space doesn't have to be boring. I've gathered 17 of the best women's home office ideas to inspire you!
Whether you have small spaces or ample room, you can make your work space into one that's both practical and inspiring.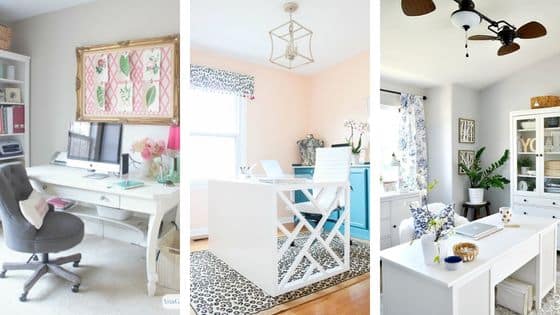 Women's Home Office Ideas
Looking for great ideas to create a feminine home office? Changing the look of a small area can make it feel brand new. Adding pastel colors, such as teal, light pink, and turquoise, is a great way to create an inviting atmosphere, especially in small areas.
Additionally, furniture pieces like round desks and fun lamps are great options for a stylish home office. Floating shelves are also a good idea for a small office. They can be adjusted according to your space needs, giving you even more organizational options.
If you're looking for something unique, try hanging a gallery wall of photos, artwork, or posters to capture the beauty and creativity of your workspace.
For extra style points, combine elements of your living room and dining room into the same area – such as a desk placed near the sofa – to help break down any separation between them.
With these 17 beautiful feminine home office ideas, it won't take long to find one perfect for you!
17 Fabulous Women's Home Office Ideas For Your Home
Getting creative with the design of your home office space makes all the difference when it comes to staying inspired. From pastel walls and floating desks to bold colors and chic storage units — there are so many different styles of small home office ideas included in this collection.
I hope you were inspired by these beautiful women's home office ideas. Let me know if you incorporate any of these ideas in your own home office.
Leave me a comment below to let me know which one is your favorite!
Here are even more office ideas: