These 15 amazing DIY closet home office ideas will help you bring organization and inspiration together in one unique space.
With remote work still a common way of life, why not make the best of your work-life balance by making your home office look and feel amazing?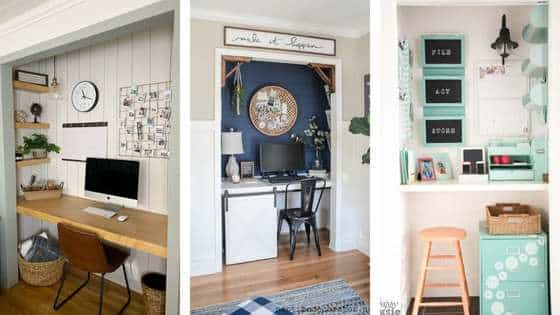 If you live in a small apartment or house you know how important it is to maximize every possible inch of space in your home.
Adding a dedicated workspace can be difficult if you don't have an extra room to use as an office.
Today we're solving that problem by sharing custom home office spaces using what you already have right at home—your closets!
These closet office ideas prove that you don't need an entire room to make your own unique space!
You can easily create a small closet desk workspace in an unused closet, guest bedroom closet, or even in an extra room that can serve double duty for guests if done right.
If that's not an option, some homes have spacious walk-in closets that have more than enough square footage to include a small home office design.
At the end of the day, you want to create a warm and welcoming office space that will inspire and motivate you.
Closet Desk Ideas
Working from the kitchen table has become a thing of the past!
With amazing DIY closet home office ideas, you can add a personal touch to your own small home office and say goodbye to cramped tables and chairs.
Here are some popular desk options to consider:
floating desks
built-in desk
fold-up desks
compact desk with built-in cabinets
Another great idea for a built-in closet office is to take advantage of vertical space.
Use the wall space to hang bulletin boards or a cork board for an efficient way to organize necessary supplies or tools.
By going vertical you will still have plenty of room for a small desk and comfy chair.
Add Good Lighting
Since natural light may be lacking in a closet space, it's a good idea to have white walls to brighten up the closet.
You can add your favorite color to the office accessories if you want more color.
Hang light fixtures overhead, or include a pair of desk lamps to ensure proper lighting.
An overhead light is necessary for any work space.
Puck lights will be your best friend in an office nook or closet space.
They are inexpensive too! Be sure to install extra light strips and plenty of electrical outlets.
Office Storage Options
Create custom storage solutions by bringing in accent pieces that serve a dual purpose for storage.
The Container Store is the perfect place to look for office accessories with storage drawers.
You may also want to consider a shelf system with built-in storage for a great way to keep everything neat and tidy.
Built-in bookshelves can double as storage space with enough room to store office supplies and important documents.
You can even repurpose bathroom shelves on a back wall in the closet. It's a great way to keep costs down.
Include a sliding barn door in place of a boring closet door to elevate the look of your closet area.
The ideas found in these 15 closet home office ideas are sure to take your small space dreams and make them into something real.
With just a few modifications and creative organization skills, you can create a small but handy home office inside your closet.
Working from home never looked so good!
15 Fabulous DIY Closet Home Office Ideas
A built-in closet office is great for when you only have a small apartment or house. Get inspired by these 15 fabulous DIY closet home office ideas that will help make any space look more personal, stylish, and cozy.
So what do you think? Did you find a few ideas to inspire you to transform your closet into an office? I sure did!
Sharing is caring…please PIN the below image: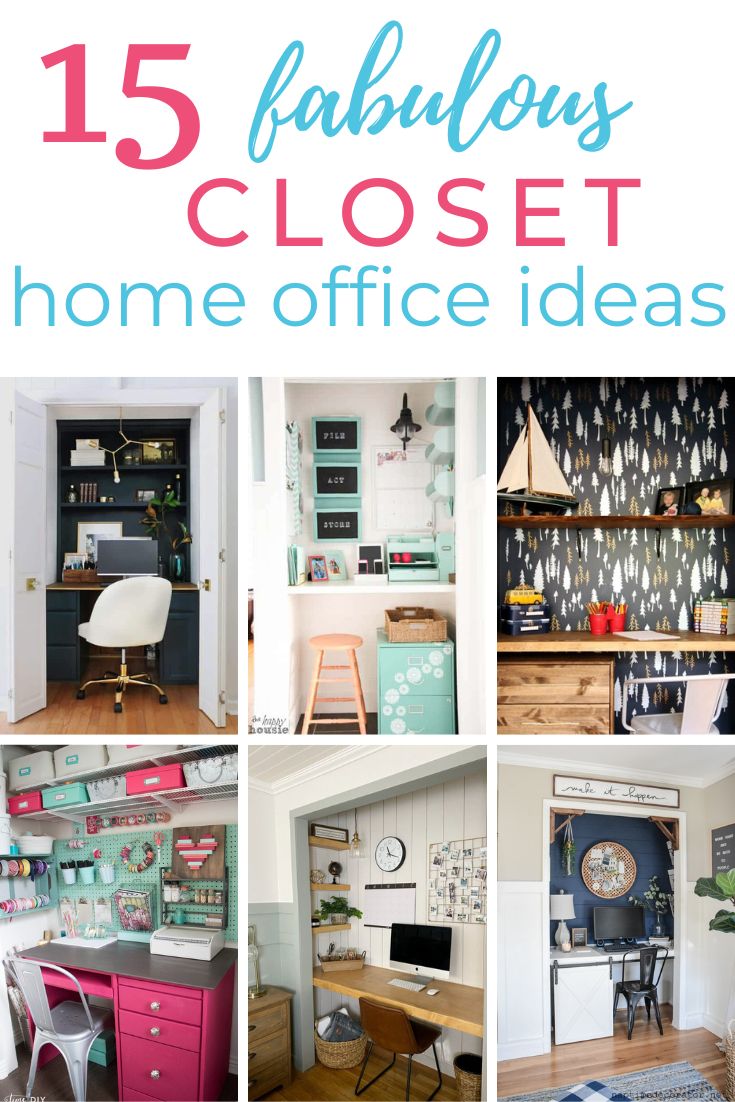 Wait…you may also want to check out these office organization ideas: