If you've been following along here on the blog and through Instagram and Facebook, you may have noticed I didn't get a post up in time for Week 3! Our family had a few issues, and that took precedence over my office makeover and the One Room Challenge. Luckily, I am back at it this week and wanted to share a quick update about how it's going in my home office. Week 1 I shared a bit about my plans and some inspiration for the room. Week 2 I shared the first project we completed: my DIY peg board! This week I was able to expand the storage in this room and customized some bookshelves. I found the best deal on bookcases at Walmart and wanted to make a DIY Fabric backed bookshelf! The 5-shelf bookcase is less than $30 (!!!!) and the shorter, 3-shelf bookcase is less than $20. Talk about a bargain! I've had the 5 shelf one for several years and decided to add on the shorter shelf next to it so I could put a TV on top. We recently got a new TV in the living room, so the old one got a new home in my office! #NetflixAndCraft. I may add on a 3rd bookcase (another 5 shelf one) on the far left, but I may put a chair in that space. Still deciding! The main point here is you can never have enough storage space! I wanted to customize them a bit since the plain white was a bit bland. I measured the backing and used spray glue to attach fabric on the back to get a DIY Fabric backed bookshelf. If you get the shelves new, this would be much easier to apply before attaching the back, but I was able to add it pretty easily regardless.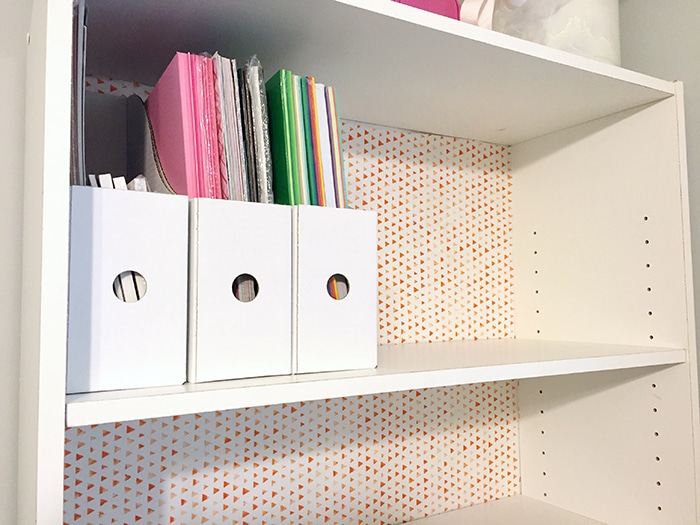 I've scoured the internet for ideas on paper storage. The easiest/cheapest solution I found was sticking my cardstock in those Ikea magazine holders! I like that they are all organized but still easily accessible. This also look pretty! Next up, I need to find a storage solution for all my 12×12 scrapbook paper.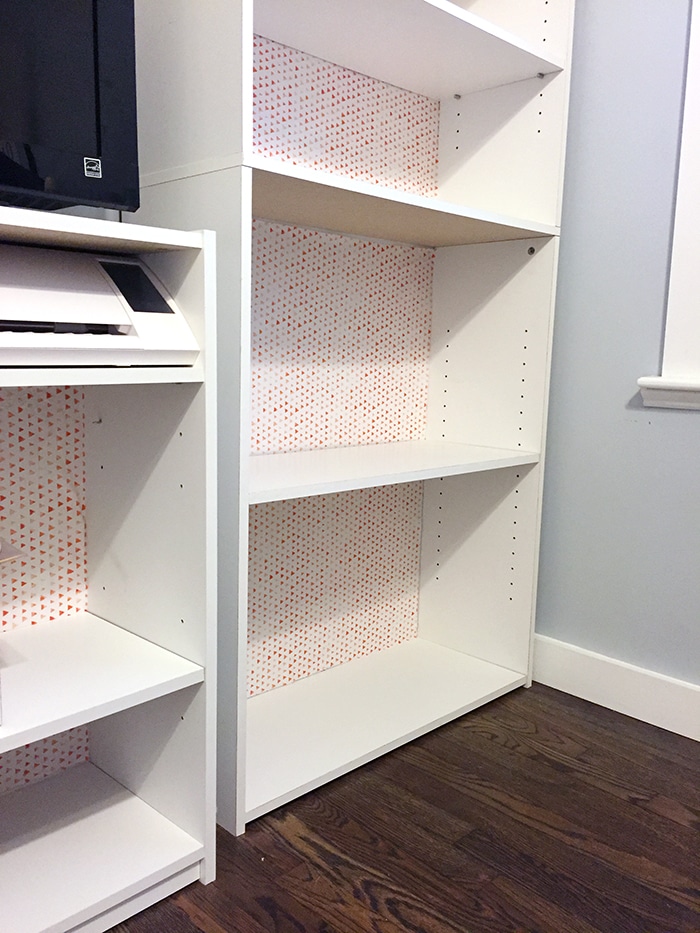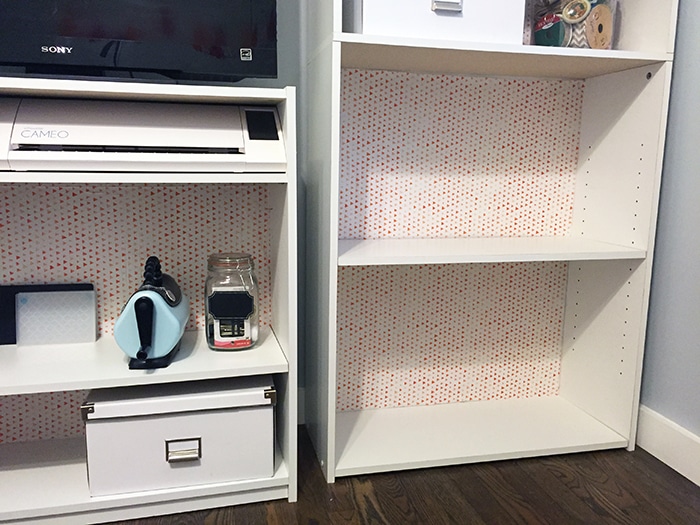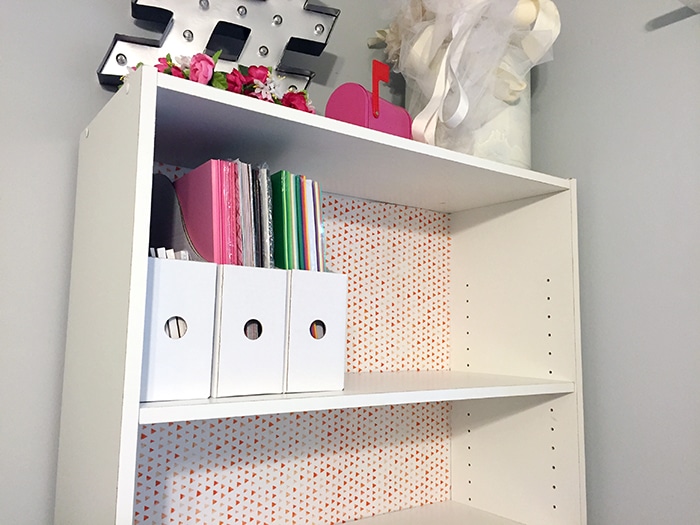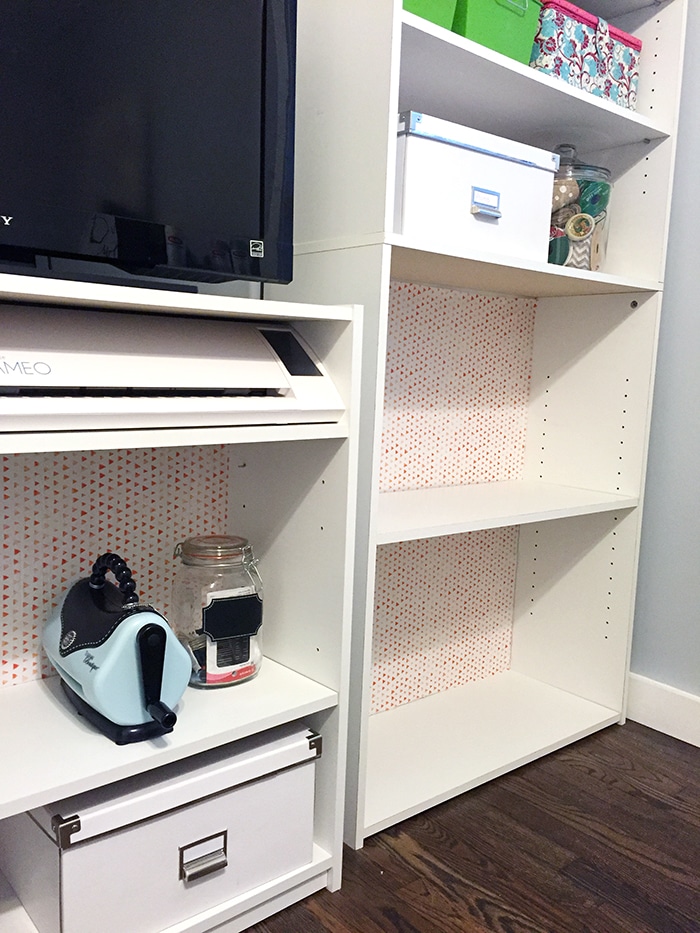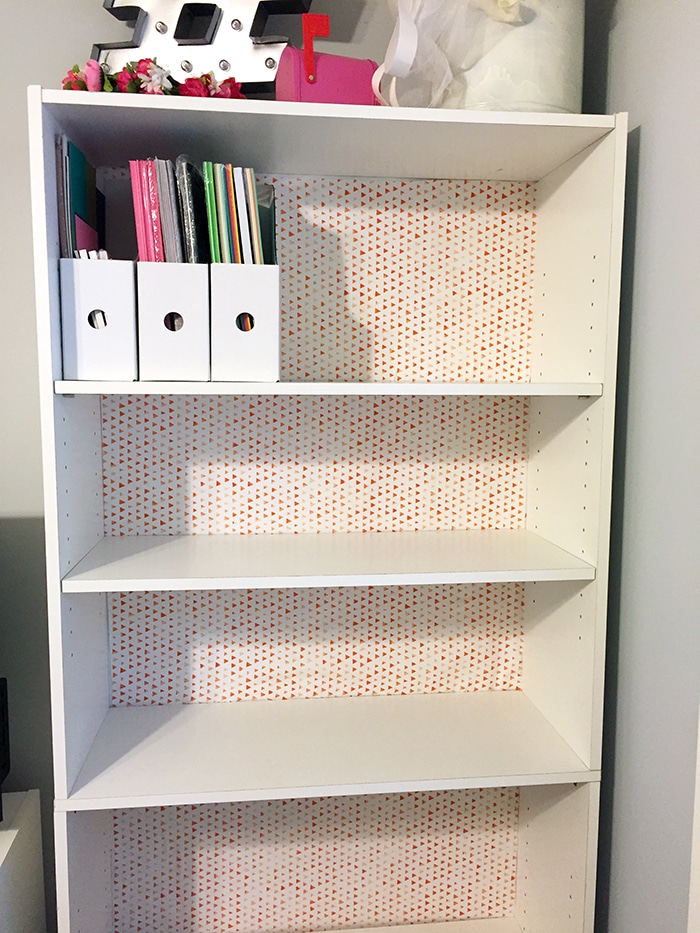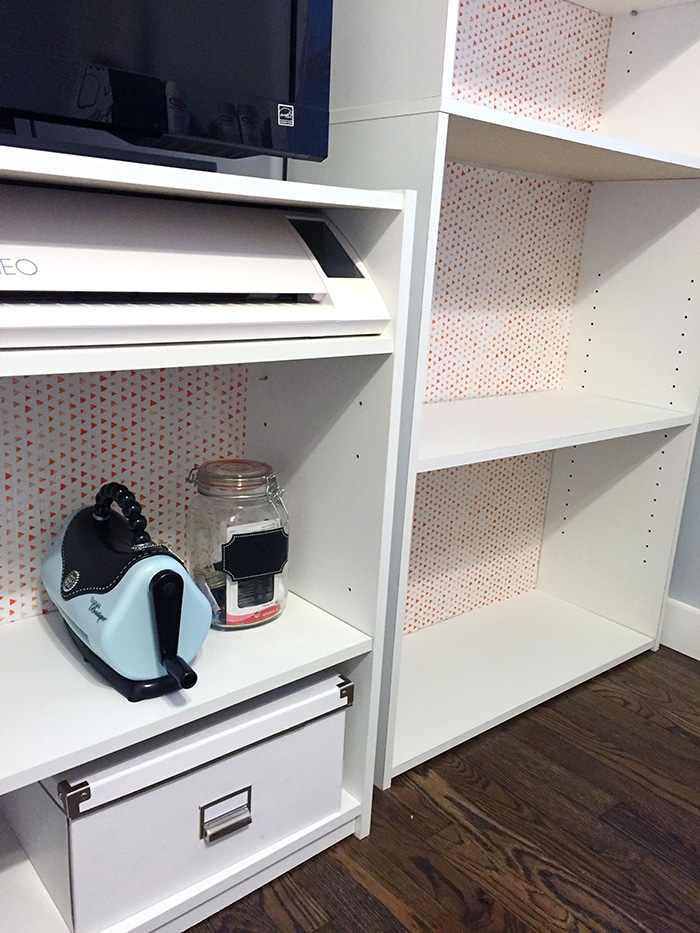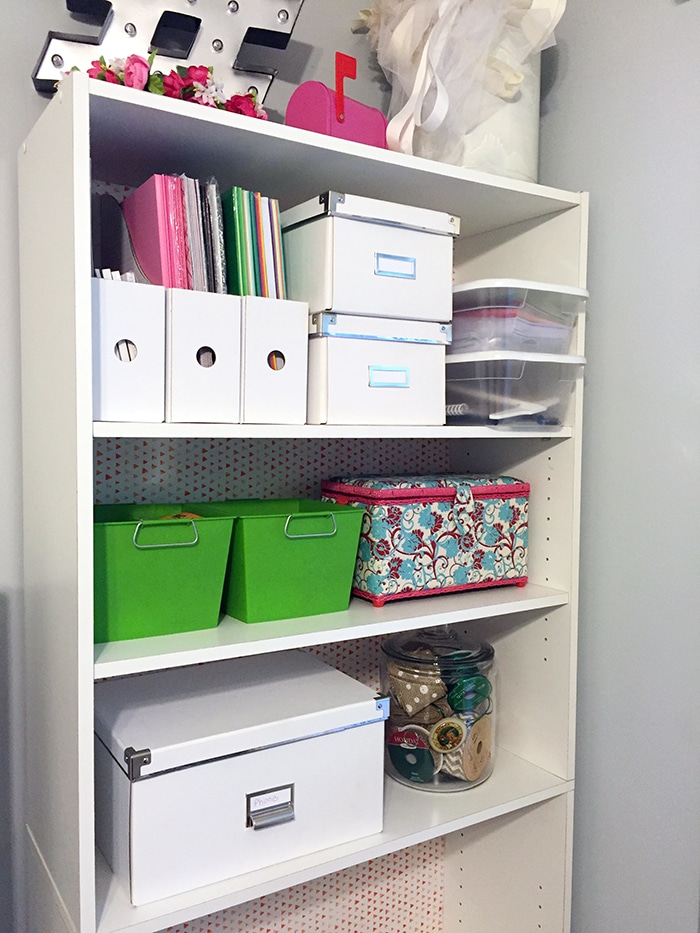 DIY Fabric backed bookshelf:

I still have a lot of open space I'm playing with and trying to make the most out of. I currently have all my paint supplies in a Rubbermaid storage unit and would like to come up with a pretty way to store those. Ribbon is stored in boxes and jars, which works, but I'm toying with the idea of having them out on a rod so they're easily accessible. I don't use ribbon much, so that may be a bit of overkill.
The One Room Challenge
Week 1: Introduction
Week 2:  DIY Peg board
Week 3: Floor covering and Window Treatment (On hold due to personal issues)
Week 4: Organization (DIY Fabric backed bookshelf)
Week 5: Gallery Wall (DIY Acrylic Calendar)
Week 6: The big reveal!
Next week I'm hoping to bring you 2 post to make up for missing week 3. I'm still looking for a value priced rug to do the painted rug tutorial. I also need to hang up a curtain. That means I need to choose a fabric! I did pick up some AMAZING fabric last weekend that I will use in the next two weeks! Can't wait to share! We are getting closer to the end 🙂 Stay tuned!