Bedroom home office ideas for any size or style of home with top tips and tricks for maximizing space and adding office storage.
If you work from home, you know that having a dedicated work space for your office is essential for staying productive. But if you don't have a lot of space to spare, it can be tricky to create a workable home office.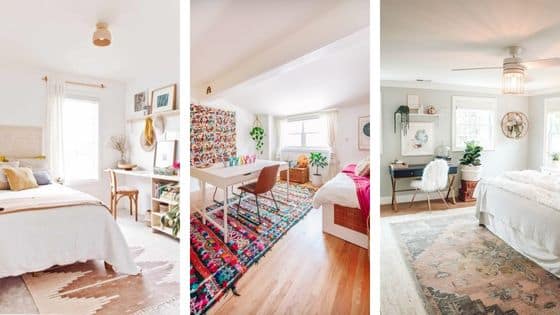 Bedroom Home Office Ideas
These 22 bedroom home office ideas will help you make the most of even the smallest spaces. You can create a small home office in a guest room or spare bedroom by choosing one of these efficient layouts.
One great way to maximize a small space is to use a murphy bed. When closed, it provides extra storage or living space. And when opened, it can be used as a desk during the day and a bed at night. If you don't have room for a murphy bed, try using a daybed or futon instead.
Another way to make the most of a small space is to use natural light wisely. Position your desk near a window so you can take advantage of natural daylight. This will help to reduce eye strain and fatigue! And if you need extra light for working at night, choose desk lamps with adjustable arms so you can direct the light exactly where you need it.
Finally, don't forget about storage. Even if you have a small bedroom, there are plenty of ways to add extra storage space. Use built-in shelves to store books and files. Or invest in some attractive baskets or bins to hold smaller items like office supplies.
By following these simple tips, you can turn even the smallest guest bedroom or spare room into a functional home office.
Before you get to the home office designs, you may want to paint the room first. I've got you covered with tips on how to use a paint sprayer for walls.
There is even a helpful video tutorial you can see HERE. You may also want to include a built-in desk in your room design.
So, take a look at these dual-purpose rooms and find the best home office design ideas for your home!
Need a hand transforming a bedroom in your house to a home office? Here's a great resource for interior designers in Houston!
22 Home Office Bedroom Ideas
Check out these 22 bedroom home office ideas help you get inspired. From a small nook in a bedroom workspace to a dedicated space with spacious layouts, there's sure to be an option that fits your needs. So get started and find the perfect spot for your office area!
I hope you were inspired by these bedroom home office ideas that show the best way to create a work area that serves double duty as a bedroom!
Leave me a comment below to let me know which one is your favorite!
Here are even more office ideas: