Organize your nursery dresser and changing table with these easy and efficient nursery drawer organization ideas. Find what works for you!
As a new parent, you may be overwhelmed with the abundance of baby clothes and burp cloths you get from your baby registry, baby shower or as a new baby gift.
This is especially true if you have a small home. There is so much stuff!
It's important to organize all the baby stuff to give you peace of mind before you bring baby home.
One way to do that is to have your nursery dresser drawers in order so you can find what you need quickly and easily.
Luckily, there are tons of great ideas to help you get started organizing the baby's nursery.
From labeling items in baby's closet to utilizing plastic bins or wire baskets, we'll share the best way to organize baby's clothes in this article about nursery drawer organization ideas.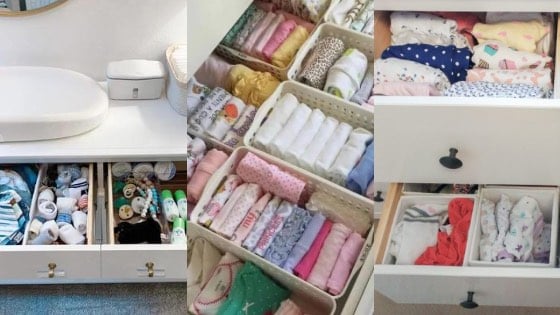 Nursery Drawer Organization Ideas
There is one piece of furniture that can make your life as a new parent easier: a dresser.
A dresser provides ample storage space for all of the baby clothing and essentials. Plus, it keeps everything in one place which makes it easy to find what you need when you need it.
It's always a good idea to start organizing the top drawer of baby's dresser with items that you use frequently such as diapers, wipes, and onesies.
This way, they are within arm's reach when you need them. You can also utilize the top of the dresser with sweet nursery decor or small items like hair accessories or bath items.
As for the bottom drawer, this is where you can store bigger items like blankets, swaddles and other baby items that aren't used as often.
By organizing the drawers in this manner, it will save you time and energy when searching for things in your baby's room.
If you are looking for a baby dresser with plenty of storage, check out the IKEA Hemnes dresser.
Pro tip: add drawer dividers to store even more cute clothes and baby items. This is especially helpful if you have a small room or minimal closet space.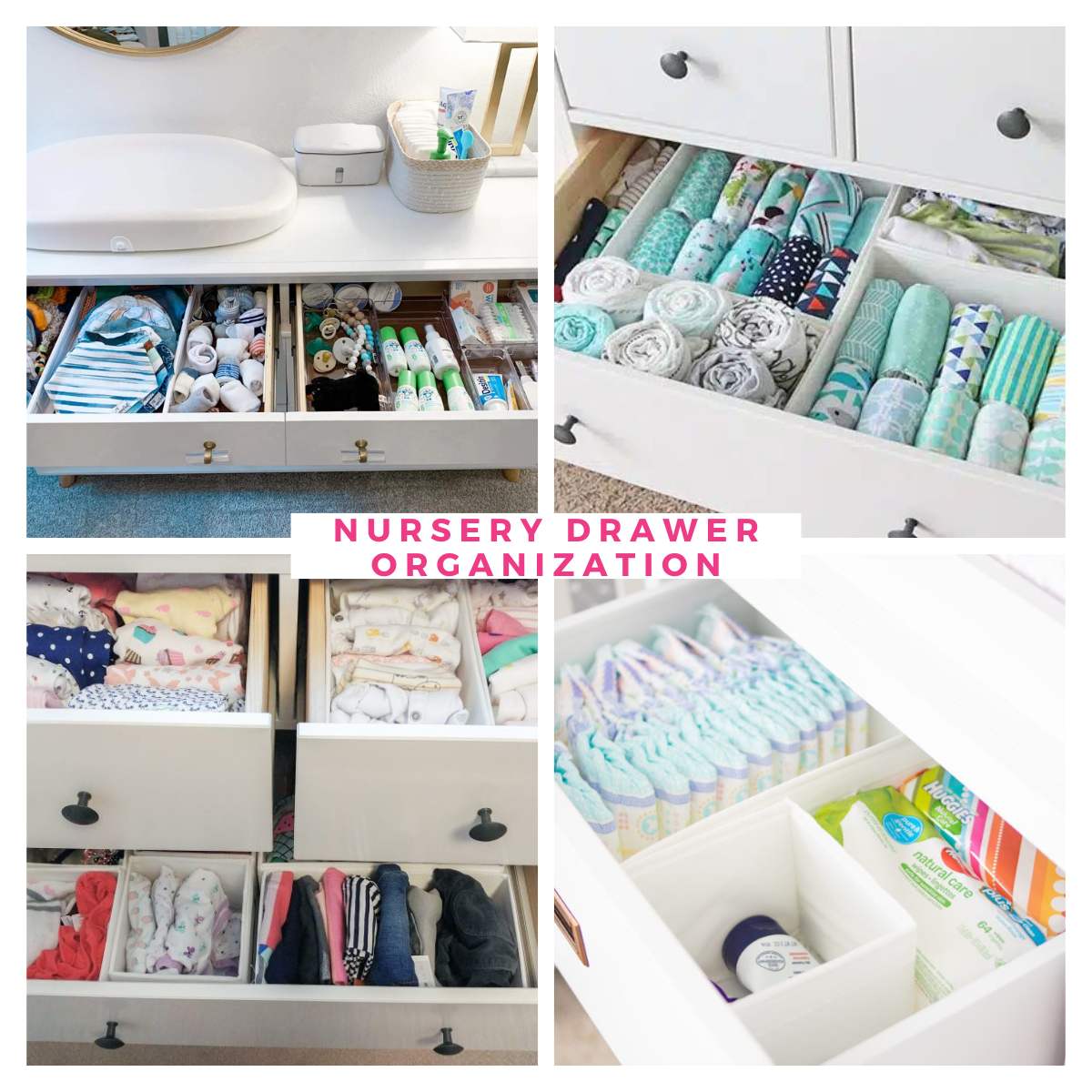 Changing Station Tips
Setting up an organized changing station in the nursery is another great idea, especially during the first year.
To make this experience as stress-free as possible, we've got some easy tips to make this a little bit easier.
First up, having a changing pad will change your life (pun intended!). It'll provide extra cushioning for your baby and minimize any messes that might happen during diaper changes.
You can even get portable ones with pad covers and take them with you on the go!
Next up, always have some diaper cream on hand. This will help prevent diaper rash and make sure your little one stays comfortable throughout the day.
Don't forget to apply it generously before putting on a new diaper.
Another essential item is keeping enough diapers on hand for weekly use. We all know how quickly babies can go through diapers!
You also want to keep extra wipes nearby.
Plus, accidents do happen – so it's always better to be prepared than caught off guard. The last thing is to keep a diaper caddy next to the changing table.
You will spend less time with clean up and the best part is you can quickly dispose of dirty diapers.
Now that we've shared some simple ideas, lets get to these nursery organization tips so you can also have an organized room!
Nursery Drawer Organization Ideas
Read on for helpful tips that will make your job as a new mom much easier! In this blog post I am sharing 17 of the BEST nursery drawer organizing tips and tricks.
I hope you are inspired by these helpful nursery drawer organization ideas. I sure am!
You may also like these home organization ideas: