We celebrated our first baby with a Harry Potter baby shower and are sharing all our ideas to celebrate your new tiny muggle!
We were lucky enough to have not just one baby shower, but two! Our first was in my husband's hometown. It was a great morning filled with lots of laughs, yummy treats, and lots of gifts for our little one! Our Oklahoma shower was great for our friends and family that live quite far from us in Houston. A few weeks later, our friends in Houston threw us this amazing Harry Potter themed baby shower and we are thrilled to share all the details of it with you!
Harry Potter Baby Shower
Platform 9 3/4
When you first arrive, you had to pass through Platform 9 3/4 on the front door. This of course is the only way to get to Hogwarts! A brick banner is easy to paint or cheap to pickup online. Throw the platform label on, and you're official!
Shop Platform 9 3/4 Brickwall Backdrop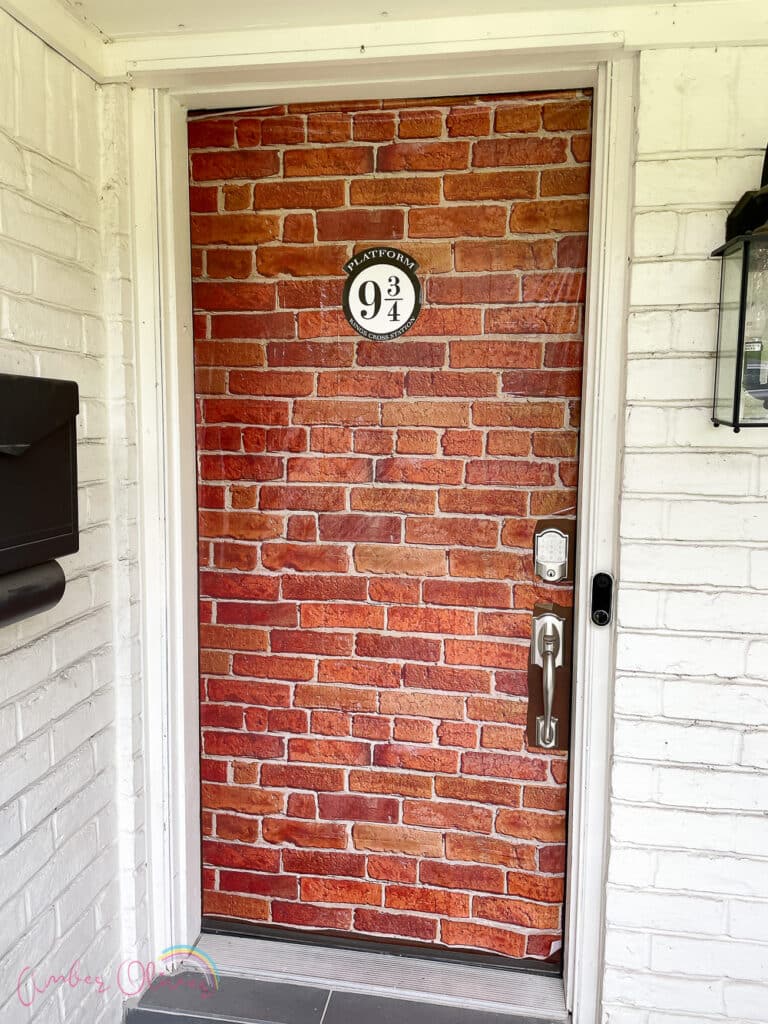 The Cupboard Under the Stairs
Our shower hosts actually had a cupboard under the stairs! My friend hand addressed a bunch of leftover envelopes and they used fishing line to have them "fly" out of the cupboard. The flying letters were an amazing little detail!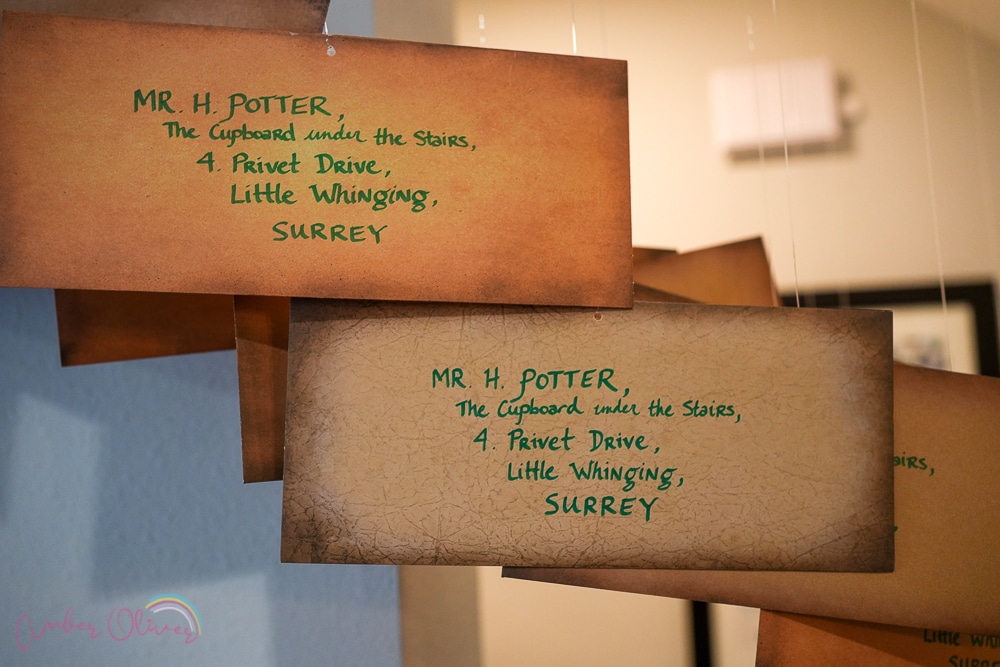 For the invitations we used this set of Aged Paper Stationery. The leftovers were used for this fun display!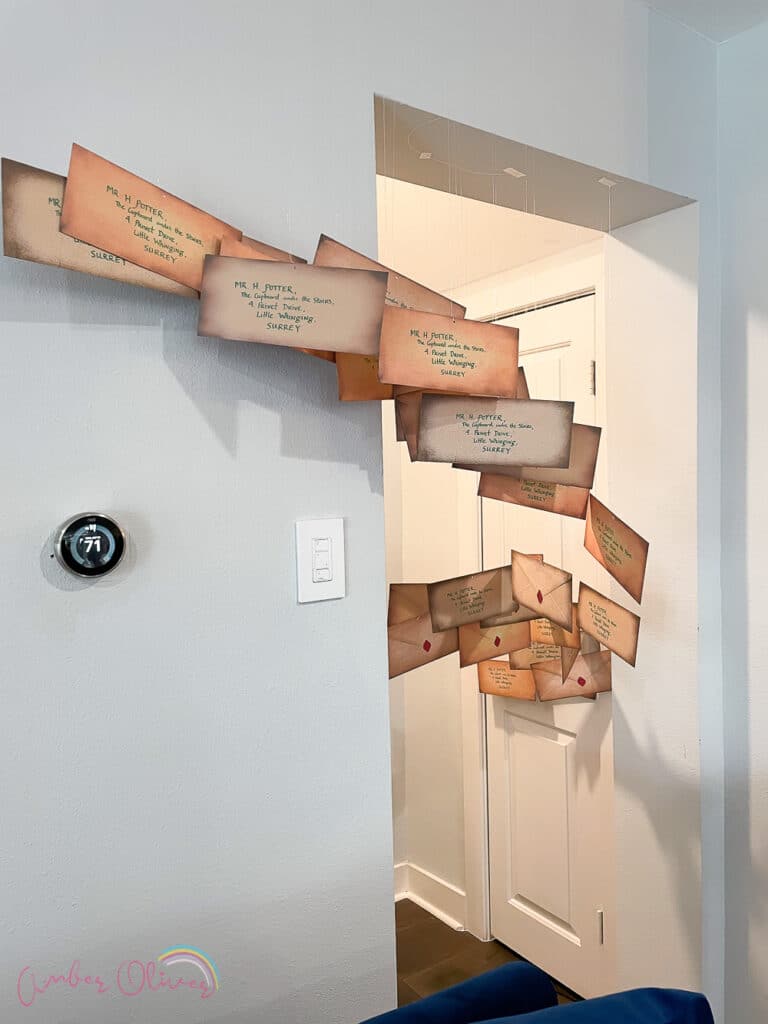 Harry Potter Banner
You can order a Hogwarts wax seal, but most people won't notice that tiny detail! My friend just cut out paper and hot glued it as a faux "wax seal"!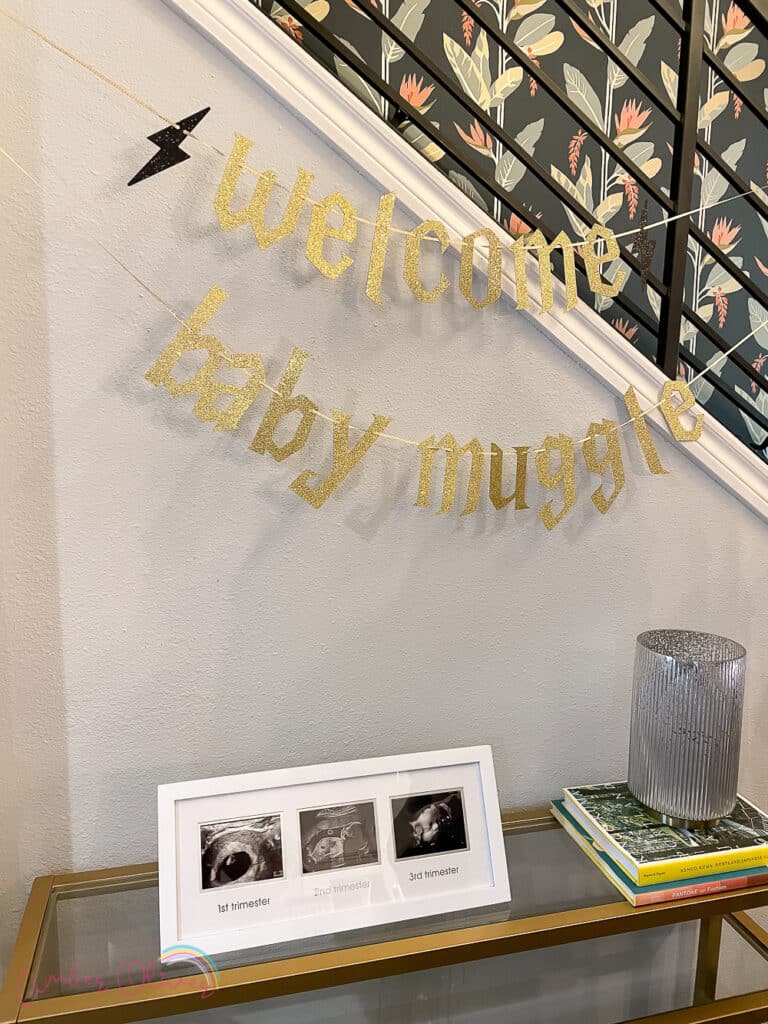 Another cute, simple detail was this banner hung in the entry way. You could easily make your own with glitter paper and your Cricut machine! I'm 8 months pregnant and tired so I order this Welcome baby muggle banner from Amazon! I loved the little lightning bolts on it. I can hang it up in our house once baby arrives. The trimester photo frame was a gift from our neighbors and the prefect double duty party decoration!
Harry Potter Gift Table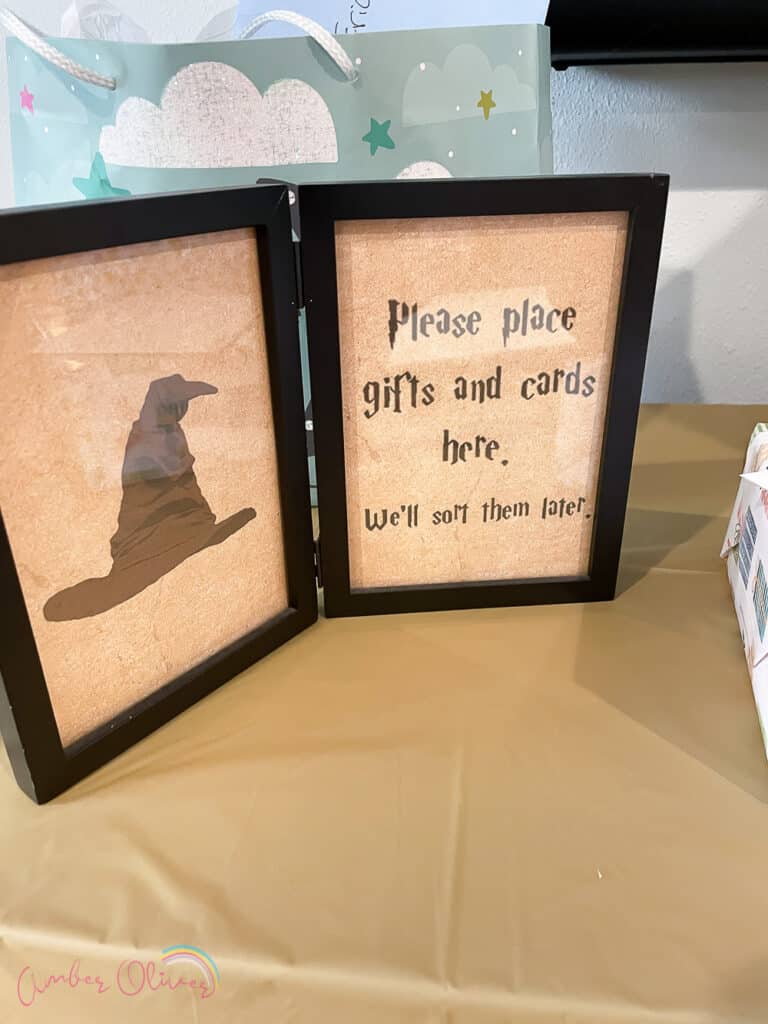 Once the party guests arrive, you need somewhere for them to drop gifts. For our gift tables, we put this simple bifold frame that had a picture of the sorting hat and read "Please place gifts and cards here. We'll sort them later." It was simple, funny details like this that made me squeal with delight. I loved every part of our Harry Potter baby shower!
Baby's First Harry Potter Book (Guest Book)
After guests have dropped there gifts, you want them to sign the guest book. This was one of my favorite parts of the shower: the guest book was the first Harry Potter book. This doubles as a gift for baby and is now filled with lovely quotes and messages from family and friends.
Harry Potter and the Sorcerer's Stone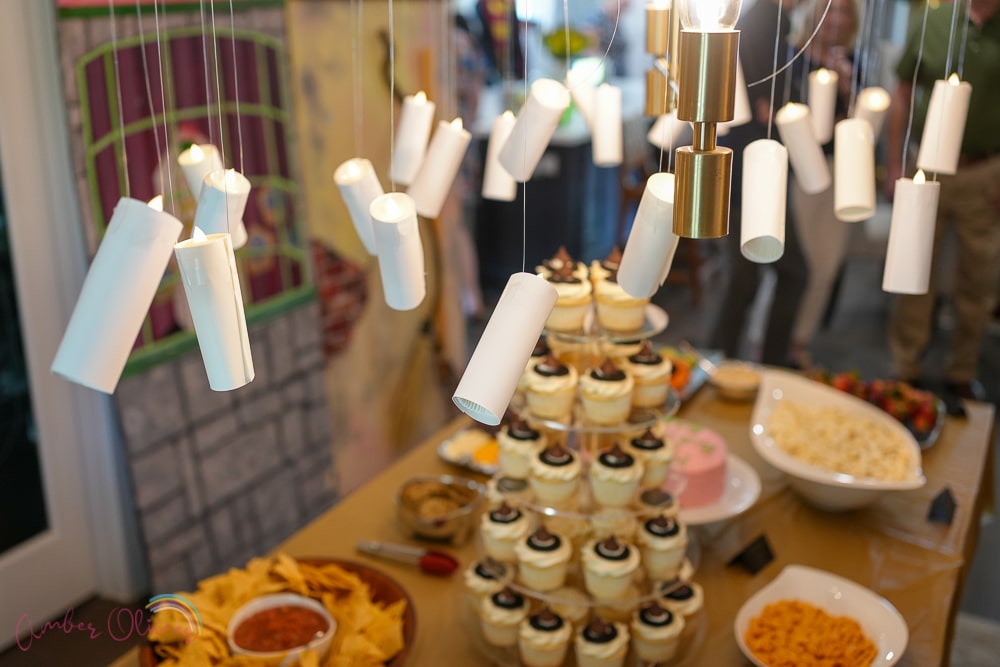 Quick and Easy DIY Floating Candles
No Harry Potter Party would be complete without the signature Hogwarts Great hall floating candles! We went back and forth on how we should do these as we wanted to DIY them and there are a bunch of creative ideas online. Our group saved a ton of paper rolls and planned to use LED candles with them and paint. This didn't work as the candles didn't fit perfectly and it wouldn't be simple to attach them.
Ultimately, we wrapped white cardstock around the LED candles and used hot glue to secure. QUICK AND EASY FLOATING CANDLES! We used a pencil to turn them on when it was time, and fishing string and clear tape held these up perfectly
Harry Potter Theme Snacks and Desserts
The food and drinks at the shower all had clever names. We had a lot of fun coming up with some of these! Some of our fun ideas included:
Golden Snitches (Ferrero Rocher with paper wings glued on top; these make great party favors!)
Sorting House Cupcakes
Hagrid's Keto Cake
Luna Lovegood's "love" dip
Filch's Fruit Plate
Hermione's Hummus
Hufflepuff Popcorn
Peter Pettigrew Pretzels
Professor Sprouts Veggie Garden
Gryffindor Goldfish
Polyjuice Potion
Gillyweed Water
Sorting House Cupcakes
The dessert table was the star of the show at our party! This display shows the adorable sorting house cupcakes that doubled as a fun party "game". The "sorting hats" cupcake toppers are half an oreo with a chocolate kiss. Underneath you'll find icing in GREEN, RED, YELLOW, or BLUE! It was fun to have everyone go around and get "sorted into their houses. This is a very simple idea for Harry Potter-themed games.
In our case, Eric and I were sorted into each others houses! He's 100% a Gryffindor and I'm in Slytherin in case you couldn't guess 😉 These would also be a really fun way to do a gender reveal. You can tell everyone if you're having a little witch or wizard!
Harry Potter Baby Shower Cake
Since I was diagnosed with Gestational Diabetes, my friend made a special sugar free keto Harry Potter baby shower cake to ensure I could have some dessert at my own party! She recreated Hagrid's birthday cake for Harry and I'm not gonna lie: I shed a tear or two. It was so cute!!
Diagon Alley
For the gorgeous Diagon Alley backdrops, I got EXTREMELY LUCKY! I'm a member of my neighborhood "buy nothing" group. I posted looking to borrow a decorative cage with the plan to buy a stuff owl to put inside. I ended up borrowing the most amazing HANDPAINTED, custom backdrop from a very lucky ladies Harry Potter 30th birthday party!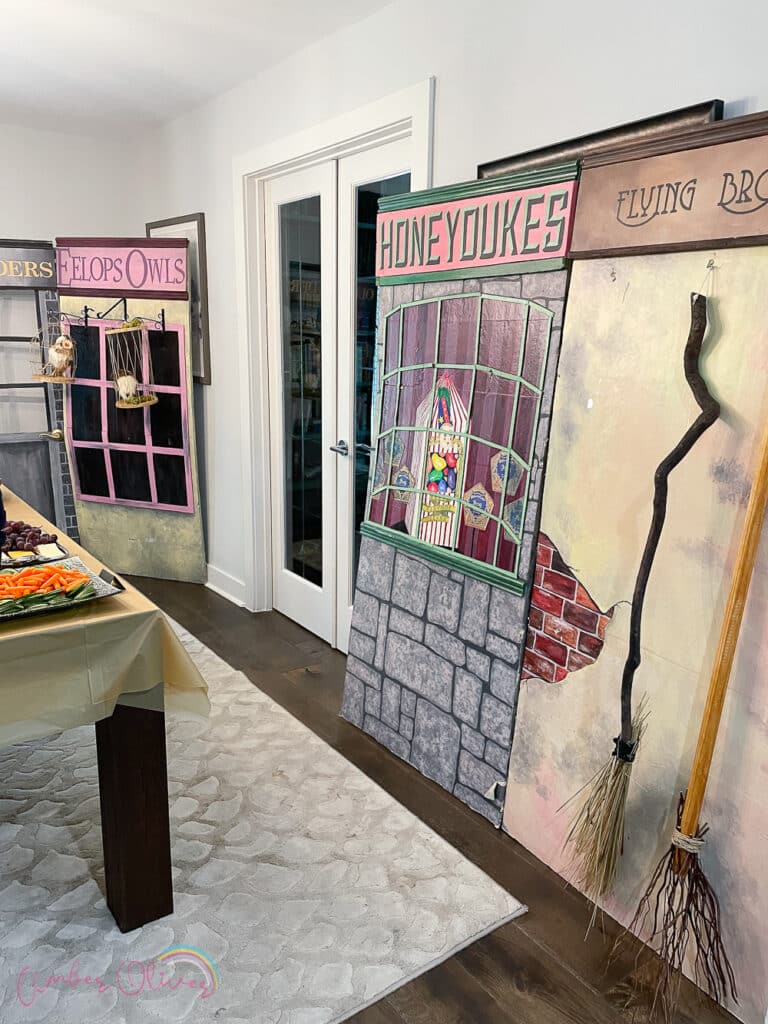 Easy Balloon Arch
One of the last details was the huge balloon arch! My mom and I made this HUGE balloon arch in less than two hours! We had a lot of fun putting it together and it was a beautiful, simple, cheap, shower decoration! It also helped that the temperature was perfect that day, and we could also utilize my friends beautiful patio!
I hope you enjoyed this peek into our Harry Potter baby shower and are feeling inspired by these baby shower ideas! If you have any questions about anything we did, please drop a comment below or on our socials! If you use any of our ideas, please tag us!
Harry Potter Baby Shower – Party Supplies