This post is sponsored by Rubbermaid®; however, all thoughts and opinions are my own. Learn how to organize a pantry in 4 simple steps!
You know what doesn't bring me joy? Trying to find the lids to my storage containers in the kitchen. I'm convinced that every time a sock goes missing from the dryer, it comes back as a random lid in the pantry! Our pantry became a haphazard landing zone for food, storage containers, and even some cleaning supplies. It was time to get it under control! I found some pretty cool products to help with pantry organization so below I'm sharing how to organize a pantry using Rubbermaid® Easy Find Lids™! There's also a chance to enter to win a pantry makeover valued at $5000!
How To Organize A Pantry
Step 1: Clean everything out
It's not hard to let the pantry get a little out of hand. When is the last time you did a good purge? Time for some spring cleaning! Let's get rid of anything that is expired or is in an open package (it's probably stale now anyway!) This is also a good time to do a good purge of those unhealthy items that keep temping you!
Step 2: Add your personal touch
The pantry isn't really a public area of your home, but since you look at it each day, why not make it special? Having a cute place that you put time and effort into creating and organizing should motivate you to maintain it! Put up a peel and stick wallpaper or stencil a design on the walls to add your personal touch! I added wallpaper from Target and transformed my pantry with one roll!
Click here to shop for this black and white peel and stick wallpaper!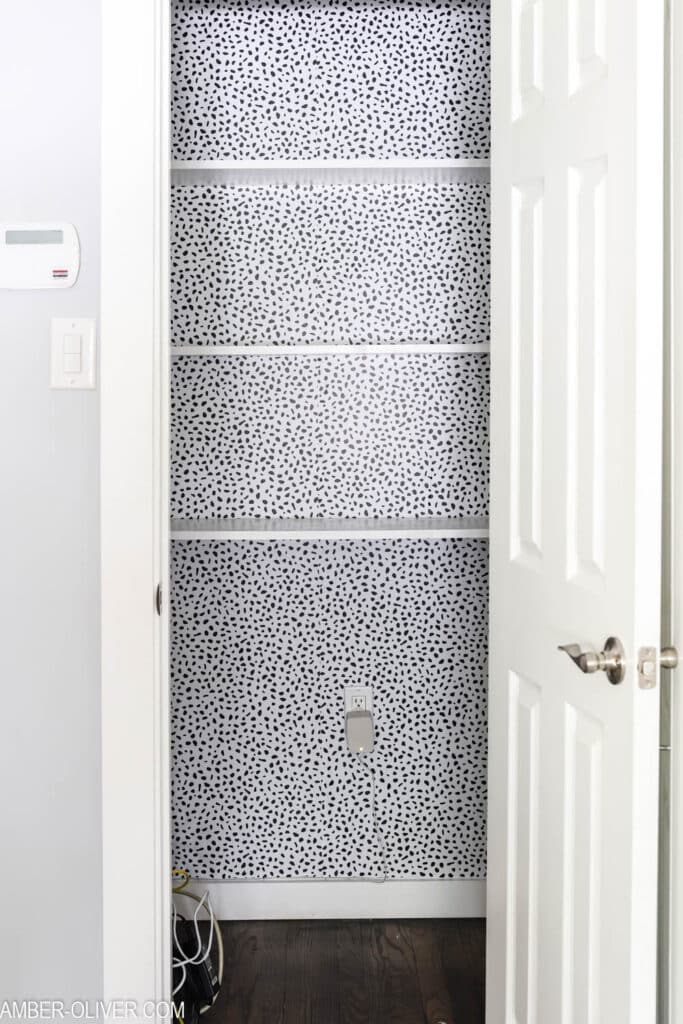 Step 3: Get the right containers
Giving everything in your pantry a "home" is the easiest way to ensure it stays organized. Baskets work great for loose food items. This is also a good time to purge those storage containers. Get rid of any that are missing the lid or are stained. Rubbermaid® Easy Find Lids™ will make your life SO MUCH EASIER. The lids snap together then snap to the base of the containers! Less lost lids AND this is a compact storage solution for your pantry! They are available at most major retailers.
Step 4: Create zones
Another easy way to help keep your pantry organized is to create zones. Put the least used items on the top, store similar items together in groups, and use baskets to corral loose items. We also have a basket for frequently used items called our "breakfast basket". It holds cinnamon, peanut butter, nuts, etc. These are items we use daily for breakfast so it's easy to get to! Here's how we organized our pantry:
Top shelf: paper towels, plastic bags, disposable utensils on one side then baskets with tea, popcorn, and condiments are on the other end.
Middle shelf: boxes of rice, crackers, noodles are together then a basket with noodle and rice packets, a basket for crackers, and a basket for fruit snacks, then all our Rubbermaid® Easy Find Lids™ and containers.
Bottom shelf: Salad dressings, sauces, and juices then a basket for soup packages, a smaller basket for breakfast necessities, and then all the canned goods.
Bonus shelves! I added these baskets for extra storage: one has our internet router and the other holds bread and fresh items like onions and garlic.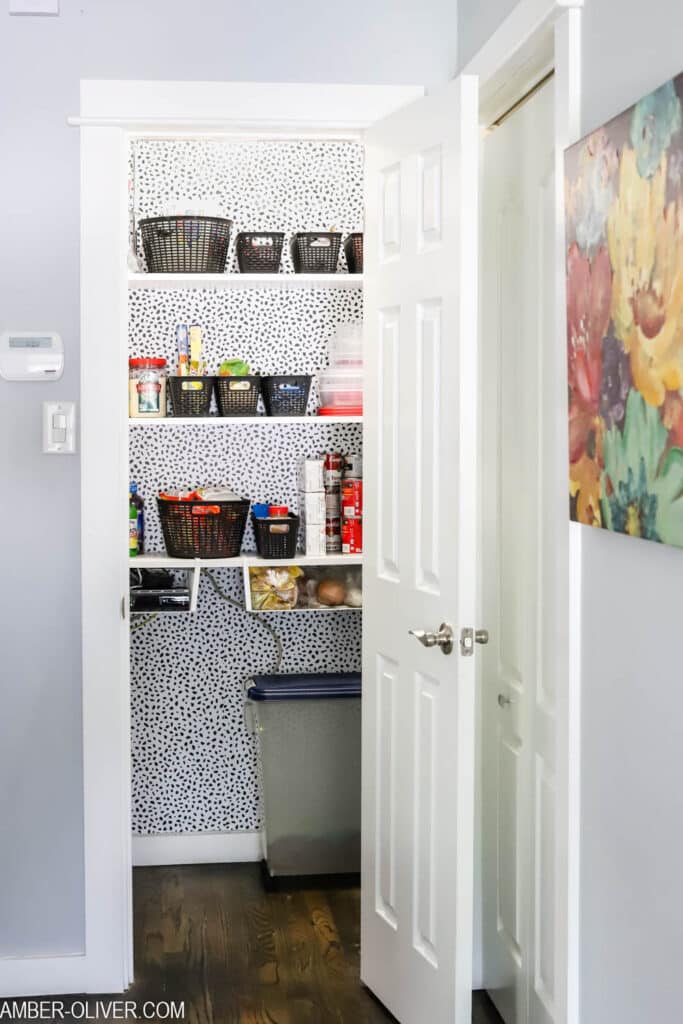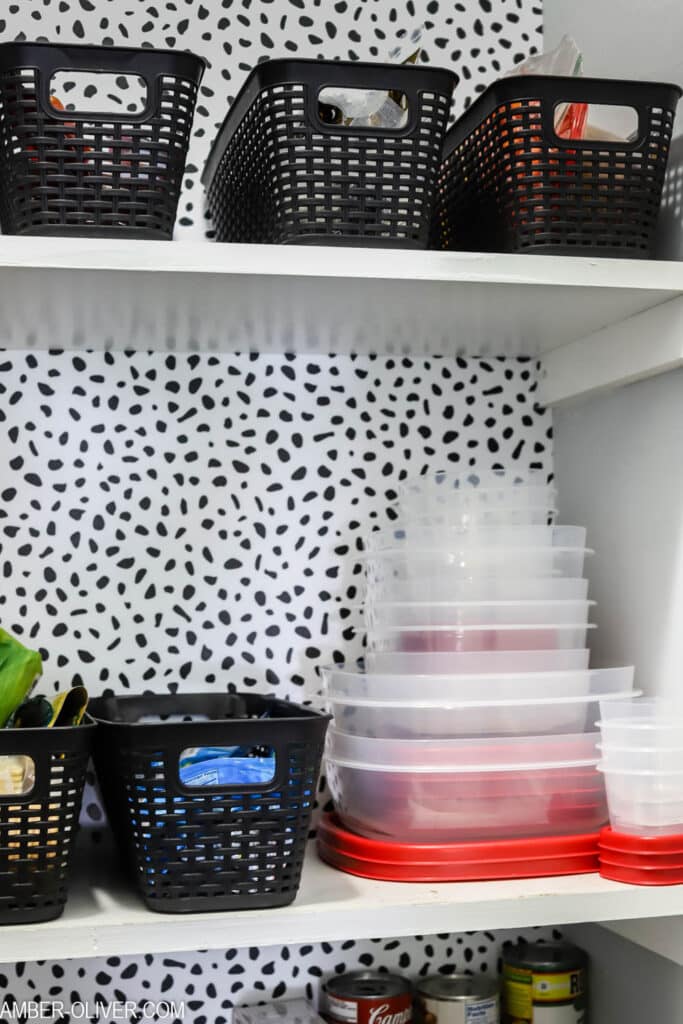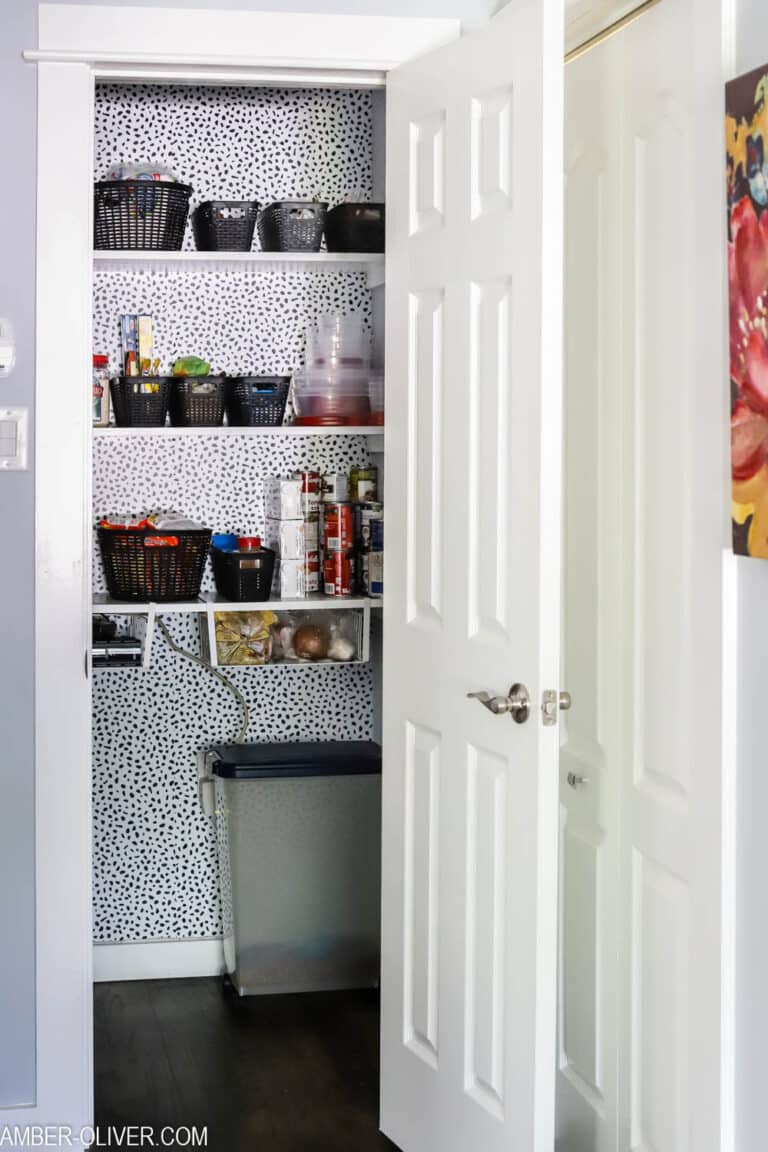 Rubbermaid® wants to make your spring cleaning a little easier: enter the Easy Find Lids™ Pantry Makeover Sweepstakes for a chance to win a pantry makeover valued at $5000! ​