Get inspired by these 20 nursery organization ideas that will help you keep your baby's nursery tidy and efficient.
This article will provide you with some great ideas to organize your nursery. From changing table drawer organizers to organizing baby clothes in a small space, there is something here for everyone. With these tips and tricks, you'll be able to create an organized and functional space that works for all of your needs.
Nursery Organization Ideas
As new parents, there's no doubt that you'll be spending a lot of time in your baby's room.
Whether it's changing diapers, nursing, or just spending quality time with your new baby, having an organized and functional space is essential.
Luckily, there are plenty of nursery organization ideas out there to help make your life easier.
The first step to keep things tidy in the nursery is to designate specific areas for different items.
For example, have storage bins or a basket for burp cloths and another for smaller items and toys. It's the best way to keep small accessories within arm's reach.
A cube organizer is a good idea for a shelving unit as it holds a lot of stuff.
It's also one of the easiest ways to find what you need when you need it without having to dig through a pile of clutter.
As a new mom these little things will make life with a newborn a little bit easier!
Check out the Container Store for additional storage options for your baby room.
They really do have amazing storage solutions for organizing baby things!
Baby Nursery Dresser
Having a nursery dresser is a huge help for extra storage space. There is so much stuff to organize!
A dresser is a great place to keep baby essentials organized in dresser drawers with drawer dividers.
It's such a help, especially in a small nursery, as it will give you extra space. You can use the bottom drawers of baby's dresser for baby's accessories.
The top of the dresser can hold tiny items in storage baskets of different sizes. Look for creative ways to organize items while still having easy access.
And don't forget about the changing station.
Keep diaper cream and other toiletries in wire baskets on a shelf or in a drawer near the changing pad.
This will save you from having to search for them during those middle-of-the-night diaper changes.
Organization Ideas for the Nursery Closet
A great idea to maximize space in your nursery closet space is by properly utilizing closet doors.
Hanging organizers are perfect for storing extra diapers or small toys that may otherwise clutter up the room.
Utilizing vertical space is a creative way to organize baby items.
With this simple trick, you'll free up precious floor space while keeping everything neatly organized in baby's closet.
Another great idea for maximizing storage in your baby's closet is by using the top drawer as additional storage space.
You can use closet dividers to separate different items like blankets or clothes, making them easy to find when needed.
Another option is to invest in an organization system, especially if you have a small closet. There is so much baby stuff to organize!
Baby Shower Registry Must-Haves
If your best friends, or family members are throwing you a shower, having a well-thought out shower registry is crucial.
Here are some gift registry items you don't want to forget.
diaper caddy
diaper pail
mini crib
baby clothing
rocking chair
baby toys
sound machine
Now let's take a look at this creative collection of nursery organization ideas. Enjoy!
20 Creative Nursery Organization Ideas
These nursery organization ideas will help you create a space that is functional and beautiful for both you and your little bundle of joy. To help ease the stress of nursery organization, we've compiled some fantastic ideas to get you started. Bring baby home to an organized room so you can focus on enjoying the important things!
I hope you enjoyed these organization ideas for a baby's room. Let me know in the comments if you give any of them a try.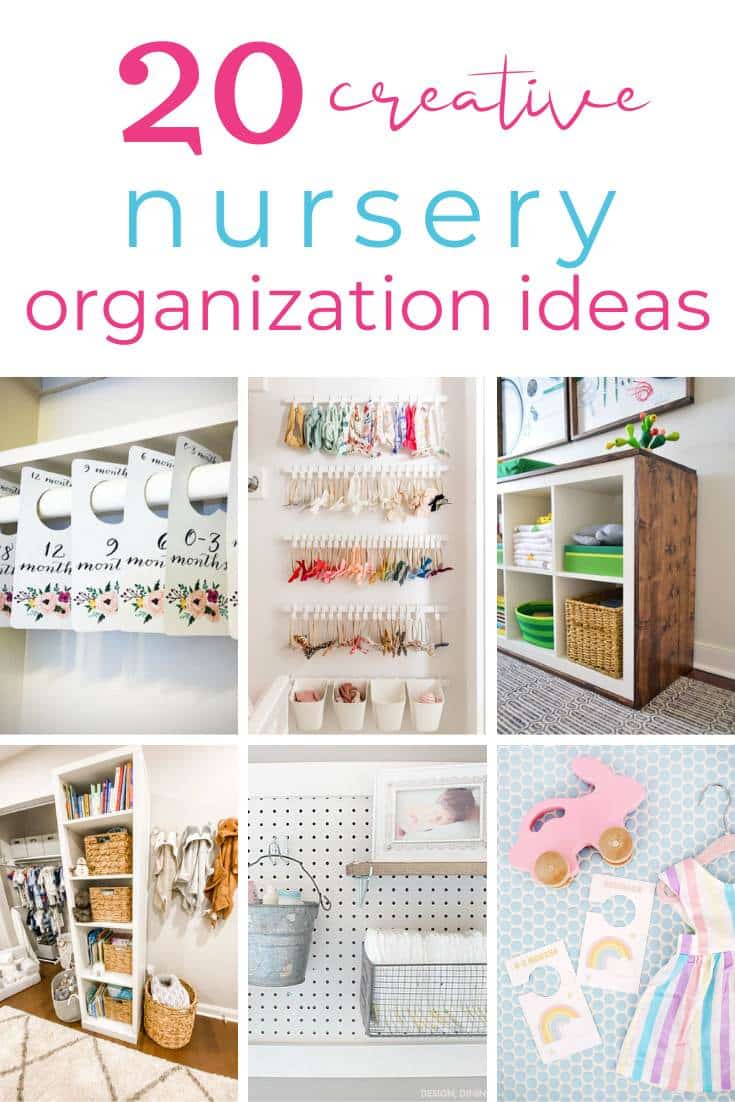 You may also like these home organization ideas: