Learn how to use a Spectra Breast pump in this complete guide with tips and tricks from a first time mom!
Congratulations, new moms and parents-to-be! Welcoming a little one into your life is a wonderful and exciting experience. We welcomed our little guy 5 and a half weeks early and he had to start his life out in the NICU. Because of this, he was bottle fed from birth and thus I've been an almost exclusive pumper! Whether you are returning to work, want to increase your supply, or are just looking for some flexibility – an electric pump is a game changer!
As you embark on your breastfeeding and pumping journey, having the right tools and information is crucial. One such tool that has gained immense popularity among mothers is the Spectra Breast Pump, an electric breast pump known for its innovative features and efficient performance. In this comprehensive guide, we'll walk you through the ins and outs of using the Spectra Breast Pump to help you maximize your milk production and ensure a comfortable pumping experience.
I'll also share tips I've picked up as a first time mom! Our baby was born 5.5 weeks early via emergency C-section. Because he spent his first few days in the NICU he preferred the bottle. It took a couple weeks for me to get any good milk output because of the trauma on my body and him being so early. We worked for months and spent 1000s of dollars on consultants and different equipment to find what works for us! This guide is no substitute for a IBCLC but I'm here to provide you with what I've learned along with some encouragement!
Before purchasing medical equipment, always check with your insurance plans first! Our heath coverage provides me with a new pump every two years. I could have gotten the Spectra s2 breast pump completely free of charge. I ended up choosing the S1 and paying about $50 out of pocket so I'd have a portable pump. The only difference between the s 1 vs s 2 is the built-in battery. I wasn't sure how important that would be but it's proved to be a game changer!
If you have to purchase your own, be sure to add it and any accessories to your baby registry! A loving family member or friend would love to support you on your breastfeeding journey. Most registries also give you a completion discount!
Specra Breast Pump: The Basics
Before we dive into the step-by-step guide, let's quickly go over the main components and features of the Spectra Breast Pump.
Expression Mode and Massage Mode
The Spectra pump comes with two modes – the Expression Mode and the Massage Mode. The pump starts in expression mode so you'll want to press the "bacon button" to stimulate letdown. These modes mimic the natural breastfeeding experience, helping you get the most milk in less time.
The quickest and easiest way I can explain how to use a breast pump is start on massage mode until you see milk then switch to massage mode and slowly increase the vacuum until it's comfortable. Massage mode is quick and fast like when baby is sucking eagerly and trying to get to the milk. Expression mode is strong and slower – like when baby is taking long, big gulps. There are lots of other tips like, to use hands on massage to help milk flow and to ensure you are emptying the breast.
Closed System with Backflow Protector
The Spectra pump features a closed system with a backflow protector, preventing breast milk from flowing into the tubing and protecting your milk from potential contamination. This physical barrier is an important feature for maintaining the hygiene and safety of your breast milk.
Adjustable Suction and Cycle Levels
The pump allows you to customize both the suction strength and cycle speed according to your comfort and milk flow. This flexibility ensures that you find the right settings for your unique needs. Note: always reset these at the end of a session or the very beginning of your next session. Otherwise it'll feel like it's going to rip your nipple off when it starts out on high!!
Double Pump Capability
You can pump from both breasts simultaneously, which not only saves time but also promotes better milk production and balance between breasts. Just plug the end of the tubing into the holes on the front of the pump. You are 100% going to want to get a pumping bra and do the double pumping! You're already spending SO much time pumping, you might as well cut out some time where you can!
Rechargeable Battery
The Spectra s1 Breast Pump comes with a built-in rechargeable battery, making it extremely portable and convenient for on-the-go pumping. No need to worry about finding an outlet – pump wherever and whenever you need to. Keep the AC adapter plugged in on your "pumping cart" to easily charge and keep your stuff all together.
LCD Display and Quiet Motor
The pump's digital controls are easy to navigate with the LCD display, and the quiet motor ensures discreet pumping sessions, whether you're at home or in the office. The nightlight is nice, but I have to put a burp cloth over the back so it doesn't illuminate the whole room at night!
How to Use A Spectra Breast Pump
Step 1: Preparation
Find a quiet and comfortable spot to pump. First thing, always wash your hands thoroughly. Assemble the pump parts – breast shields, duckbill valves, collection bottles, and narrow tubing.
Step 2: Powering Up the Pump
Press the power button located on the pump's body to turn it on.
Choose the desired mode – Expression Mode for milk flow or Massage Mode for letdown – using the center button. I like to start in Massage mode, with the vacuum about 2 or 3 until there's milk.
Step 3: Adjusting Suction and Cycle Levels
Use the "+" and "-" buttons to adjust the suction strength to a comfortable level. Start with a gentle suction and gradually increase it until you find the maximum comfortable suction level.
Similarly, adjust the cycle speed using the same buttons. Experiment with different cycle levels to see what works best for you.
Step 4: Let the Pumping Begin
Gently position the breast shields over your breasts. Make sure they are aligned properly to create an effective seal.
Start with the Massage Mode to stimulate letdown. After a minute or two, switch to the Expression Mode to begin milk flow.
Step 5: During Pumping
Lean slightly forward to ensure proper air flow and milk flow.
Utilize the pump's built-in night light for convenient nighttime pumping.
Monitor the milk flow and adjust the suction and cycle levels if needed.
Step 6: End of the Pumping Session
Once your milk stops flowing, press the center button to stop the pump.
Disconnect the breast shields and carefully remove the collection bottles.
Store your expressed breast milk properly in the collection bottles.
Step 7: Cleaning and Maintenance
Disassemble the pump parts – breast shields, duckbill valves, and collection bottles.
Clean the parts thoroughly according to the manufacturer's instructions.
Store the pump and accessories in a clean and dry place.
Tips and Best Practices:
Experiment with different settings to find what works best for your body and milk flow.
Pump at different times of the day to see if there's a specific time when you produce the most milk.
Utilize the double pumping feature for more efficient pumping sessions.
Carry your Spectra Breast Pump in a tote bag for convenient portability.
Remember that stress can impact milk supply, so try to relax during pumping sessions.
Use a pumping bra to help flanges in place and allow you to be more hands free during sessions.
Get measured and make sure you are using the correct flange size. This makes a huge difference in your output and comfort. You can use sizing inserts to make the flanges that came with your pump fit. You can also purchase new flanges in the correct size.
Try to work around naps to get your pumping in. But if you can't, utilize a swing, bouncer etc.
The most efficient use of time is to pump when you feed your baby. That's not always easy! Try propping baby on a pillow to your side so they don't kick your flanges!
If you have an oversupply, you can pump directly into storage bags! Use this adapter!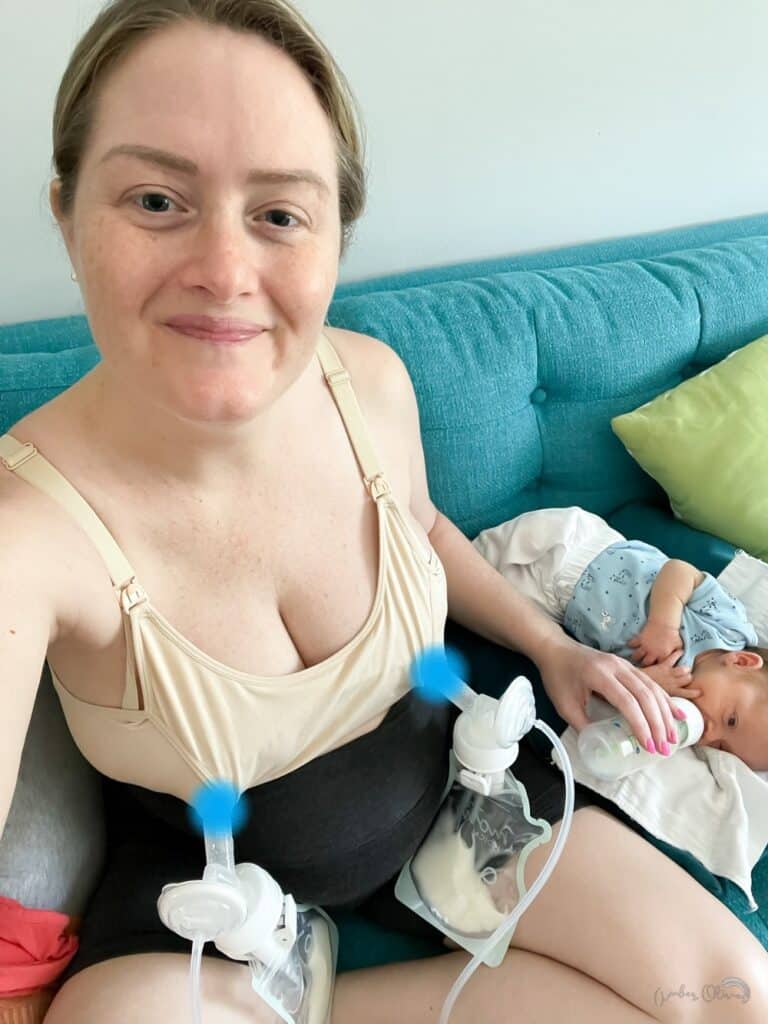 Breastfeeding and Pumping Tools

5 Compelling Reasons to Embrace the Convenience of a Breast Pump
Bringing a new life into the world is an extraordinary experience that comes with a range of beautiful challenges. For many new moms, breastfeeding plays a pivotal role in nurturing their little ones. While breastfeeding directly from the breast is a natural and essential bonding experience, there are situations where a breast pump can work better for a family. Let's explore five compelling reasons why embracing the convenience of a breast pump can enhance your breastfeeding journey and provide you with flexibility and peace of mind.
1. Milk Supply and Demand Balance:
Breast milk supply can sometimes fluctuate, leading to concerns about whether your baby is getting enough nourishment. Using a breast pump can help regulate and increase your milk supply. Pumping in addition to breastfeeding stimulates the breasts to produce more milk, helping you meet the growing needs of your baby. Plus, it allows you to store the excess milk for times when you can't be with your baby, ensuring they receive your nutritious breast milk even when you're not physically present.
2. Returning to Work or School:
As a new mom, the transition back to work or school can be emotionally challenging. A breast pump can make this transition smoother by allowing you to continue providing your baby with breast milk even when you're apart. Pumping during breaks or lunchtime ensures your little one receives the same quality nutrition while you focus on your professional or educational responsibilities.
3. Bonding and Involving Partners:
Breastfeeding is a wonderful opportunity for bonding between a mother and her baby, but it doesn't mean that partners should be left out. Using a breast pump enables partners to take part in feeding and nurturing the baby. This involvement not only strengthens the parent-child bond but also provides you with much-needed breaks, allowing you to rest and recharge.
You will need and want your partners support while pumping and feeding baby. Be sure to celebrate every win! This tiny syringe was the first collostrum I was able to collect when my baby came more than 5 weeks early. My husband was so proud to take it to him in the NICU!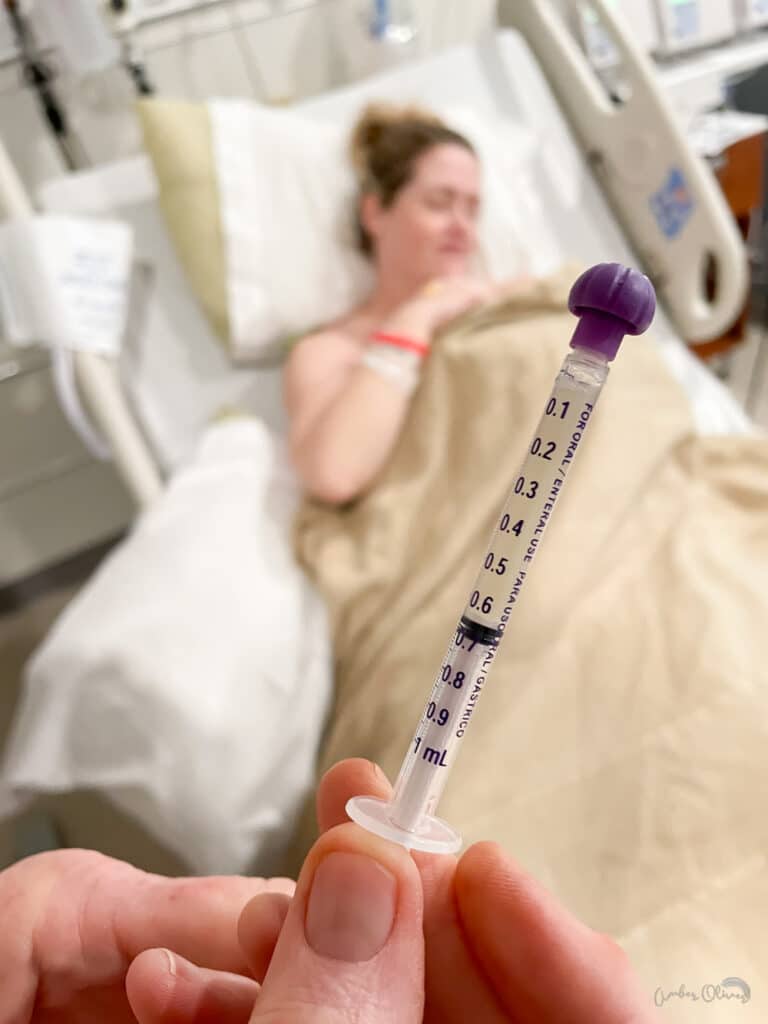 4. Managing Engorgement and Discomfort:
Engorgement, a common challenge during the early days of breastfeeding, can be uncomfortable and even painful. A breast pump can help alleviate this discomfort by expressing excess milk, making breastfeeding sessions more comfortable for you and your baby. It can also help prevent blocked milk ducts and reduce the risk of mastitis, a painful breast infection.
5. Flexible Schedule and Lifestyle:
Life can be unpredictable, and there are times when you might need to be away from your baby for various reasons – doctor's appointments, social events, or personal self-care moments. A breast pump offers you the freedom to maintain your breastfeeding routine while accommodating your schedule. You can express milk and store it for later use, ensuring your baby doesn't miss out on the benefits of breast milk, no matter where you are.
The decision to use a breast pump is a personal one that should align with your unique circumstances and needs. Whether you're a working mom, a student, or simply seeking more flexibility in your breastfeeding journey, a breast pump can be an invaluable tool. By empowering you to regulate milk supply, involve partners, manage discomfort, and maintain a flexible schedule, a breast pump becomes a versatile ally on your motherhood journey.
Remember, each mother's journey is unique, and the most important thing is to choose what works best for you and your baby. Embrace the convenience of a breast pump and enjoy the benefits it brings to your nurturing experience.
The Spectra Breast Pump is a fantastic tool for new moms looking to provide the best nutrition for their little ones. With its innovative features, customizable settings, and thoughtful design, it's no wonder that so many moms trust Spectra for their pumping needs. By following this complete guide, you'll be well-equipped to make the most of your pumping sessions, ensuring both comfort and efficiency.
Whether you're a first-time mom or a seasoned pro, the Spectra Breast Pump is here to support you on your breastfeeding journey. Any tips you would add? Drop a comment below! Happy pumping!