Learn how to make your own DIY earrings from Resin! These resin statement earrings are so simple to make and easy to customize!
Hey there! Are you looking for a fun and creative way to make your own unique earrings? Look no further than resin! Resin is a versatile material that can be used to create all sorts of beautiful and unique jewelry pieces. And the best part? It's super easy and affordable to work with. In this blog post, I'll walk you through how to make your own DIY earrings from resin. Let's get started!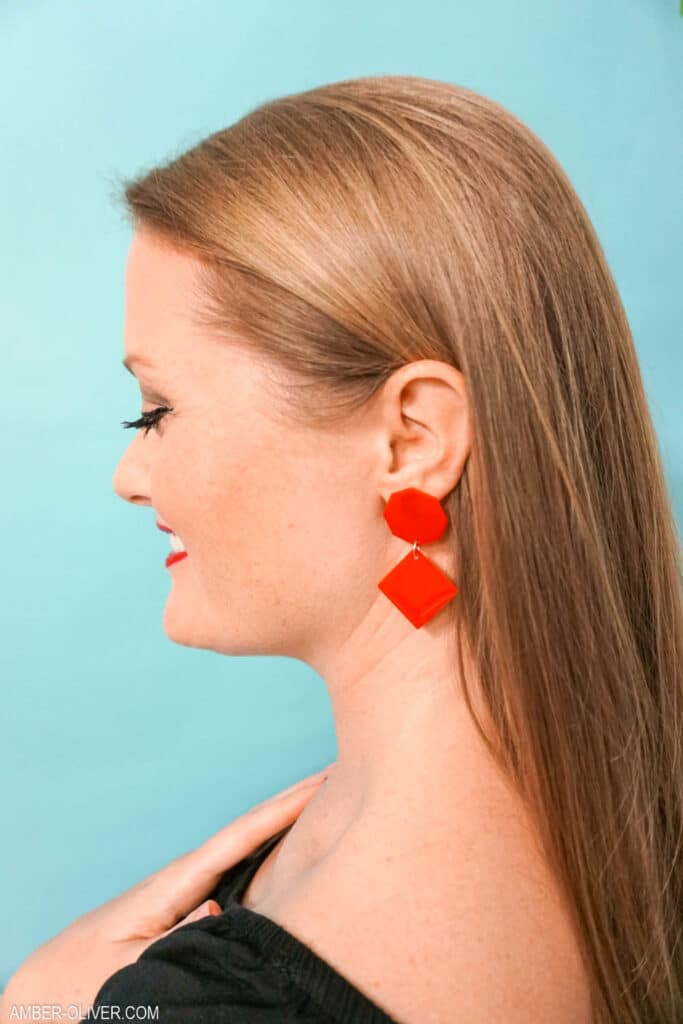 Note: There are several different ways to make DIY epoxy resin jewelry. My favorite and the type of resin we will use in this tutorial is ETI Clear Casting two-part Epoxy Resin. Other resin craft creators love UV resin and make really beautiful pieces and resin crafts. With this type, you also need a UV lamp or UV light.
Materials Needed for DIY Earrings made with Resin
Jewelry Hardware (earring hooks or posts)
Resin (I recommend using a two-part epoxy resin – my favorite type of resin)
Silicone molds (you can find a variety of shapes and sizes at craft stores or online)
Optional: Mica Powder Pigments, glitters, or other embellishments to add to your resin (There are so many different ways to customize!)
DIY Earrings from Resin
Step 1: The first step with all resin projects is to prepare your workspace. Before you get started, make sure you have a clean and organized workspace. Lay down some plastic or paper to protect your surface, and have all of your materials within reach. You'll also want to put on some gloves to protect your hands from the resin.
Step 2: Mix your resin Mixing your resin is pretty straightforward, but it's important to follow the instructions carefully. Most two-part epoxy resins come in two containers – one with the resin and one with the hardener. Use measuring cups to measure out equal parts of each, and then mix them together thoroughly with a stir stick. Make sure to scrape the sides and bottom of the container to ensure a thorough mix.
Step 3: Add embellishments (optional) If you want to add some color or glitter to your resin, now's the time to do it. Simply stir in your pigment or glitter until it's evenly distributed. Keep in mind that a little goes a long way – you don't want to overdo it and end up with a chunky or opaque mixture. But add color, glitter, and maybe even gold leaf! Get creative!
Step 4: Pour a small amount of resin into the molds Once your resin is mixed and any embellishments are added, it's time to pour it into your molds. Fill the molds about 2/3 to 3/4 of the way full, as the resin will expand slightly as it cures. Use a stir stick to carefully spread the resin to the edges of the mold.
Step 5: Pop any bubbles As your resin starts to set, you may notice some air bubbles forming. Don't worry – this is normal! Simply use a toothpick or heat gun to pop any bubbles that you see. This will help ensure a smooth and even surface.
Step 6: Let the resin cure Once your resin is poured and any bubbles are popped, it's time to let it cure. The curing time will depend on the specific resin you're using, so be sure to read the instructions carefully. As a general rule, most resins will take at least 24 hours to fully cure. Don't rush the process – it's better to let it cure completely than to try to remove your earrings too early and risk damaging them. The temperature has the biggest effect on the hardening process. Always check the instructions for optimal work conditions!
Step 7: Remove the earrings from the molds. Once your resin is fully cured, it's time to remove your earrings from the molds. Carefully flex the mold to loosen the edges of the resin, and then gently pop them out. If you have trouble getting them out, try putting the mold in the freezer for a few minutes – this can help loosen the resin and make it easier to remove.
Step 8: Attach the earring hardware. Now that your resin pieces are free, it's time to attach the earring findings. For hook earrings, simply use pliers to open the loop at the bottom of the hook, and then slide your resin piece onto it. For post earrings, apply a small amount of epoxy glue to the flat back of the resin piece, and then press the earring post onto it. Make sure the post is centered and straight. Let the glue dry according to the manufacturer's instructions.
Step 9: Enjoy your new earrings! Congratulations – you've made your own DIY resin earrings! Now it's time to show them off. Wear them with pride and let everyone know that you made them yourself. You can also experiment with different colors, shapes, and embellishments to create a whole collection of unique earrings.
Shop Resin Molds for DIY Earrings

A few tips to keep in mind:
As always, wear gloves and other safety equipment when working with resin to protect your skin.
Work in a well-ventilated area to avoid inhaling fumes. Open windows if needed!
Follow the instructions for your specific resin carefully to ensure the best results.
Use a toothpick or craft stick to carefully mix your resin and pop any bubbles.
Don't rush the curing process – be patient and let your resin fully cure before removing it from the molds.
Have fun and be creative – resin is a versatile material that can be used to create all sorts of unique jewelry pieces.
In conclusion, making DIY earrings from resin is a fun and easy way to create your own unique accessories. With a few basic materials and some creativity, you can make a variety of shapes and styles to match any outfit or mood. So why not give it a try? Create your own collection of custom earrings! You never know – you might just discover a new favorite hobby. Happy crafting!
Yield: DIY Earrings
DIY Earrings - Resin Statement Earrings
Learn how to make your own DIY earrings from Resin! These resin statement earrings are so simple to make and easy to customize!
Materials
Silicone molds
Colorants or mix ins
Instructions
Start by preparing your EasyCast Clear Casting Epoxy. This is a multi-step process so don't start mixing until you are ready to do the whole project from beginning to end! Start by mixing EQUAL parts of the Hardener and the Resin.
Stir the mixture for 2 minutes (be sure to scrape the bottoms and sides) then pour from the 1st cup into a 2nd and mix with a new stir stick for an additional minute.
After your mixture is ready, pour it into two smaller cups and stir in your colorants or mix-ins. I used Castin'Craft Opaque Pigment.
Pour gently into your molds. If you overpour, simply wipe away the excess.
Demold after you've allowed enough time to cure.
For these two-piece statement earrings: drill a small hole in the bottom of the top piece and in the top of the bottom piece.
To connect the pieces, use a small metal loop (these are called jump rings!)
Lastly, glue earring posts onto the top piece!
In addition to these statement pieces, we have other DIY resin jewlery projects! Our resin crafts archives include beautiful resin hoop earrwith confetti, resin bookmarks, and other fun epoxy resin jewlery ideas!