Learn how to paint concrete floors on your patio! This tutorial shows you how to transform your porch or patio with paint!
Our patio was looking rather drab. I really wanted to paint the brick on our house but haven't been able to convince my husband it's a good idea. I did manage to get him to go with painted concrete floors!
We went back and forth on whether or not to do a stenciled design and ultimately, for simplicity sake, went with stripes. Our patio is HUGE and doing a stencil design on the concrete would have taken ages.
VIDEO: How To Paint Concrete Floors
Instead we were able to knock this project out over a weekend and had the furniture back in place by the following week (had to let it all dry in HUMID Houston!). We really wanted to add some color back here, but didn't want it too busy, so these stripes delivered! Here's how to paint concrete floors on your patio and transform your porch with PAINT!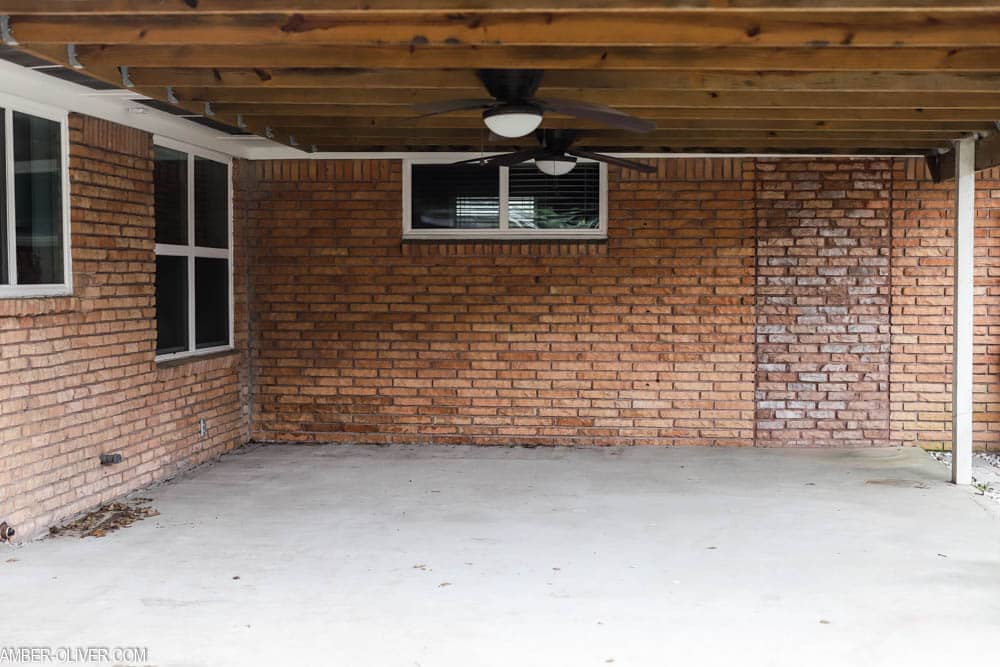 How to paint patio concrete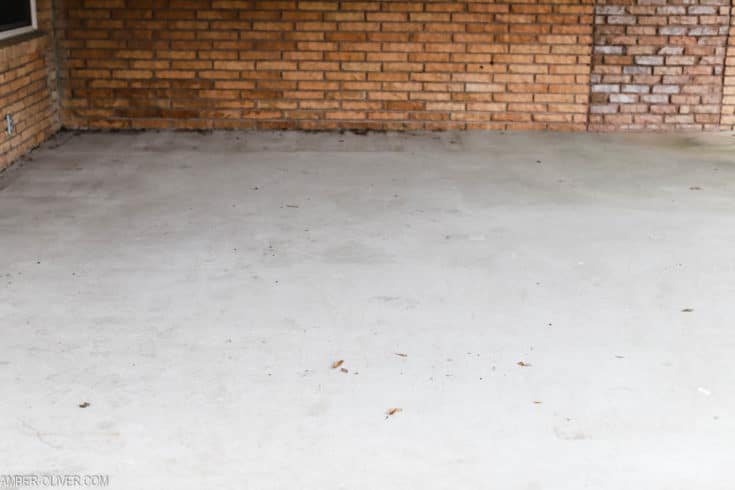 Materials
Instructions
The first step is to clean your patio. This includes removing all the furniture and also cleaning with a powerwasher. You want a fresh, clean canvas for your paint!
After you've powerwashed, use an all-in-one concrete cleaner to clean, degrease, and etch the patio. We used Valspar FastPrep and a deck brush. Allow the concrete to dry overnight.
The next day, start painting! Cut in all the way around the patio with a brush, then use a roller with a long stick to paint larger sections. It took almost 3 hours to get the first layer (white) down. Allow to dry overnight.
The following day you can either add the second coat or proceed with the stripes. Use painters tape to make lines, then paint in with your second color! (See below for my tip on getting clean, crisp lines!)
Wait as long as you can before putting your furniture back in place - a minimum of 48 hours!

While we went with bold colors and big thick stripes, you could easily customize this project to suit your tastes and style! The Porch and Floor Paint we used is really high quality stuff (though at little pricey at $30 per can).
The stripes were super simple to paint, but it did take a lot longer than I thought it would. Relatively speaking, it wasn't that long (only a weekend project) but I thought the base coat of white for example would only take an hour. Painting the concrete (by myself!) took nearly 3 hours! My tip is to take your time, and put on some good music or a podcast!
You also need to factor in dry times. I like to let each coat dry *at least* overnight (since we live in such a humid climate). Ultimately it's your choice, but follow the instructions on the paint can for best results!
Looking for more backyard DIYs? Try this tutorial for DIY cornhole boards! We also show you how to use old pallets to make your own DIY potting bench!
I tried to use the "delicate" Frogtape when it was time to add the stripes (thinking it was necessary since the base coat was fresh) but it didn't work at all. The tape wouldn't stick to the concrete and we didn't end up having any problems with the regular Frogtape on the fresh paint.
Just look at those crisp, clean lines!
Here's how to get clean paint lines every. single. time.
First painted your base coat.
Map out your design and put down tape.
Next, paint over those lines with the same color as the base coat.
After that dries, add the next color (in this case my blue stripes).
Once the paint dries remove the tape to reveal perfect, clean paint lines.
This works so well because any of the "bleeding" will be done in the same color as your base and adding this extra bit of paint seals in the lines before you add the next color!
To clean our painted concrete patio, I move the rugs and smaller furniture and hose off! In the high traffic areas I use the deck brush to scrub then rinse. Easy peasy! It has also held up well! It's been over 6 months since we painted at the time of this writing, and there is zero scuffs or wear!
They no longer have the paint I used from Lowe's available online, but I've also used this one from Home Depot and it works great!
This tutorial showed you that you can paint your concrete patio but did you know you can also paint your bathroom tile floor!? Check out my tutorial to see how we painted the floors INSIDE as well!
Wanna see what the patio looked like once it was complete? Click here to see our painted concrete patio decorated with new patio furniture and our DIY Outdoor farmhouse table!
Don't forget to PIN for later!