To me, summer has always meant more time outdoors. The days are long (and hot) but more daylight = more time for fun! We like to play backyard jenga at my bud Lura's, so I wanted a fun backyard game for our house as well. In college, we used to play cornhole (also known as "bags"). I thought it'd be fun to have a set of cornhole boards for our backyard! I found several different tutorials for making your own, but all of them seemed too big and bulky. We needed a set that was wood so it'd be sturdy, but I didn't want it too heavy to lug around. We made a set of cornhole boards that are lightweight and compact for easy carrying and easy storage!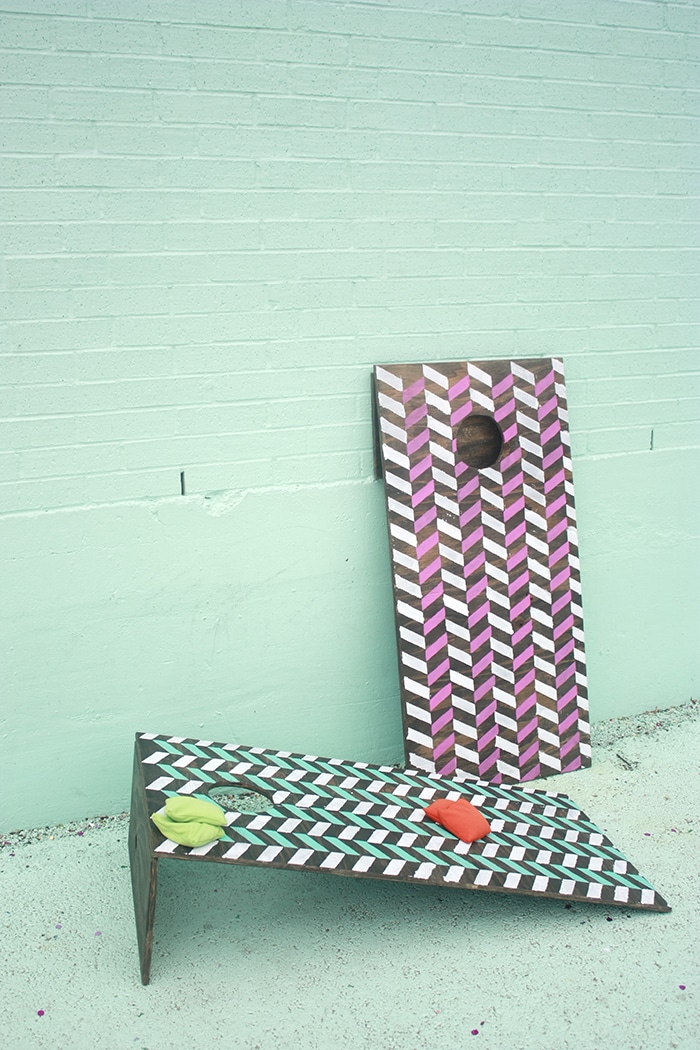 This post contains affiliate links. If you shop from my blog, I may be compensated for clicks or purchases that you make. Thank you for your support – it means I can keep crafting! Please refer to my disclaimer page for more information.
DIY Cornhole Boards

Sheet of plywood (I used 15/32 in. x 4 ft. x 8 ft. 3-Ply)
3 inch hinge (4 total)
DecoArt Patio Paint – Cloud White
DecoArt Patio Paint – Blue Bahama
DecoArt Americana Decor Stencil – Zig Zag

We had our plywood cut down in the store so it'd fit in the car. The 4×8 sheets are perfect if you cut them into 4ths. Just have it cut into four 24 inch sections (your boards will be 24 inch wide by 48 tall).
For the back board, use one of the extra boards to cut into two 12 inch sections (depending on the thickness of your plywood you may want to subtract a bit to make it stand 12 inches tall). This will be attached underneath to prop the cornhole boards up.
To mark the holes, draw a 6 inch circle so the middle of the circle is 9 inches from the top. Measure 12 inches in from the sides to find the center. We couldn't find our protractor or compass so we used a bowl to trace a circle.
Use a spade drill bit to make a hole in the middle of the circle. You'll use this to get your jigsaw in. Now you can begin the process of cutting out the hole.
Bonus: we also used our router to finish the edges. This is my new favorite power tool!
After your hole is cut, you can sand the cornhole boards and prep for the wood stain. We waited until the boards were stained to attach the back piece with the hinges. After the stain was dry, I was eager to use my new DecoArt Patio Paints to stencil on a cool design. I absolutely love how the zig zag design came out! The stencil was easy to use; I taped it down with painter's tape and used a dabber to apply the paint. The edges line up so all your lines are straight! The paint is made for the outdoors so it should hold up nicely on these outdoor DIY cornhole boards!
NOTE: To make this project even simpler, you can purchase pre-cut cornhole boards. This path is a bit more expensive, but you can still customize them however you want!
Do you have a favorite backyard game?