Learn how to turn dresser drawers into shelves. You can use an upcycled dresser drawer to create versatile storage for your home!
Imagine this: Me frolicking through the aisles of the Habitat for Humanity ReStore singing: Look at this trove, Treasures untold, How many wonders can one THRIFT STORE hold?
Singing like the Little Mermaid seemed perfect for how I was feeling with all the amazing finds at our local store. Unlike traditional thrift stores that are usually 80% clothing and 20% the good stuff (old furniture, home goods, etc.) this place is the exact opposite! It's such a great place! If you don't have one near you, check out your local flea markets or garage sales.
So many good finds like shutters, old doors and windows, cabinets, and of course my favorite little corner that has 100s of DRAWERS! Top drawers, bottom drawers – every kind of drawer! They get a ton of old dressers and cabinets that for whatever reason can't be sold (water damage, etc.) so they save the drawers that are in good shape and sell them for a few bucks! SCORE!
Let me show you how to turn dresser drawers into shelves! This is the coolest upcycled dresser drawer you'll ever see (if I do say so myself!) and a really great way to add a unique storage solution to your home!
Yield: 1 Shelf
How To Turn Dresser Drawers Into Shelves
Learn how to turn dresser drawers into shelves. Upcycle an old dresser drawer into versatile storage for your home!
Materials
Old drawer
Board (for the shelves)
Paint (Chalk paint is super easy!)
Instructions
The first step is to remove all the hardware. This includes the handles on the front and the drawer slides on the sides or bottom.
Next, fill in all the holes with wood putty.
After that give the whole drawer a good sanding.
Now measure the insides of the drawer so you know how wide to cut your shelves. My drawer was right at 6 inches deep so I cut my shelves from a 1x6 board.
After your shelves are cut - drill pocket holes on the undersides of the shelves.
Attach the shelves with the pocket holes on the bottom so they're hidden.
Now it's time to add legs! Screw the plates into the bottom of the drawer and insert the feet.
After the feet are attached, it's time for paint!
For my project, I only added 2 feet on the bottom and it leans perfectly against the wall. That said, be sure to attach to the wall if you have small children at home! This lovely little bookcase turned out so great! I really love the simple legs and think the finished project turned out amazing. It's the right size for tight spaces and could easily be customized to a bigger space with a larger drawer.
I went with a nice, neutral white but you can do a different color if you want. You'll be shocked what a fresh coat of paint and some old dresser drawers can become! I can think of so many fun ways to paint: use a bright color, contrasting color pairings, or a "farmhouse" distressed look.
Other uses for an old chest of drawers or a repurposed dresser (DIY ideas that use the whole dresser!)
Entertainment center for your living room. (Take out a drawer and add a shelf for your DVD player and make a a cute TV stand)
DIY sideboard for your dining room
Baby changing table
Extra kitchen storage
Extra storage for your craft room!
Unique kitchen island
Console table or entryway table
Bathroom vanity
2 small dressers can be used with a table top to create a large desk for your home office
I love upcycling projects because it challenges me to look at ordinary items in a different way. Have you ever done an upcycling project? Have you ever upcycled dresser drawers? Here is a list of other amazing projects done for this seasons Thrift Shop Challenge!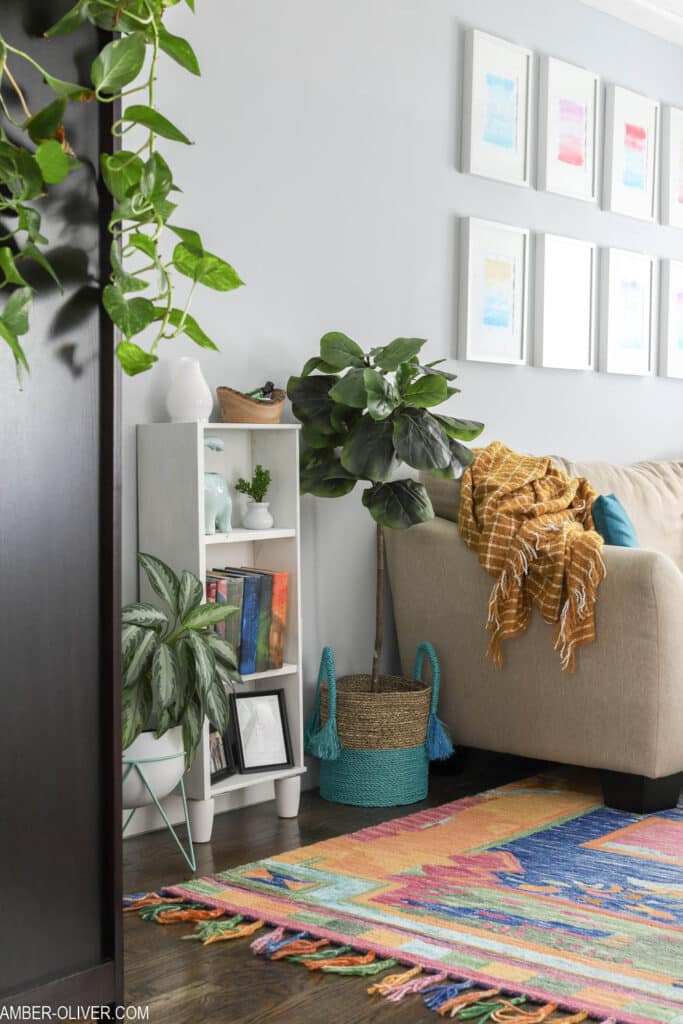 Learn how to make inexpensive DIY wall art with this tutorial!
Wanna join in on the fun? Share a photo of your Thrift Shop project on Instagram and use the hashtag #ThriftShopChallenge! Tag me @a_m_b_o so I can see!
Looking for more DIY home decor? I have more than 28 tutorials for easy DIY cricut crafts and home decorating projects!
Don't forget to PIN for later!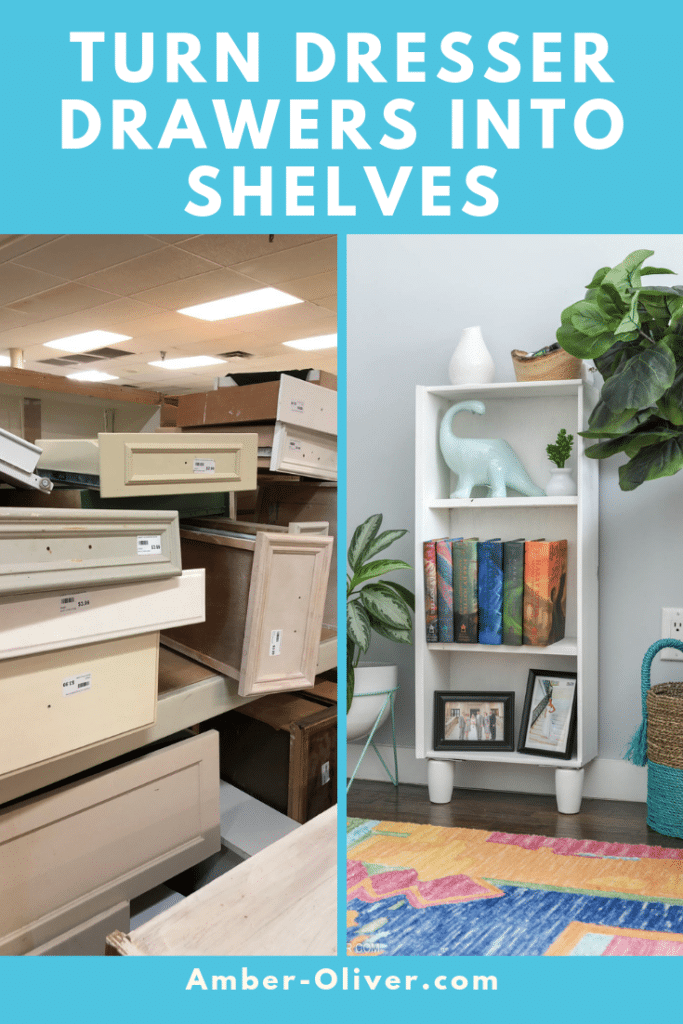 I hope you love my cute little bookshelf! Drop me a comment below if you try this upcycled dresser drawer idea! Looking for other fun DIY projects? Check out the archives!