Use this tutorial to learn how to paint a table without sanding! You can paint laminate furniture from IKEA (or any kind of table!) with the right kind of paint and primer!
When it comes to painting old furniture, there are a ton of tutorials out there. Most of them will tell you they know the best ways to paint a table but I'm here to show you what I think is the EASIEST! For most of us, sanding is our least favorite step. It's messy, hard work and there's so much dust! You don't need a 10 step tutorial – you just need to know the most important step: using the right primer!
Yep, it really is that easy. No need go the long way and try to remove the old finish to paint wood furniture. You also don't need liquid sandpaper or liquid deglosser. If you want to paint furniture quickly and easily – all you need is regular paint and the RIGHT primer!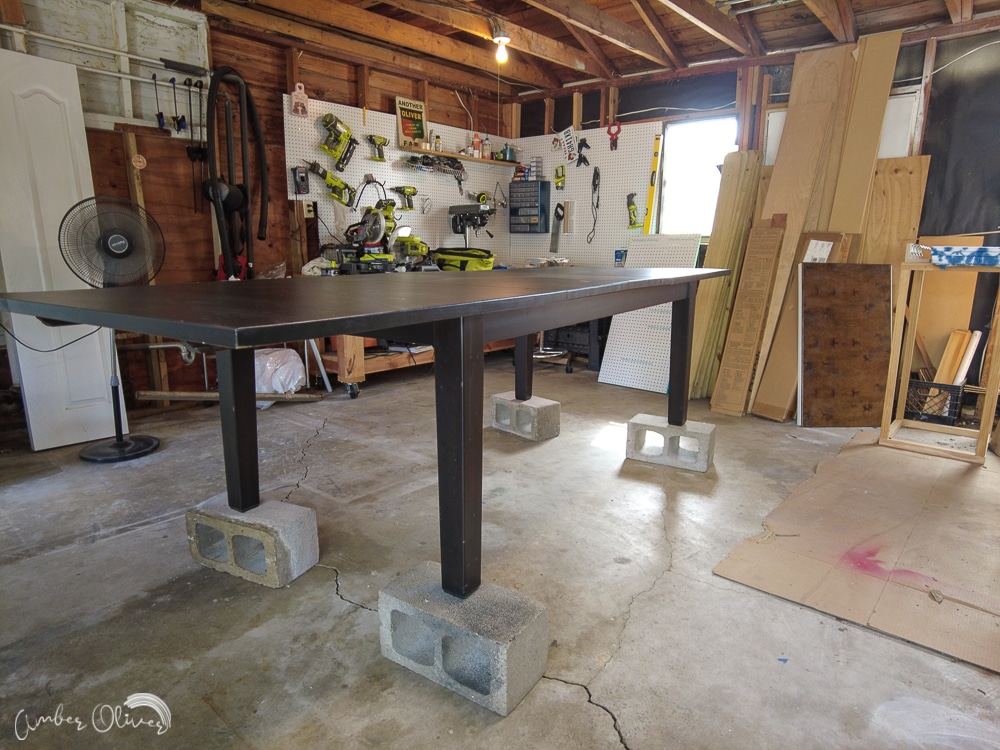 I found this old table at a thrift store a while back. I knew it would be perfect for our dining room despite the dark color. I really wanted a bright white dining room table with plenty of seating. With the right prep work I could paint it whatever color I wanted; even with that glossy surface!
You have many options when it comes to furniture painting. Some of the more popular types of paint are chalk paint, mineral paint, or milk paint. I personally am not a fan of the "distressed" or "farmhouse" look so I steer clear of these type of paint.
Laminate furniture (IKEA is probably the most popular!) has glossy surfaces that paint will not stick to. The good news is, the bonding primer I recommended you will be able to transform your piece of furniture the easy way despite those shiny surfaces!
You may look at the materials list below and think: wait I thought you're showing me how to paint a table without sanding? Why is SANDPAPER on the list!? Not to worry – we're only using that to smooth the wood filler. No dents or dings on your table? You can skip that step completely and go straight to priming!
How to Paint a Table without Sanding
Use this tutorial to learn how to paint a table without sanding! You can paint laminate furniture from IKEA (or any kind of table!) with the right kind of paint and primer!
Instructions
The first thing you want to is CLEAN your table. Use a lint-free cloth to make sure you don't leave any dust particles behind. (I'm bad about this and actually used a paper towel! LOL)
Fill in any imperfections with wood filler. Our table was in good condition despite a few nicks on the side and surface of the table.
After the wood filler dries, use a sanding block to smooth it level. YOU DON'T HAVE TO SAND THE TABLE!
Your next step is primer! It goes in on thin coats so you may need multiple to cover the table completely. Since I was using a white paint and going for a dark to light color, I made sure to put on two coats of primer. The first time I used this primer I was surprised how quickly it dries!
Now it's time for the first coat of paint. Make sure you stir with a paint stick before starting. Roll on the surface of the furniture, and use a brush to get underneath and near the edges. I used a paint tray but you can just use a paper plate if that's all you have. Use a good quality brush to avoid brush strokes. For the best results, always follow the paint instructions on how long to wait between coats of paint.
You'll most likely need a second coat of paint. Using a white primer helps to give a good base for our paint, but even with the best paint it's better to use multiple light coats. Also, make sure you invest in a quality paint. If you want a professional finish you can't cheap out on the paint. Investing a little bit up front will help you out in the long run!
After the final coat of paint dries, you can add on a clear coat. I used this Polyurethane for a top coat since it doesn't yellow and goes on crystal clear over my new paint. I used the matte finish but it also comes in a shiny finish!
This was a large piece of furniture so it took a long time to paint. About 30-45 minutes for each of the coats of paint. PRO TIP: If you want to save even more time, try spray painting with a paint sprayer. I love the Wagner Flexio 5000 and I've even used it to paint walls in our house! There's no right or wrong way to do the painting but a sprayer sure saves time!
Now when I tell you this primer is magic – I'm not kidding! Another good primer is INSL-X STIX. You don't need to sand with this one either so it saves you a ton of time! BIN even comes in a spray primer!
I was painting laminate furniture in this tutorial, but you can use the same steps for wooden furniture! There's no need to go through the sanding process you normally do with paint projects *if* you use this primer! It bonds to the wood surface just like it does to the glossy finish of the laminate.
It's a fast dry primer coating sticks to all surfaces without sanding. This is not just for painting wood furniture – I used it on our dark brown shower tile! Yep, I PAINTED our shower tile!
After painting a table, you want to allow enough time for the paint to cure before using. Don't set anything on your fresh coat of paint. Remember there's a difference between dry time and cure time. Check on the paint can to make sure you don't mess up your new coat of paint. Not putting things on the table is one of the only reliable ways to ensure your painted table surface cures properly!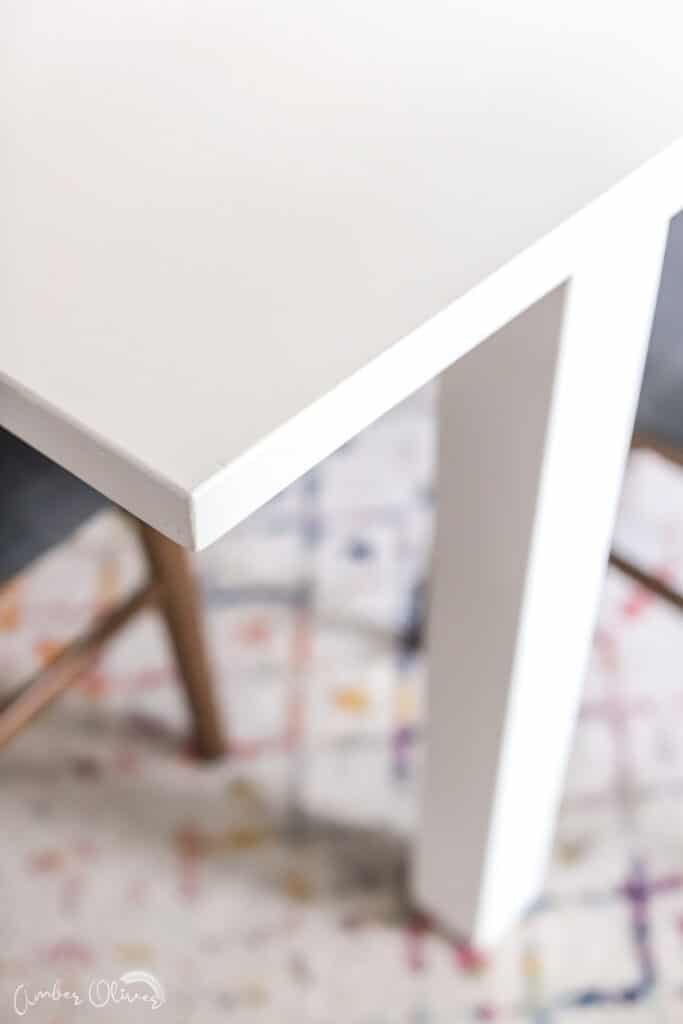 I hope this tutorial inspires you to give a new life to your dining room table (or any other furniture piece you may have!) You can change your table to a completely different color – even if you are starting with black like I did or a dark stained wood.
Love a good furniture makeover? Be sure to check out my Upcycle archives for other blog posts!