Our backyard has come a LONG way! We are finally to the fun decorating stage of our backyard makeover; which brings us to this pallet project tutorial for our DIY outdoor couch! We had to take care of a few necessary/required projects like fixing our rainwater drainage problems and adding patio pavers around the patio, and now we were able to focus on making the patio more comfortable and fun! We built an inexpensive DIY outdoor couch out of pallets with an AWESOME money saving hack.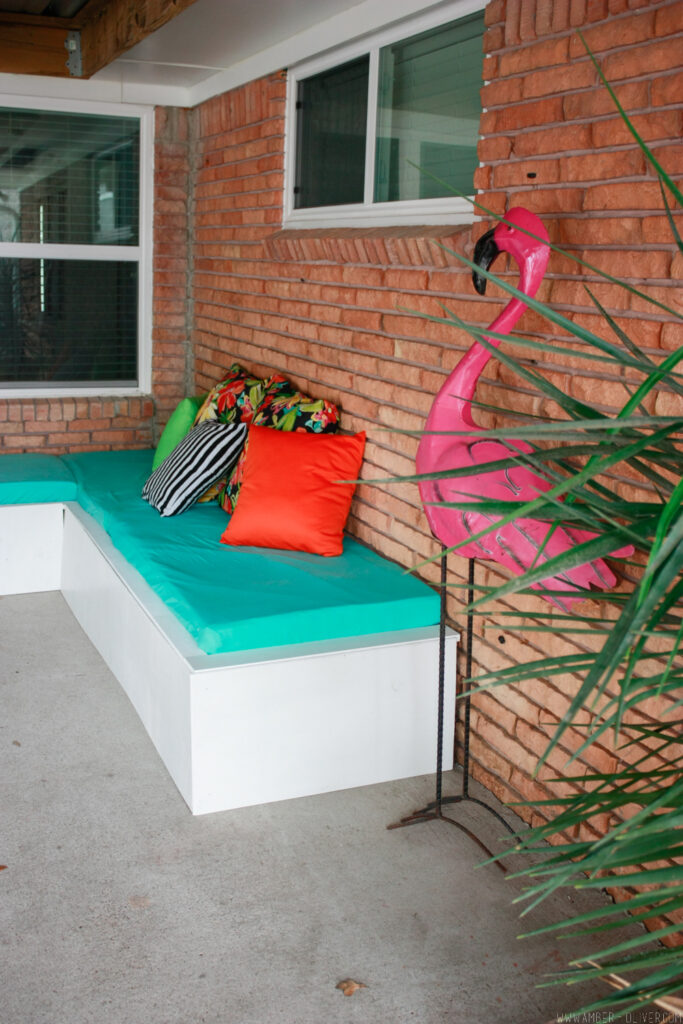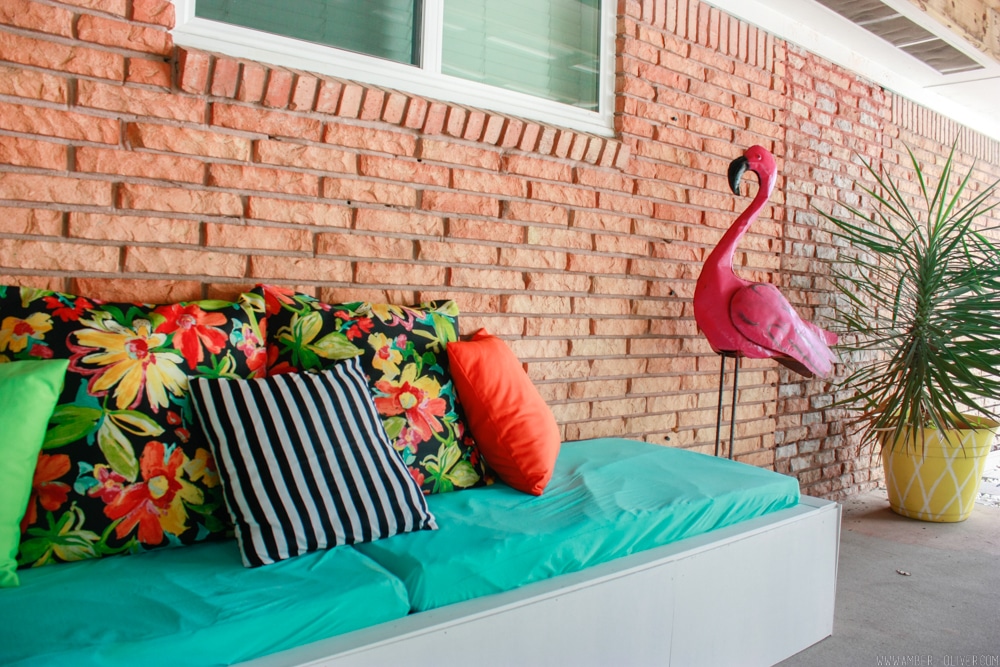 We were able to give our DIY outdoor couch an inaugural run on Memorial Day weekend when we hosted a backyard BBQ for our friends and family. We were excited to debut our backyard after all the recent updates, and were excited to enjoy a mosquito free evening thanks to TruGreen! A few days before our party, a representative from TruGreen came to our home and treated our yard for mosquito. It was a quick and easy process, and I appreciated our representative taking time to explain the whole process to me!

TruGreen came out a few days before our party to treat our yard for mosquitoes. They treated the areas of our yard where mosquitoes hide: the trees, shrubs, and mulched areas. By the next day we noticed a huge difference! We were able to work in the yard all day Saturday, late into the evening, with no bites and no need to spray ourselves! I admit I was skeptical, but I was pleasantly surprised after the treatment. Luckily, TruGreen Mosquito Defense comes with a guarantee, so they'll perform a free reservice on any full mosquito plan any time you see biting mosquitoes between treatments. This service enabled us to enjoy our newly updated backyard, with our DIY outdoor couch, cornhole boards, and farmhouse table minus mosquito bites. We only had to spray our yard; not our guests!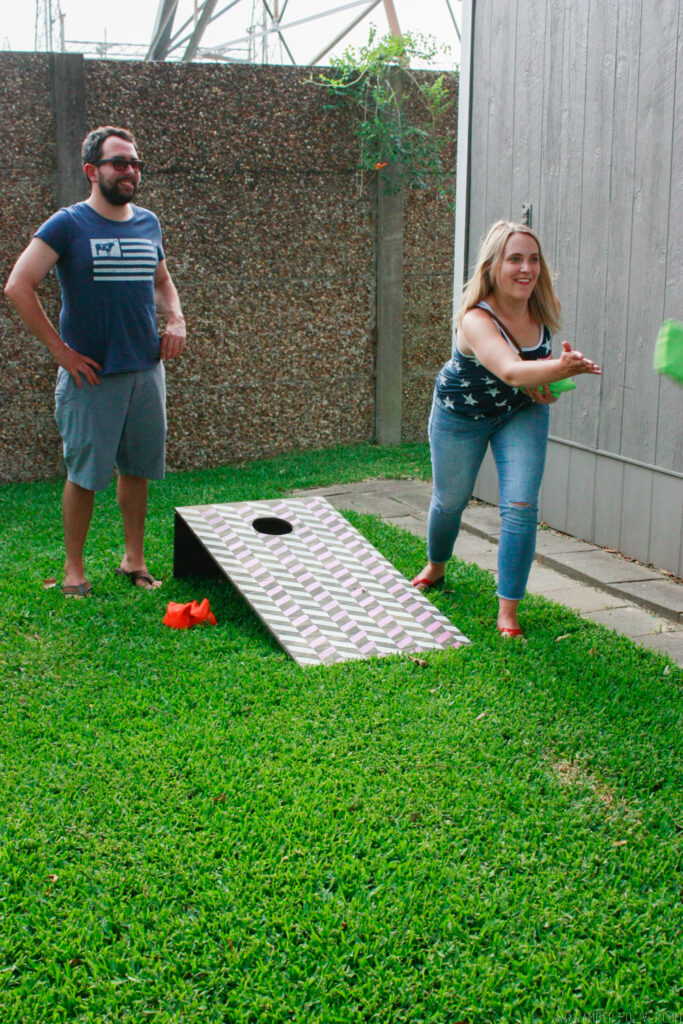 We had so much fun hosting our friends and family and got our backyard finished just in time! Our DIY outdoor couch was an easy pallet project and the perfect way to add additional seating to our patio. This was a super cheap project as well. The cost saving tip:
Use crib mattresses instead of outdoor cushions!
Seriously the best idea ever! The mattresses are the perfect size, cheap, and WATERPROOF! The pallets were free, the mattresses were 30 bucks each, and the sheets are less than $10 and can easily be thrown in the washer if they get dirty. This project cost around $100! Way cheaper than buying new patio furniture 🙂
DIY Outdoor Couch
Start by measuring your space. We used these 
 4 inch crib mattresses, and cut our pallets down so the mattresses would fit on top in an "L" shape. We  added an extra few inches along the front, far left, and right sides of the couch so we could add a board around the edge to hold the mattresses in place!
You could easily stop at this point (maybe paint or stain your pallets) and attach the pallets but we wanted ours to have a nice finished look. Mostly because the pallets we found for free were pretty beat up! So we used some scrap plywood to frame out the front and sides of the couch.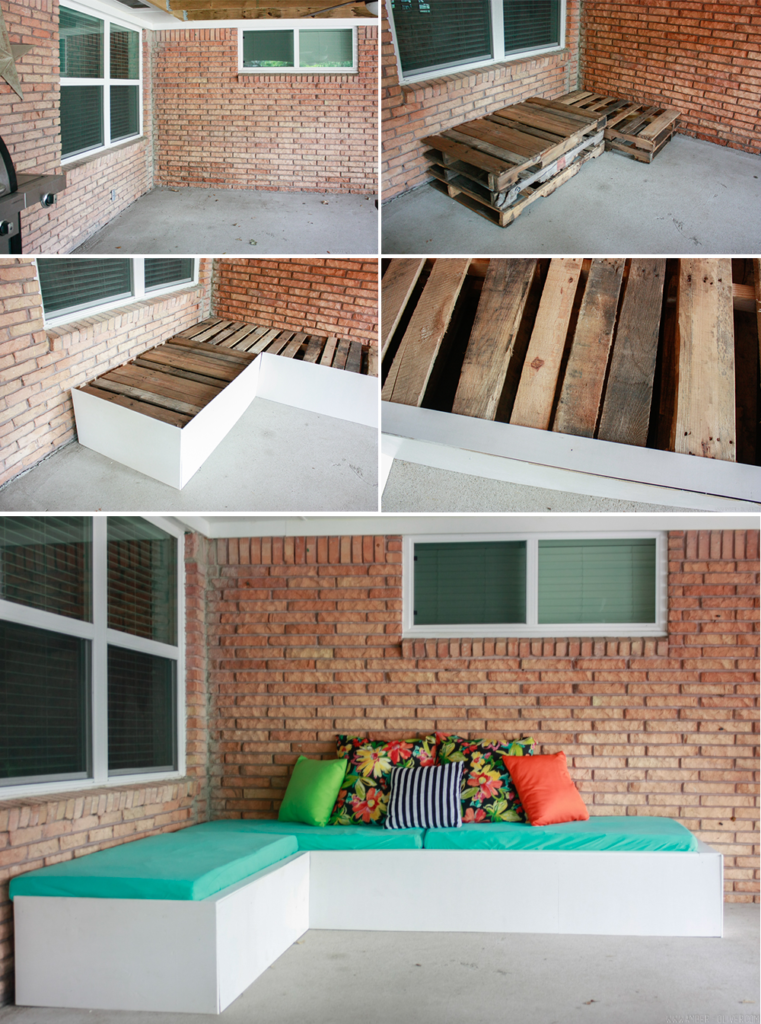 This was an easy and inexpensive project and the perfect way to add extra seating to our patio! We've been enjoying our patio frequently, (despite the heat!) thanks to our TruGreen Mosquito Defense treatment.
I was selected for this opportunity as a member of CLEVER and the content and opinions expressed here are all my own.