With a shovel, a rake, and some muscles you can learn how to lay patio pavers in one weekend to address a problem area or as a practical no-water alternative to a lawn.
After addressing the rainwater drainage issue in our backyard, we decided to lay patio pavers around our back porch. Every time it rained, we had standing water around the patio and we couldn't get the grass to fill back in, so we decided to fill in with rock to make it more sightly and less messy! Instead of hiring someone, we decided to install our own new patio to save on labor costs. This is a low maintenance backyard design idea that can update almost any outdoor space.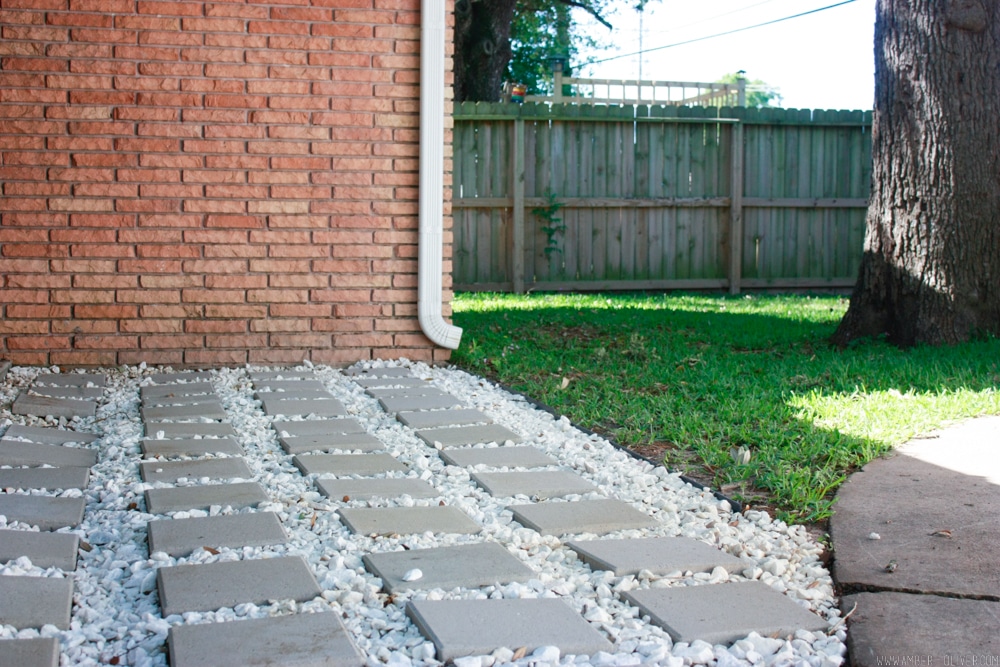 How to lay patio pavers video:
This project requires basically NO TOOLS! A tamper is the only thing you may not have already. With a shovel, a rake, and some muscles you can learn how to lay patio pavers in one weekend.
Please note: it's always a good idea to call before you dig! Have your utility lines highlighted with marking paint. You should know where all your lines, drains, and wires are in your outdoor areas!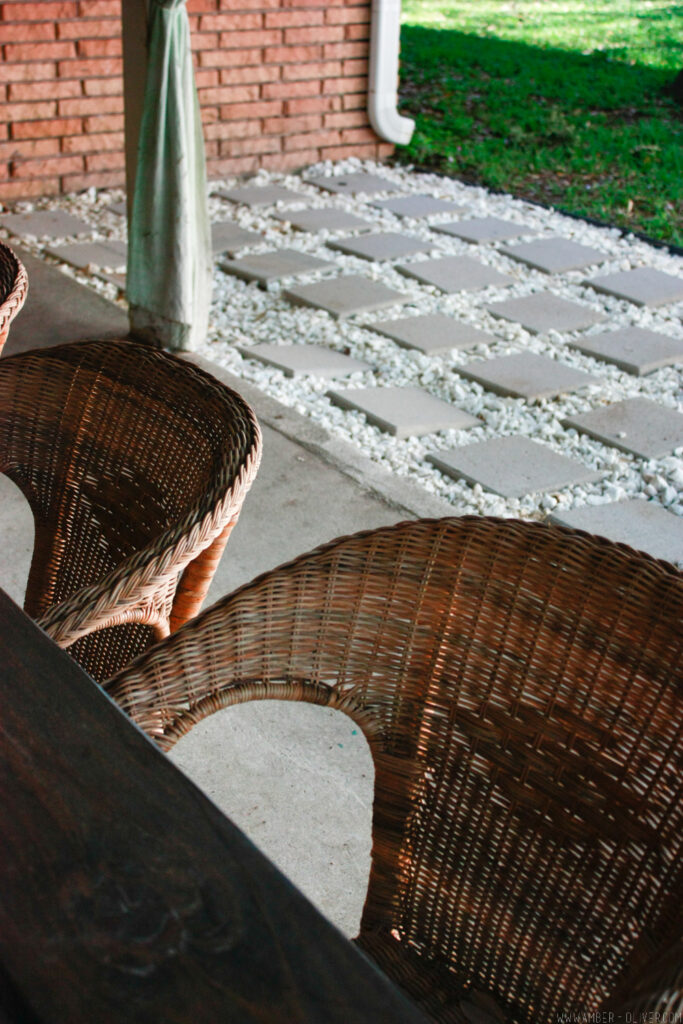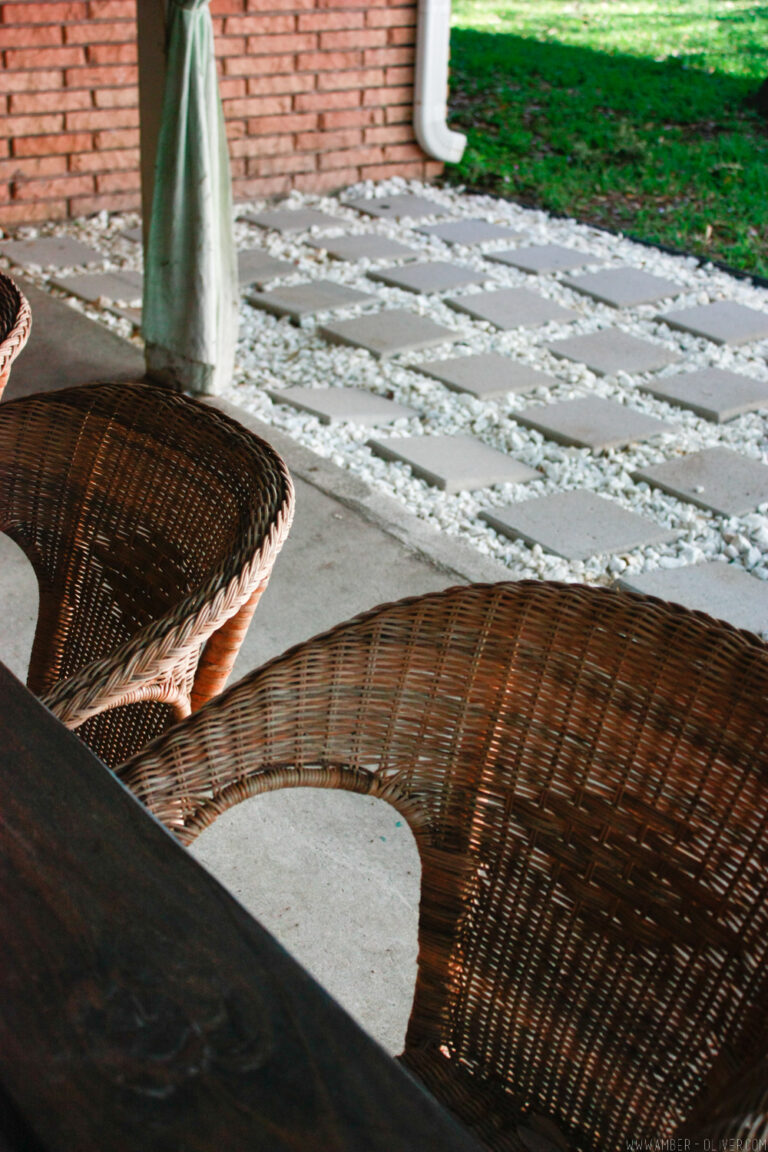 Yield: 1 DIY Paver Patio
How To Lay Patio Pavers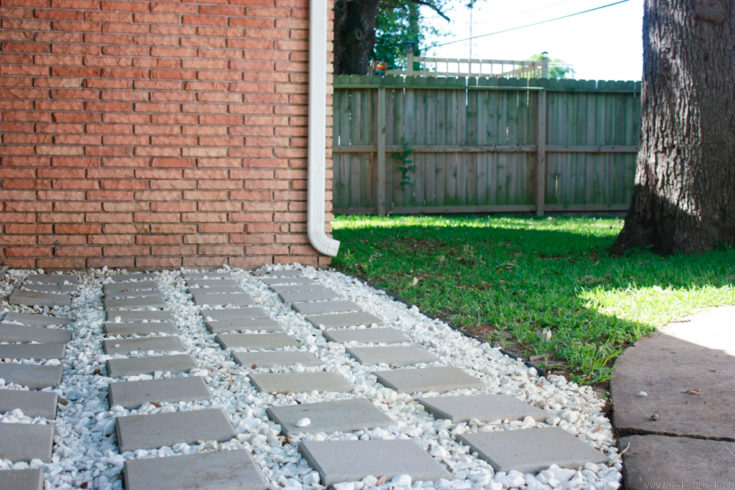 Let's build a DIY paver patio in a few simple steps! This project shows you how to lay patio pavers on dirt to create a DIY paver patio extension or stand alone area for your yard without pouring a concrete slab. Gather your paver materials and let's get started!
Instructions
Before your you begin your paver installation, measure your area square footage and purchase supplies. There are different size stones, so decide which works best for you. Just like there are different types of pavers, there are also different sizes and colors for the "filler" rocks. We opted for the larger white rocks as I liked the color and figured the larger stones wouldn't get kicked around as easily. Your choice depends on the type of paver you use.
Dig out and level the area. You'll want to dig deep enough that the paver stones will be flush with the grass. For us, this was about 2 inches.
After you've dug out the area, you need to make sure it's either level or properly angled. We have PVC pipes and a drain near our DIY paver patio so we made sure the area was sloped toward the drain. If you don't have this obstacle, just make sure the area is level. We used a long 2x4 to help check larger areas since we only had a small level.
Now it's time to tamp the dirt, and add a weed barrier. You'll be VERY glad you did this - don't skip this step!
If your new paver patio is next to grass you will want to use paver edging. This will help keep the base materials in place. Use a rubber mallet to install this.
Next, add paver sand, level, and tamp again to ensure a smooth surface to lay the paver stones. You'll want about 1-inch layer of sand on the flat surface.
After the sand layer is prepared, you can carefully add the patio paver stones. After the paver stones are laid the final step is to fill in with rock (the last layer) to hold them in place. This is easier to do with a push broom. We also used landscape edging to hold the rocks in place.
These patio paver stones were the perfect solution to our backyard problems. We've had several heavy rains since installing them and the drainage is working properly and the concrete pavers and rocks prevent the ground from getting muddy and messy!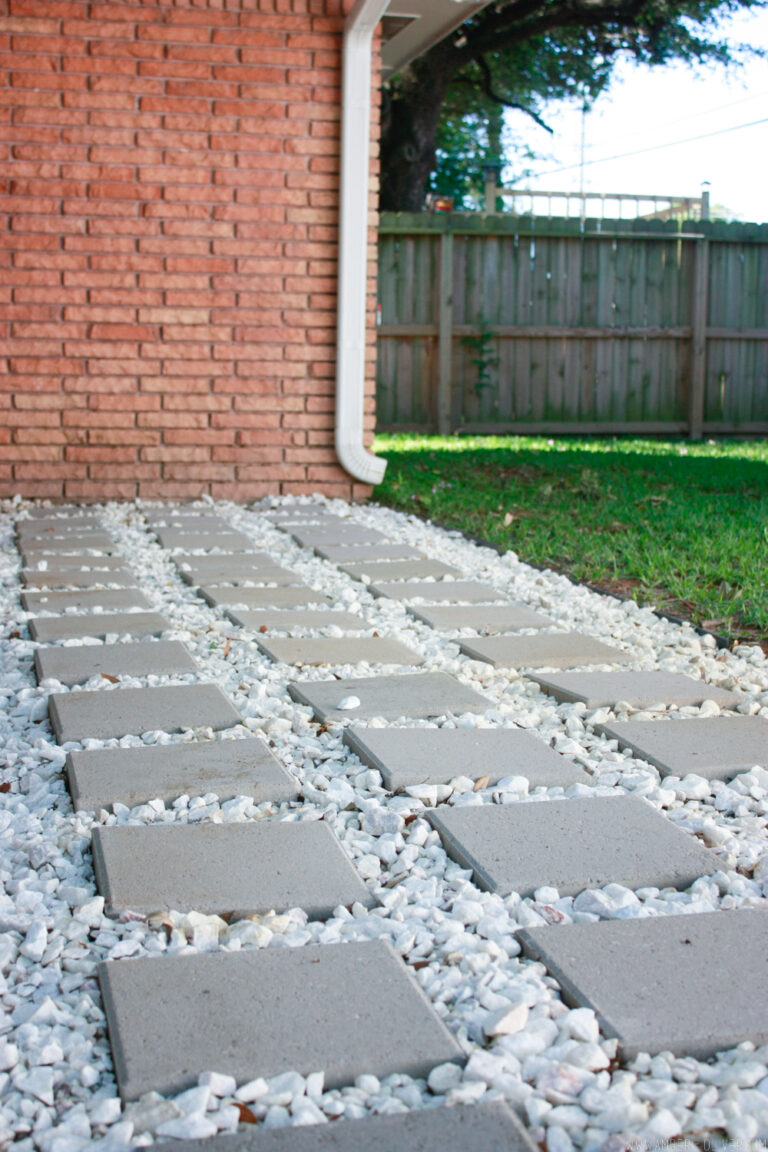 The the base material is the same even if you use a different pattern for your patio. The cost for your project depends on the square feet and if you have a large or small patio. You could use clay brick, brick pavers, or stone pavers to create a natural stone patio. No matter what paver design you go with, you'll save money doing this yourself!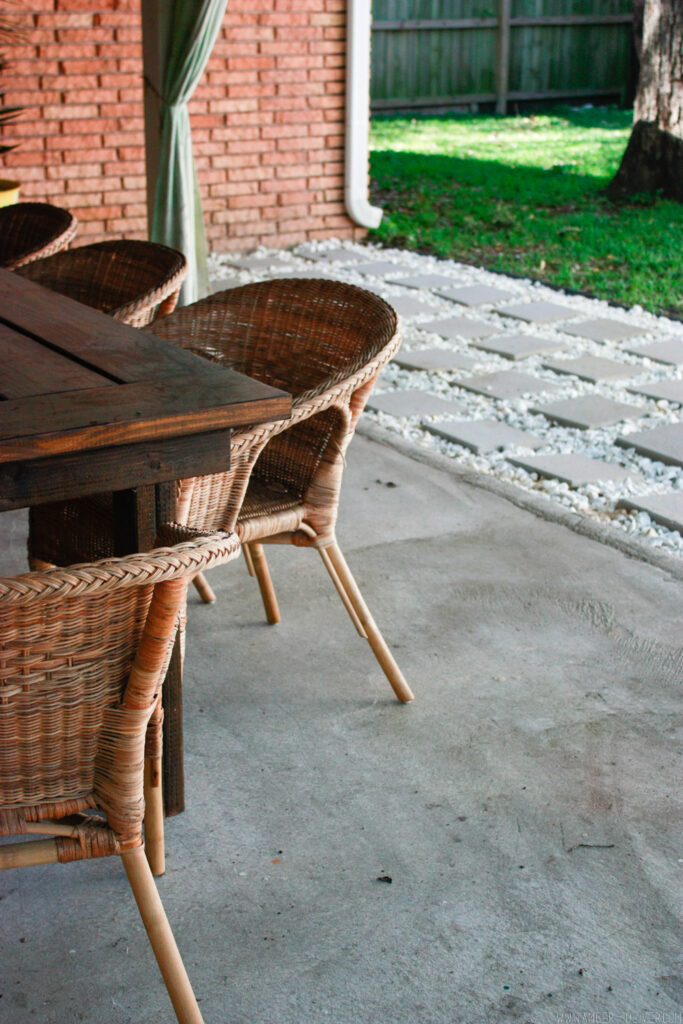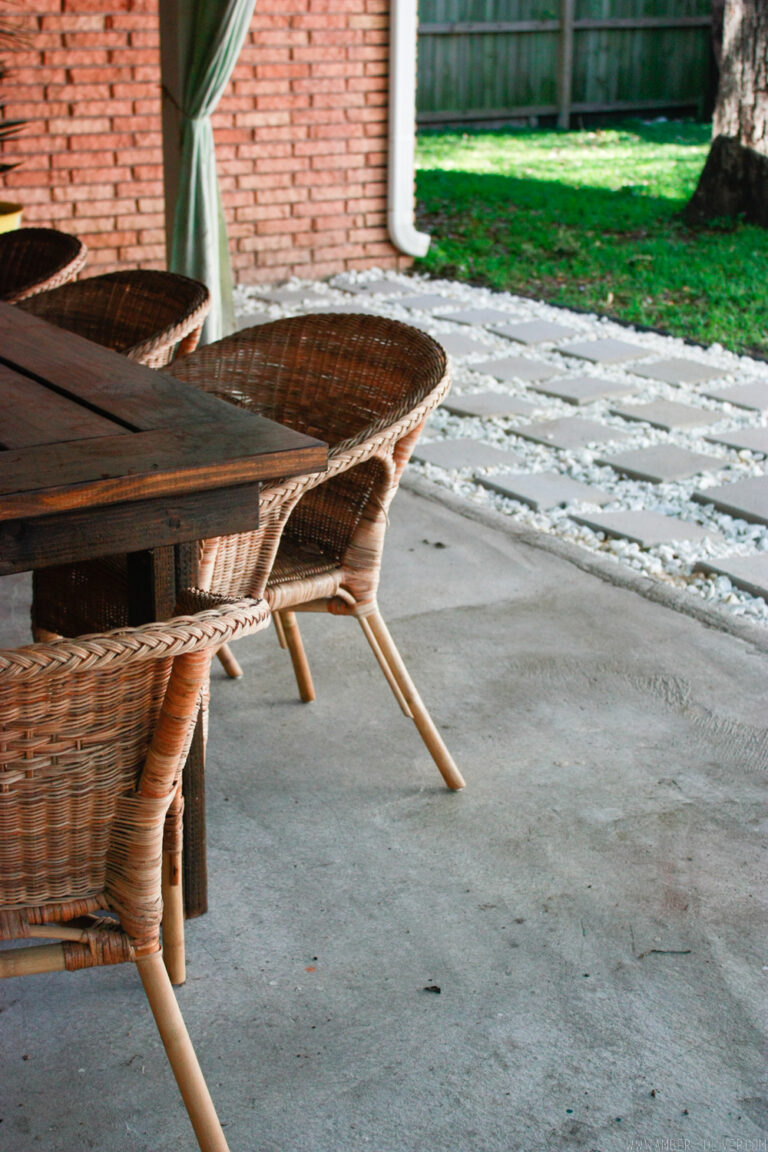 This project is great for problem areas like we had around our porch, and could easily be expanded for small backyards as a practical no-water alternative to a lawn.
Doing this yourself is great way to keep down the paver patio costs. All your hard work will be worth it when you can spend the money you save on other backyard features! Maybe put it towards a hot tub or an outdoor kitchen!
We've had our paver patio for a few years now and are still enjoying it. I occasionally have to pull a rogue weed but for the most part it stays clean and weed free. After mowing, I use a leaf blower to get rid of leaves or grass so our backyard patio stays looking its best!
Want to make your DIY patio project even easier? Shop online and pickup in store OR have the items delivered: