We installed the Rockler Dust Collector to help with garage dust control and keep our garage dust free! This post is sponsored by Rockler. Thank you for supporting the brands that help us bring you inspiring content!
No one likes dusting. In fact, it's probably one of those chores we all skip from time to time. So it goes without saying that aint' nobody got time for dust in the garage too! As part of our "garage glow up", we installed a Rockler Dust Collector and it has made a HUGE difference!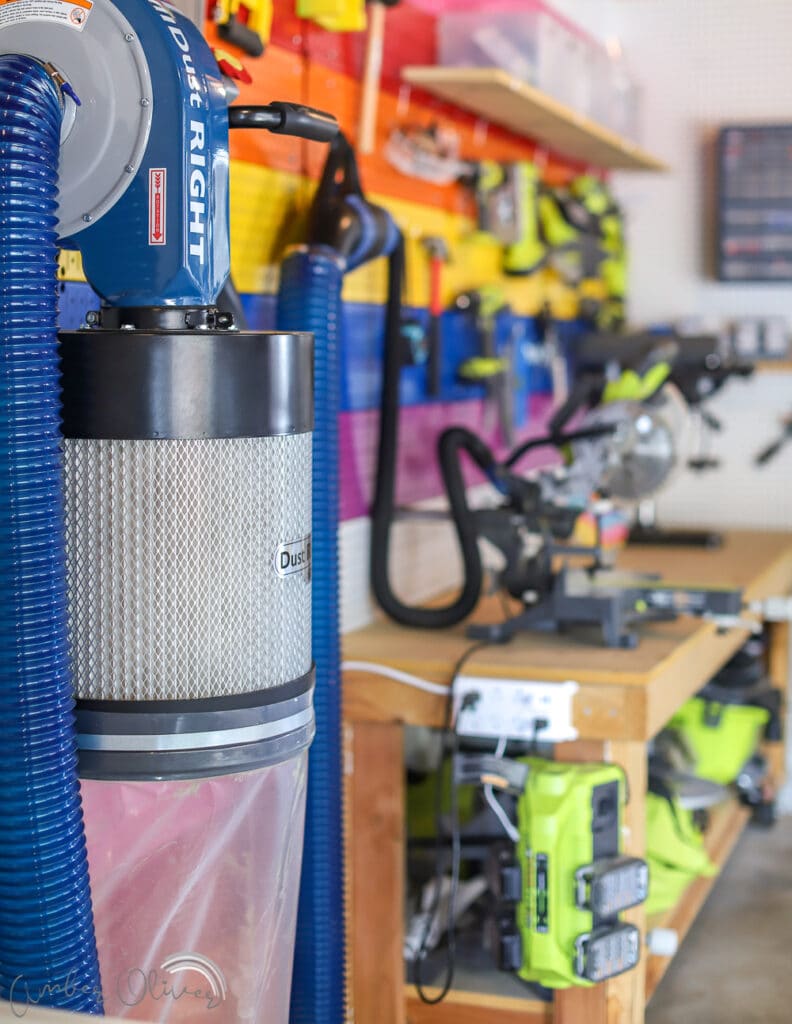 My goal here is inspire women (YOU!) to be creative and try new things, and I think having a space that is both beautiful and clean are super motivating! There's not much I hate more than getting covered in saw dust and having to rush and shower before I can do anything else! After installing a Rockler Dust Collector to help with garage dust control, I can pop out and work on a project without getting messy. This is a game changer!
Installing a Rockler Dust Collector
The Rockler Dust Collection system is a simple as it gets: you only need the Wall-Mount Dust Collector, a hose and handle! Start with these basics and build your dust collection system from there!
The key to the versatility of this system is the Quick Change Handle! I love that I didn't have to run a bunch of hoses and make drops all around the garage. You simply pop a port onto each of your tools or "stations" and plug the hose and handle in when you are ready to use them.
Rockler Dust Collection Hose Accessories and Fittings
In addition, you can add shop tool handles to help keep your garage dust free. The Dust Right Quick Change Shop and Tool Set has a floor sweep and a bench nozzle that are easy to swap with the Quick Change Handle. With these you can tidy up your work bench or the floor after you are done working. Great for those small tools without a dust port (like my palm sander and jigsaw).
Instead of plumbing your entire workspace, you only need to add ports onto your tools. These ports will allow you to connect the Rockler Quick Change Handle when it's time to use a tool. Most of my workbench tools have a smaller port, so I installed a Dust Right 2-1/2" to 4" Mountable Dust Coupler on the peg board wall. With this I can attach the Quick Change Handle when I want to use my miter saw for example.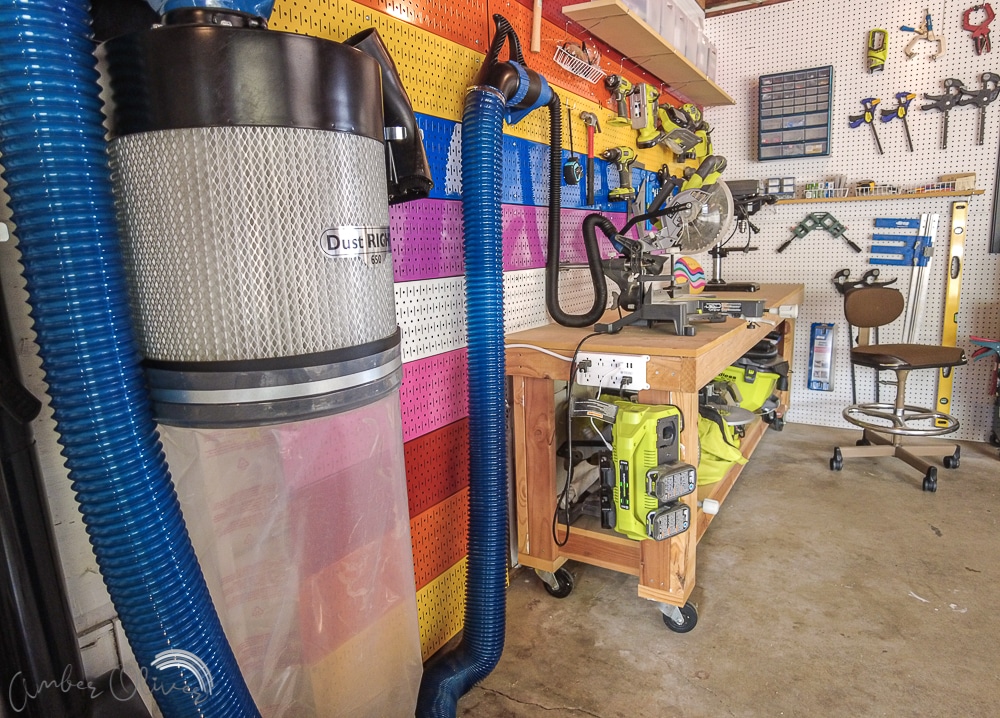 Now I have a port for the 2 1/2 inch hose that works with these bench top tools! I used the Dust Right FlexiPort Power Tool Hose Kit on this side of the coupler. The hose in this kit is expandable to 12′ long and I love that the rubber hose is flexible and doesn't stretch out. The coolest part is the ports flex to fit almost any handheld power tool with dust collection compatibility.
Getting our garage dust free was a lot easier than I had imagined thanks to the Rockler Dust Collector. This simplified dust control enabled me to get more done out in our garage and was installed and ready to go in one afternoon. You can see how easy it was to assemble in my YouTube video: DIY Garage Makeover: 🌈 Wall Control Pegboard & Rockler Dust Collection ✨
I hope this project inspires you to add a Rockler Dust Collector to your workspace! Be sure to drop me a comment if you have any questions! Be sure you check out our Garage Tool Organization with Wall Control Pegboard post to see the rest of our garage workshop renovation!