Seems like everybody is making the pilgrimage to MAGNOLIA. I have a confession to make – I am not obsessed with Chip & Joanna Gaines. As a blogger and a DIY lover it's assumed that I want to shiplap all the things. I think shiplap is getting a little overdone – it's pretty but I'm seeing it everywhere. Pretty sure it's replaced chevron as one of the most popular ideas on Pinterest! I've teamed up with 20+ other home and DIY bloggers who want to show you some awesome alternatives to shiplap. We're calling it the Anti-Shiplap blog hop! If you're stopping by from Domicile 37 – welcome! Be sure to click on through to all the link up participants – lots of amazing decorating ideas that are alternatives to shiplap! I'm sharing 3 ways I've decorated my walls that are not shiplap:
Gallery Wall
In our apartment, I was limited to what I could do to cover the walls. We had high ceilings and plain yellow/cream colored walls. I didn't love it, so I found a way to cover a large section of the living room wall. I shared in this post how we put up a huge and inexpensive gallery wall.
Large Art
One problem I've had are the hard to fill wall spaces. The ones that definitely need something but the layout doesn't work for a stencil or some other all over wall treatment. One such area was in my dining room, where we have a large opening to the kitchen. To fill a long skinny section, I created cheap and easy DIY wall art. Check out this post to find out more about the "magic stain" I used to create this piece.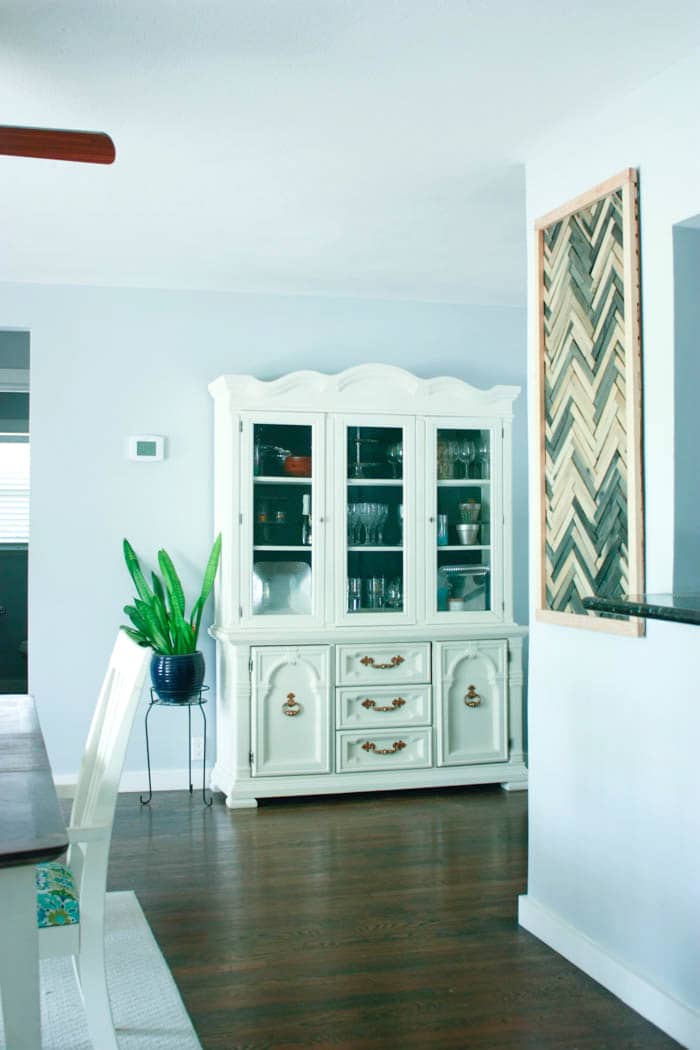 Fabric "Wallpaper"
One of my all time favorite DIY projects is the accent wall in my home office/craft room. I did a major makeover for the One Room Challenge, and one of the goals was to find an amazing wall paper for that room. Unfortunately, my husband was laid off right in the middle of the makeover so we had to scale back. A perfect alternative was to do a DIY fabric covered wall. This brought the cost well below what ONE roll of wallpaper would have cost and was a non permanent option. I share a full tutorial on how I did this in this post.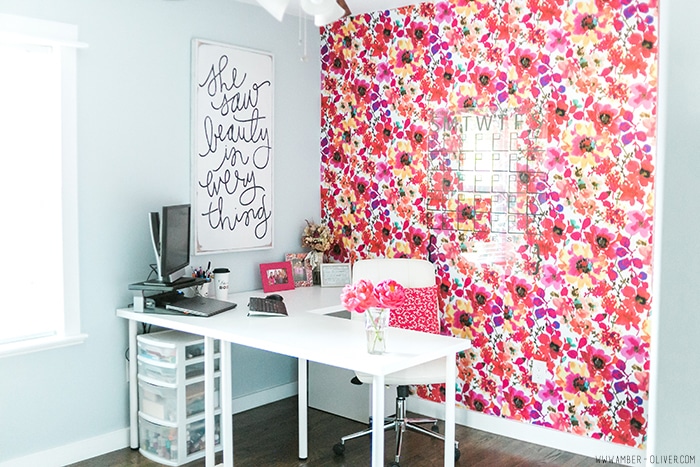 For more wall treatment ideas check out this awesome bloggers!
Monday, September 19th