Create an inviting kitchen space with open shelves! Decorating your floating shelves is a great way to utilize smaller spaces and add charm to any kitchen.
If you're looking for a way to maximize storage and style in your small kitchen, a floating shelf is the perfect solution.
These shelves are easy to install and can be customized to fit any space or decor style.
Plus, they are a great place to store coffee mugs, everyday dishes, a few favorite items, and add visual interest at the same time.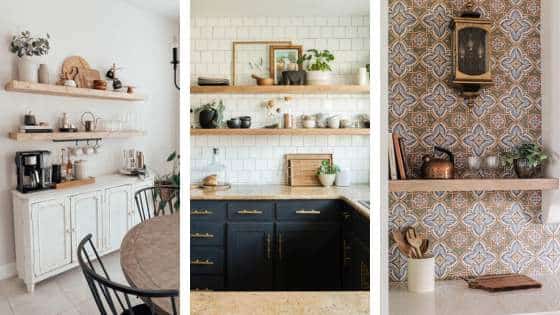 Kitchen Floating Shelves
When it comes to decorating open kitchen shelves, there are a few key things to keep in mind.
First, consider the size of your shelves. If you have a small kitchen, opt for smaller shelves that won't overwhelm the room.
Next, think about what items you want to display on your floating shelves.
The top shelf is a great spot for decorative items like vases or small plants, while the bottom shelf can hold everyday items like white dishes and glasses that are used on a daily basis.
When it comes to styling your wall shelves, don't be afraid to add a variety of colors and include different textures.
The best way to bring color to your kitchen shelf is to include a stack of plates in bright hues with colorful bowls and mugs.
Another easy way to add your personal style to lower shelves is to incorporate natural elements like wooden cutting boards or woven baskets.
This is the easiest way to create a harmonious look, plus it gives you even more storage options with easy access to your cutting boards.
Best Small Space Shelf Styling Tips
If you're working with a small space, shelf styling can be the perfect solution to increase storage without sacrificing style.
But how do you make sure your shelves are chic and functional?
Here are some tips for achieving a minimalist vibe while maximizing your space:
Choose the right brackets: Shelf brackets come in all shapes, sizes, and materials. Consider using stainless steel, metal or natural wood brackets that compliment your decorating style. Be sure to hang the brackets in the wall studs so they are secure.
Keep it simple: Too many items on display can quickly clutter up a small space. Stick to just a few statement pieces that add personality and interest.
Mix textures: Contrast is key when it comes to visually interesting shelf styling. Mix materials like glass, metal, and solid wood for an eclectic look.
It's a good idea to place items in a straight line at eye level. This creates clean lines and will make the entire room feel larger.
When it comes to beautiful kitchens, consider incorporating natural elements like a potted plant or fresh herbs into your shelving design! They'll not only add color but also practicality as well!
Now let's see some real life kitchen storage shelves for even more inspiration. Enjoy!
How to Decorate Floating Shelves in Kitchen
If you have high ceilings in your kitchen, floating shelves are a great way to make use of the vertical space and add some style to your decor. High-quality floating shelves can provide extra storage space for all kinds of kitchen items, from spices and utensils to large pots and pans. Here are some tips for making the most of your floating shelves in the kitchen.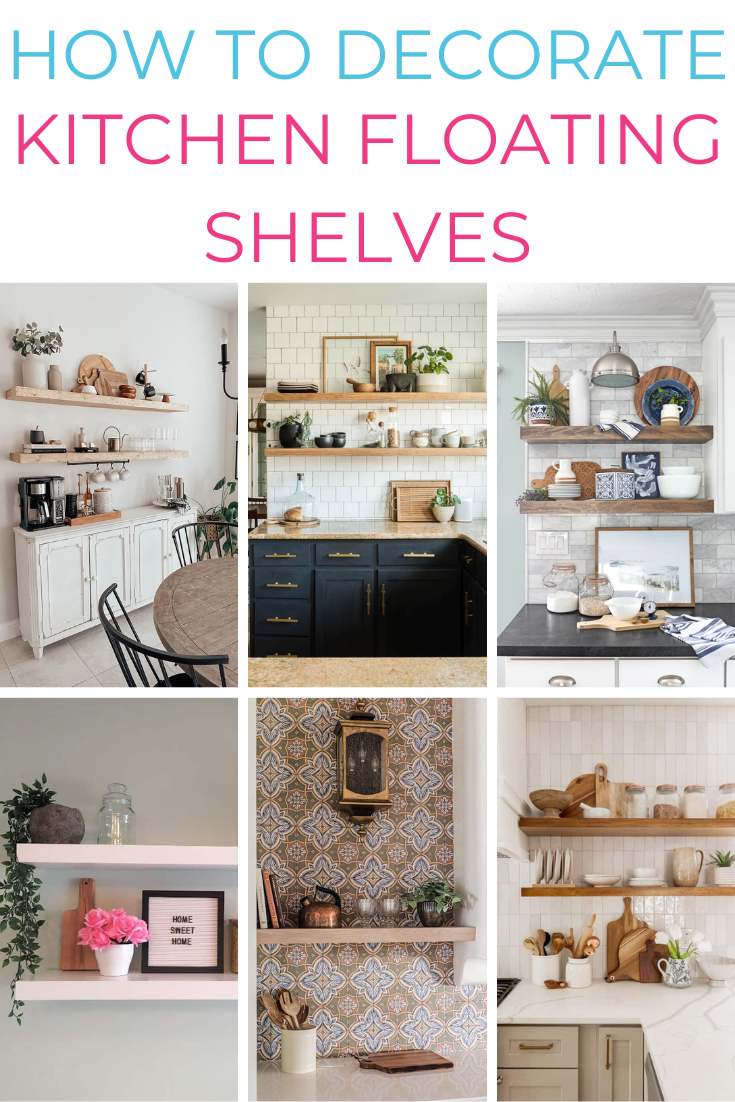 See even more kitchen home decorating ideas below: