Learn how to make a quick and easy heart banner for a lovely DIY Valentine's Day garland with Dollar Store supplies!
I absolutely love DIY projects! Once the Christmas decorations are put away, I'm already scheming for the next holiday to decorate for. Valentines day decor is super easy to make – just throw a few paper hearts around the living room and you're looking festive!
Of course you can head to Hobby Lobby or your local craft store and pick up some pre-made décor, but you can also decorate the simple way: with this beautiful garland! You'll see the materials list is super short – this project is VERY simple! No video tutorial needed! This would even be fun for little hands to practice their cutting skills!
I've provided step-by-step instructions to get you started and at the end of this post you'll find other inspiring Valentine's ideas!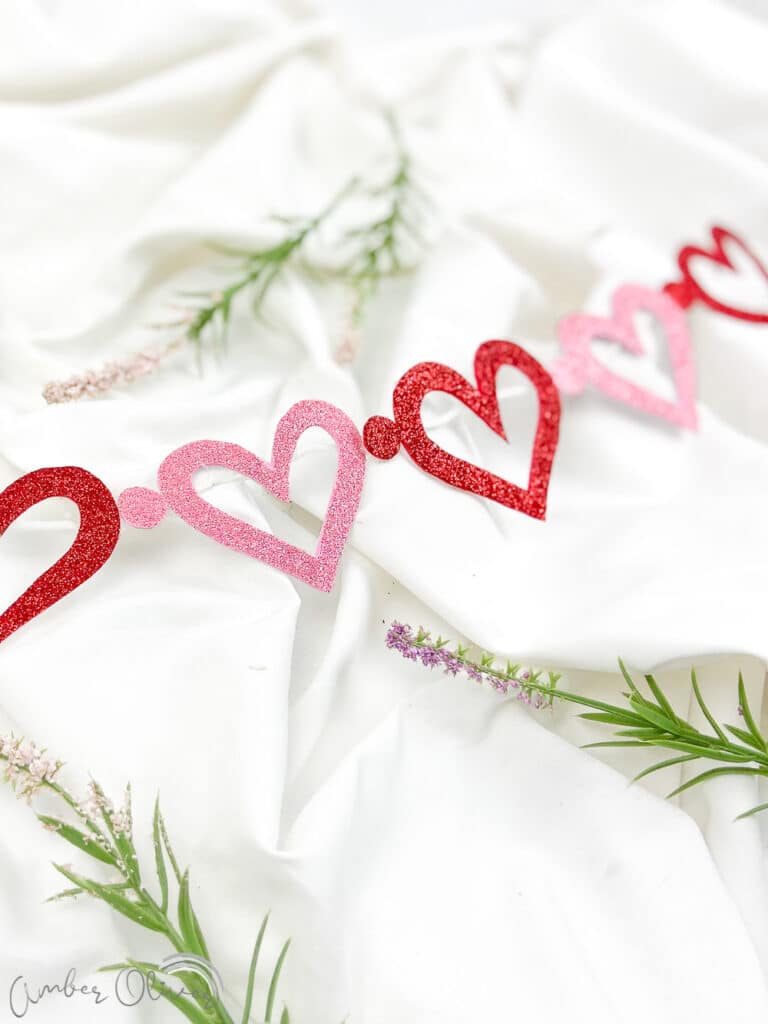 Yield: 1 Valentine Garland DIY
DIY Valentine's Garland
Learn how to make a quick and easy heart banner for an adorable Valentine's garland with a supply list from the Dollar Store!
Tools
Hot Glue Gun
Hot Glue Sticks
Scissors
Instructions
For this heart garland, we used GLITTER cardstock! I recommend using leftover scrapbook paper if you have it or try different materials. Felt would also look beautiful!
The first step is cutting hearts in different colors. No cutting machine needed! Simple fold the paper in half and cut one side of the heart shape. You can trace the first heart if you want them all to match. Not feeling confident? Use a heart pattern to cut yours!
My garland uses the same hearts, but you could also use different sizes and shapes! Next, I cut out the middle of the hearts. You could keep these for other valentine decor or add them to your garland!
With the leftover paper, we also cut small circles It's a great idea to always use up the scraps!
The final step is to lay your string or ribbon out in a straight line and use hot glue to attach to the piece of string!
Notes
No glue gun? Try cute mini clothespins or pipe cleaners to make loops!
Add your new garland to your fireplace mantel, or if you don't have one like us – just add to the front of your entertainment center or bookshelves! We just used strips of paper for ours, but you could easily customize yours with lots of other fun details. Use a pom-pom maker to add festive pom poms, colorful felt balls always look adorable, or even use of some of your scrap yarn and make yarn hearts with a cardboard cutout of a heart. You could even repurpose this garland for a baby shower!
More Valentine's Day Projects
I hope this project inspires you to make this simple Valentines garland DIY project! Fold it up carefully and store in an envelope (or between a piece of cardboard) and you'll have a garland ready for next year! Happy Valentine's day!