How to make a stunning DIY Valentines Day wreath for your front door with simple Dollar Store supplies!
After putting away those Christmas Decorations, you may feel like your house is looking a little empty or bland. Creating a new holiday wreath is a great way to stay festive with the changing seasons. I've got a fun craft tutorial for you as well as a few extra valentine wreath ideas!
Valentine Wreath DIY
There are lots of options when it comes to making a Valentine's wreath. I went with a wood hoop, but you could use a wire wreath frame, styrofoam heart wreath, grapevine wreath form, or heart-shaped wreath form. You might be pleasantly surprised to find many of these supplies at the thrift store! I also love to start at the Dollar Tree to see what I can find before heading to Amazon or Hobby Lobby.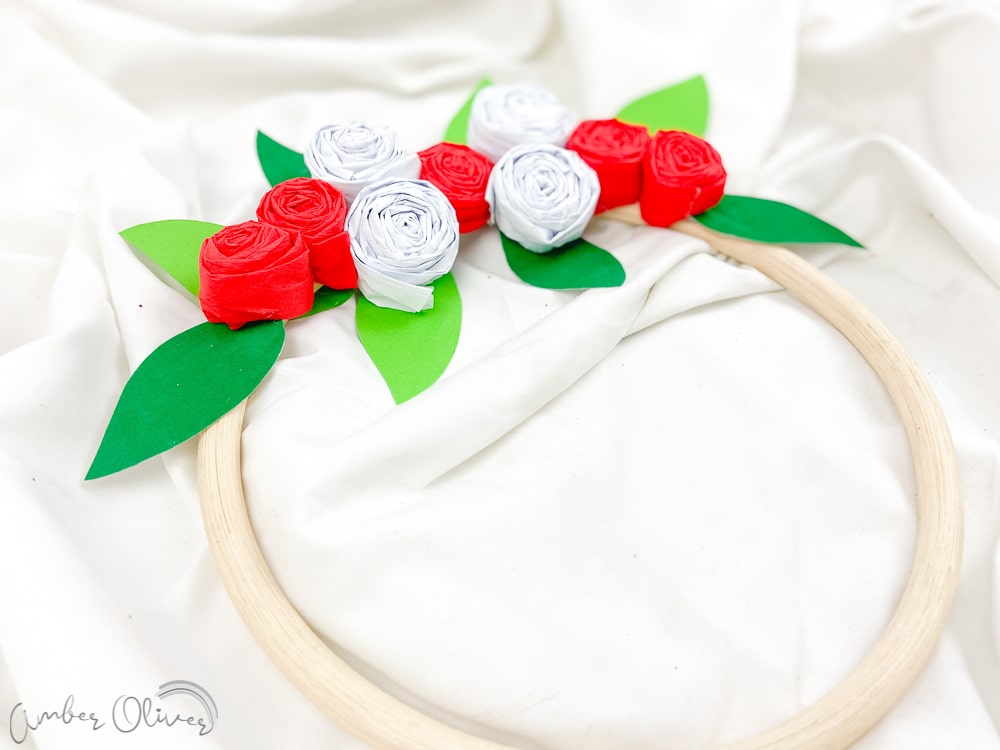 Last year I shared our Valentine's Day tree that was full of Valentine's day decorations mostly made from Dollar Tree supplies! The good news is fun, festive decor doesn't have to be expensive or complicated! These projects are great for all skill levels. I made these Schitt's Creek ornaments and they were an easy diy valentine's craft great for our tree or even for a DIY wreaths!
Looking for the perfect valentine's day crafts? Check my list of 20 colorful DIY Valentines Day decorations!
Yield: 1 valentines wreath diy
DIY Valentines Wreath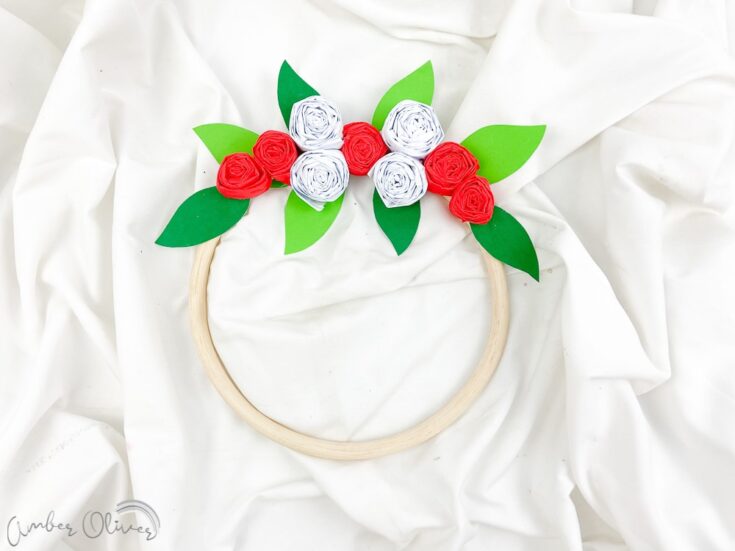 How to make a stunning DIY Valentine's Day wreath for your front door with simple Dollar Store craft supplies!
Tools
Hot Glue Gun
Glue Sticks
Scissors
Instructions
Your first step is to start by folding the tissue paper long ways about 1 inch thick. This makes the paper thicker and your faux flowers fuller!
If you're using thicker paper like cardstock or using felt instead of paper, but start with strips that are about 1 inch wide.
Now you can start gently rolling to form the flowers. Use a drop of hot glue to keep it from unrolling.
The first time you make one, you may find you did it too tightly or too loose. Make adjustments but the flowers will look like this:
Continue rolling and gluing until you have several flowers you can use on your floral valentine's day wreath!
Next you'll cut the flower leaves. Use different shades of green for this!
Whether you're an experienced crafter or new to this, you should be able to cut these out! You can free hand cut (they'll look organic!) or you can draw and then cut out the little tear drop shapes.
Now it's time to attach the flowers and petals to the wreath. For this project, I used a wooden hoop. If you prefer to do a more traditional wreaths, you could use a heart shape. You can find a heart-shaped wire wreath form at the craft store or online. But I love the versatility of the round one.
The final step is to use hot glue or even floral wire to attach to your wreath form.
Here's an idea of what your finished Valentine's day wreath diy will look like!
Because of the colors I used for this, it could also be used for a christmas wreath! This cute wreath used tissue paper (which you probably already have in your craft room!) but you could use card stock or even white and red felt! Felt flowers would look amazing and make a beautiful valentine wreath!
I hope my Valentine wreath tutorial inspires you to create your own DIY Valentine Wreath! This is the perfect way to decorate for cupid's favorite day. Use different colors and add fun embellishments to make your own wreath!
Valentine's Day Wreath Ideas
These beautiful wreaths come in all different sizes, shapes, and vary in the type of wreath. I hope these leave you feeling a little bit more crafty!