A collection of homemade DIY bath bomb recipes to transform your bath into a spa-like experience. They make great gifts too!
If you love a nice hot bath at the end of the day, then you'll definitely want to try making your own lush bath bombs.
They're easy to make at home with just a few natural ingredients, and they make a great gift for friends and family.
Plus, they're a lot of fun to customize with your favorite colors and different scents.
There are a few things you need to know before you get started.
Homemade DIY Bath Bomb Recipes
Basic Bath Bomb Main Ingredients
Epsom Salt
Citric Acid
Baking Soda (bicarbonate of soda)
Corn Starch
Carrier Oil – like olive oil, sweet almond oil, melted coconut oil or cocoa butter
Witch Hazel
Favorite Essential Oils – lavender oil, lemon juice or any fun scents
Embellishments – rose petals, flower petals, flower buds, mica powder
Food Coloring
Kitchen Tools
Large Mixing Bowl
Separate Small Bowl
Silicone Bath Bomb Molds – muffin tins, plastic Easter eggs, or any silicone mold in fun shapes
Plastic Wrap
Airtight Container
Spray Bottle
How to Make Natural Bath Bombs
To make the bath bomb mixture, start by adding the dry ingredients into a large bowl.
Simply blend the dry mixture together until it's well combined.
Then, add wet ingredients like the oil mixture, drops of essential oils, and coloring until it reaches the desired consistency of wet sand.
If your mixture is more like damp sand, add a few teaspoons of water to get it just right.
Be careful not to add too much liquid mixture or your bath bombs will fizz before you even put them in the tub!
Mix everything thoroughly so that the different colors and scents are evenly distributed.
Once everything is mixed together, simply press the mixture into molds and let it harden.
You want to press it into the sides of the mold too so it forms a nice ball shape.
Let the bath bombs dry overnight and then they're ready to use!
To use, just drop one into a bathtub of warm water and enjoy a nice relaxing bath.
That's it! With just a little bit of time, you can make your very own bath bombs.
Now that you know the basic homemade bath bomb recipe, enjoy this collection of the best bath bomb recipes.
23 Dynamite DIY Bath Bomb Recipes
Homemade bath bombs are a great way to relax and unwind at the end of the day. The best part is you can personalize them into various shape and unique scents like orange creamsicle. If you have sensitive skin you can stick with natural ingredients to avoid any chemical reaction.
Let me know in the comments below which simple bath bomb recipe is your favorite.
Save for later by PINNING the below image: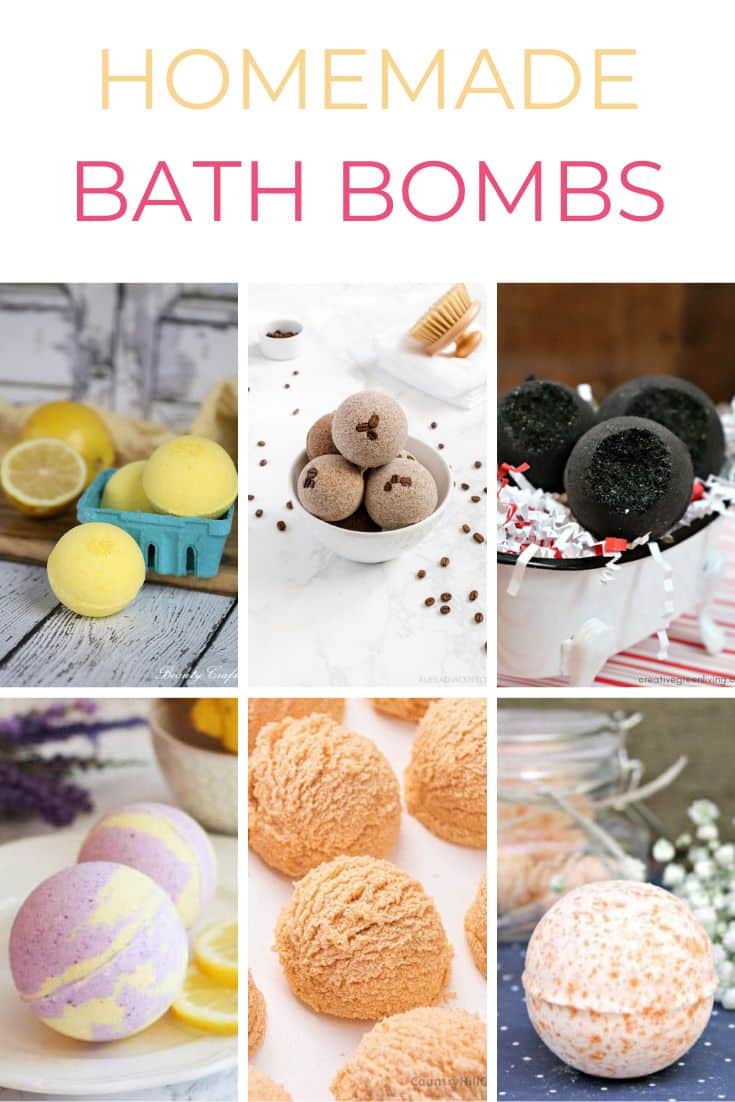 You may also enjoy these beauty-related posts: