You'll have the most beautiful manicure with this creative DIY flamingo nail art you can create with your Cricut machine! 


I'm always looking for ways to DIY something and save money. At home manicures are a great way to save money and let your creativity run wild! Nail art designs from a salon are pricey!
I've used Sally Hansen products for years and was excited for the opportunity to try the Complete Care 7-in-1 Nail Treatment and the Sally Hansen Vitamin E Nail & Cuticle Oil.
I started using the cuticle oil at night before bed. I couldn't believe how much it made my nails grow! The oil is intensely moisturizing Vitamin E oil. After they grew out a bit, I was ready for a manicure. I also created a fun nail art design to share!
Yield: 2 hands!
Pink Flamingo Nail Art
I'm always looking for ways to DIY and save money. I created a pink flamingo nail art design and used Sally Hansen products to get a perfect home manicure!
Total Time
1 hour
15 minutes
Instructions
Before you begin: file your nails, push back your cuticles, and prepare for polish.
Apply Sally Hansen 7-in-1 Nail Care; it is Base Coat, Top Coat, Growth Treatment, Strengthener, Ridge-Filler, Brightener, and Ultra-Moisturizing Nail Treatment all in one! This will help your polish stay longer and nourish your nails with Avocado Oil, Sea Salt, Pomegranate Extract, and Calcium.
Apply two layers of polish. I used white so my pink flamingo would pop! Give your nails plenty of time to dry before the next step.
I created the flamingo cut file for the Cricut or Silhouette Machine. I doodled a flamingo then imported it. Then it was time to cut. I used Frog Tape for this step. I tried vinyl but it sticks TOO WELL to your nails and pulls up your base coat! The Frog Tape worked perfectly. You can download the Silhouette cut file HERE or for Cricut HERE.
After you've cut the flamingos out, apply them to your nails.
Paint over the flamingos with pink polish. I used Sally Hansen Insta-Dri in Pink Blink. Give the polish a minute or two to dry before you remove the tape and reveal your pink flamingo nail art! The Insta-Dri polish was perfect for this step - it really does dry almost instantly!
Add one more layer of Complete Care 7-in-1 Nail Treatment. You'll have shine up to 10 days!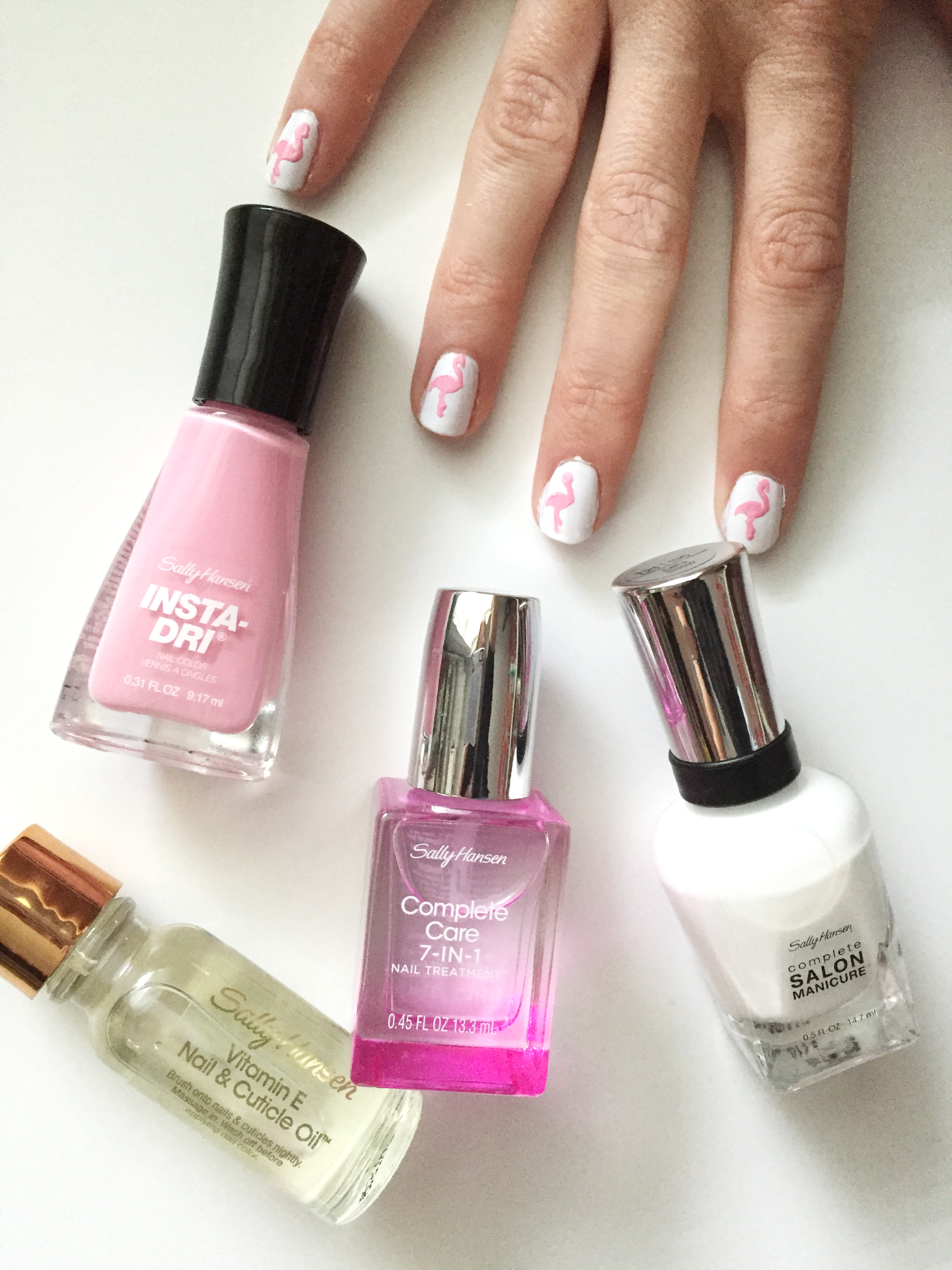 Shop this project: