Wondering how to get rid of double chin? I did 3 rounds of Kybella injections – learn all about it and see Kybella before and after photos and video!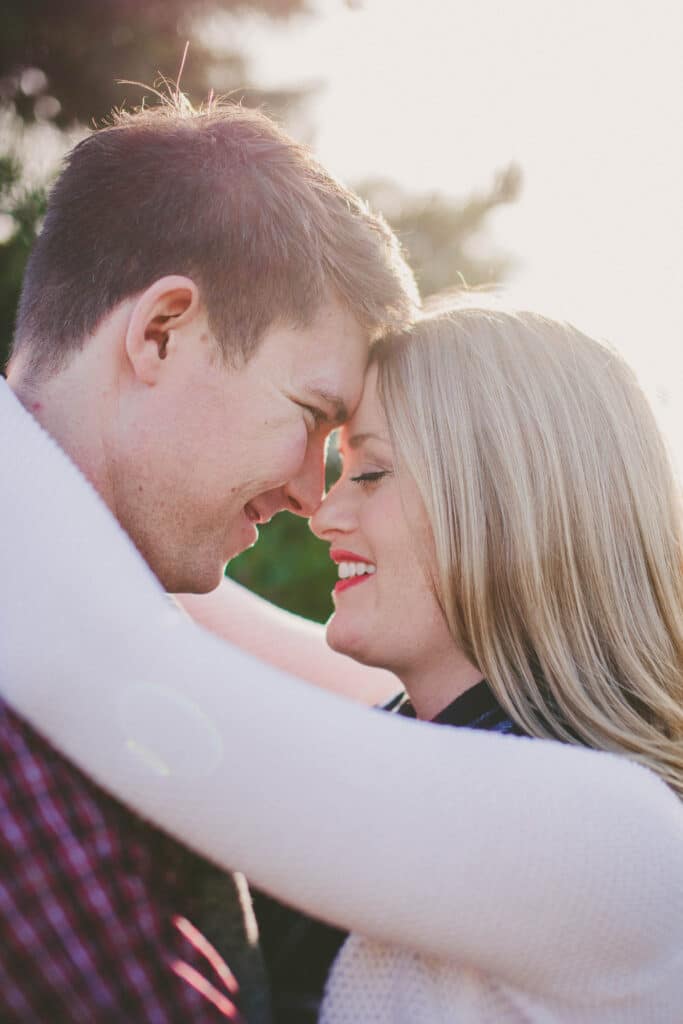 Hey, I'm Amber Oliver – welcome to my blog! I hope you find this Kybella post useful and if you're into DIY projects you'll stick around for a while!
Have you ever photoshopped a photo of yourself? Have you ever wanted to? For me the thing that always caught my attention was the bit of stubborn fat under my chin. It always made me self conscious in photos and I always tried to be strategic with angles to get rid of double chin!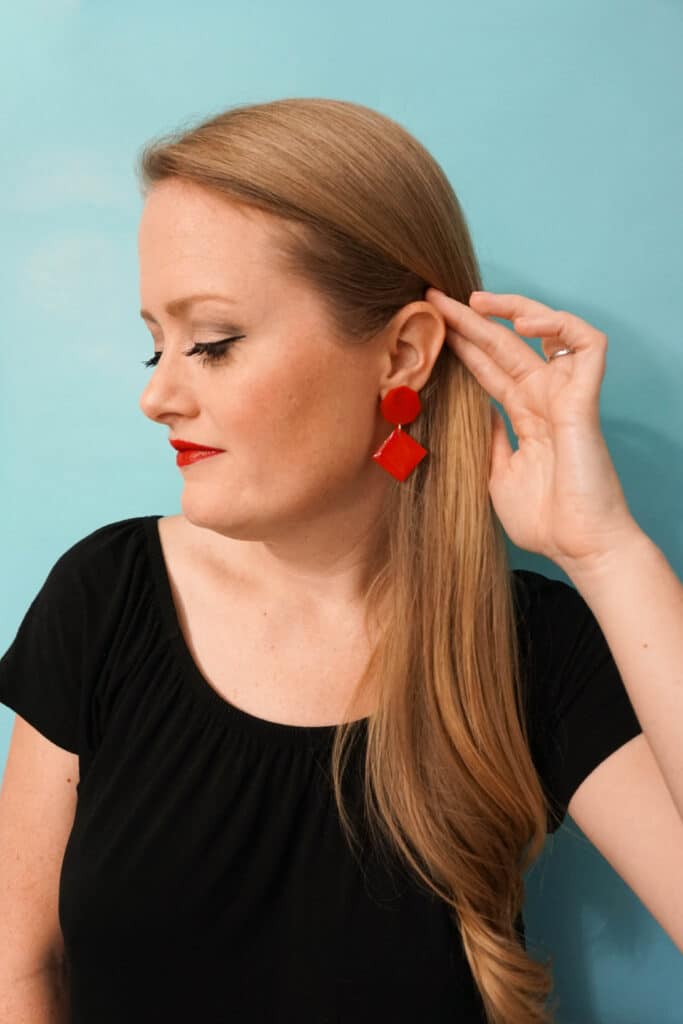 Because I only had a small amount of submental fullness, surgery was not the right choice for me. The thought of plastic surgery seemed extreme! I wanted a safe treatment and after extensive research this is what I went with. I'd read a lot of the clinical studies, patient testimonials, and reports from the clinical trials and was immediately interested in Kybella and lucky for me I was an ideal candidate!
Another reason I was a good candidate was because I eat well and exercise and the unwanted fat under my chin wouldn't go away. Basically, instead of being a weight loss problem this was more of a genetic gift! This also means that weight gain shouldn't affect this area in the future.
I ended up doing 3 rounds of Kybella injections, with the option to do to 3 more. The biggest difference I notice is when grabbing the skin under my neck, there now isn't much to grab onto. I lost of lot of the skin laxity! The skin is much tighter because the submental fat underneath was completely destroyed!
What is Kybella?
The easiest way I can explain it is that it's a series of injections given a month or so apart that target the excess fat cells under you chin and destroy them. This gives you a more defined jawline and is a non-surgical treatment to get rid of double chin. Here's the actual definition:
The active ingredient in KYBELLA® is synthetic form of deoxycholic acid. Deoxycholic acid is a naturally occurring molecule in the body that aids in the breakdown and absorption of dietary fat. When injected into the fat beneath the chin, KYBELLA® destroys fat cells, resulting in a noticeable reduction in fullness under the chin. Once destroyed, these cells can no longer store or accumulate fat, so further treatment is not expected once you reach your desired aesthetic goal.
How Does Kybella Work?
I didn't do an initial consultation; I went straight into treatment. At your first treatment, your doctor will evaluate under your chin area and mark the treatment area that needs the injections. They map it out to ensure it is injected evenly.
I think one reason these injections can only be used on small areas (it's currently only Federal Drug Administration FDA approved for under the chin) is because in large areas it would be very difficult to inject evenly and could result in indentions. The chin is the perfect size!
Your doctor will also discuss your aesthetic goals and go over your treatment plan and what to expect with this type of double chin treatment. For optimal results you may need several treatments with up to 6 vials of Kybella.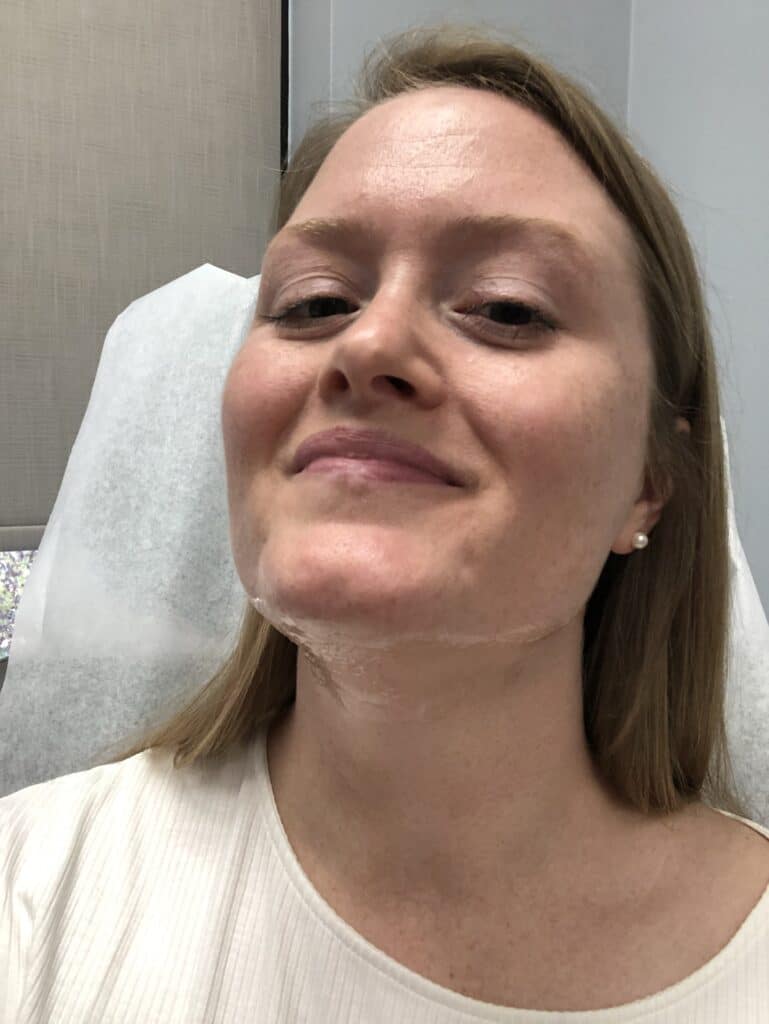 I chose to be numbed because I'm a big ol' baby but you may not. I had numbing cream on my first and third treatments – the second I tried to go without it and it hurt like heck! Also note, a face mask makes the perfect hammock for your ice pack!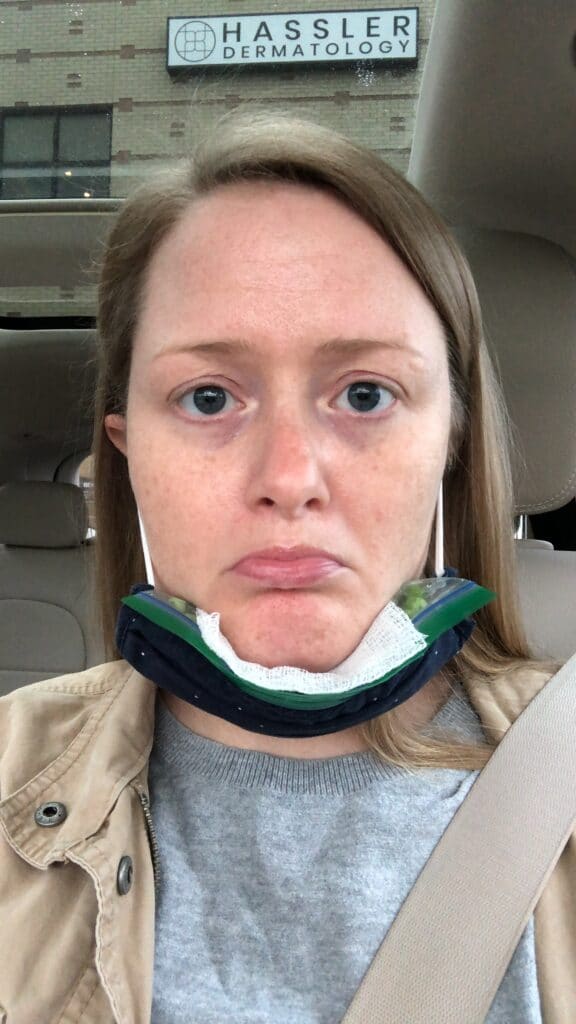 After the area is "mapped", your doctor will administer the injections. You will feel the needle and even if you are numbed you will feel the slight burning sensation. On a pain scale of 1-10 with numbing it felt like a 3 and without was a 5 or so. My doctor had me immediately apply an ice pack (or in our case frozen peas- they were perfect!) to help with the swelling. Speaking of swelling – GET READY! The swelling is the worst part of the treatment and the most common side effect but it's how you know it's working!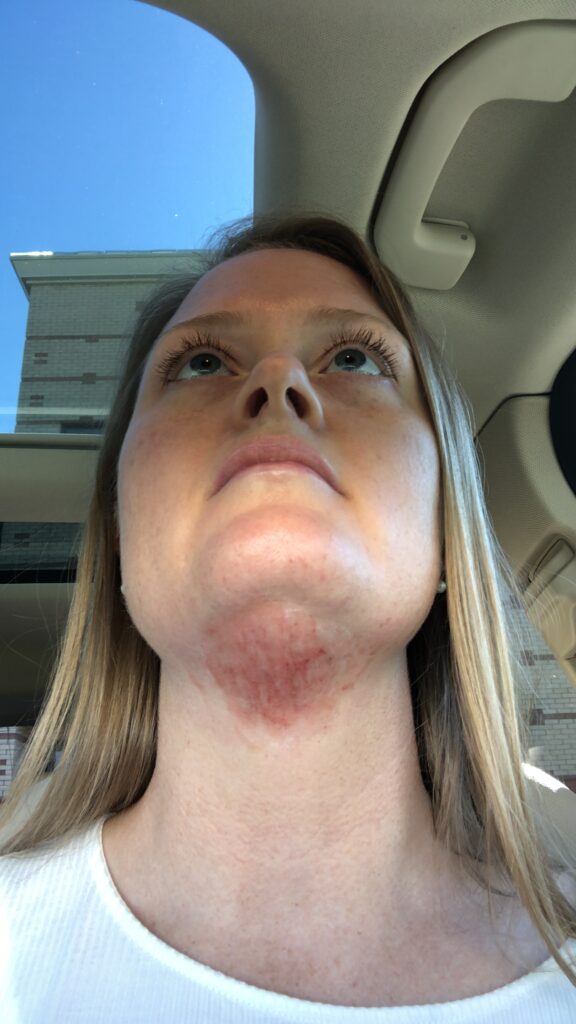 Immediately after the Kybella treatment my skin in the treated area was very tender and starting to swell. I also had a tiny bit of bleeding from the injections. These were the worst of the side effects. I'd taken Tylenol before the injections which probably helped with the pain, and I took a nap after each of sathe treatment sessions so I skipped most of the burning discomfort! You shouldn't need painkillers or any type of prescription medication.
Kybella swelling
The worst part of getting Kybella treatment is the SWELLING! Every single person I spoke with at the doctor's office mentioned the swelling – they all wanted to make sure I was prepared! You swell up like a bullfrog almost immediately after.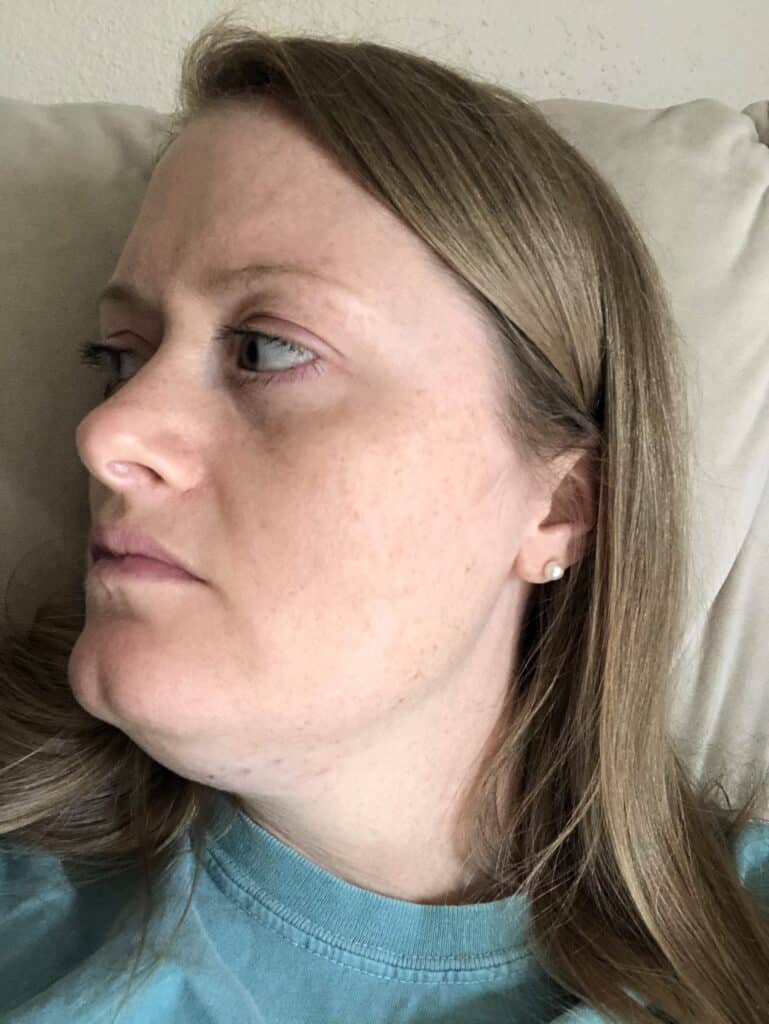 I was lucky that I got the injections during a time everyone was wearing face masks so it was pretty simple to hid my chin while it healed! The above photo was only a few hours after my first round of injections.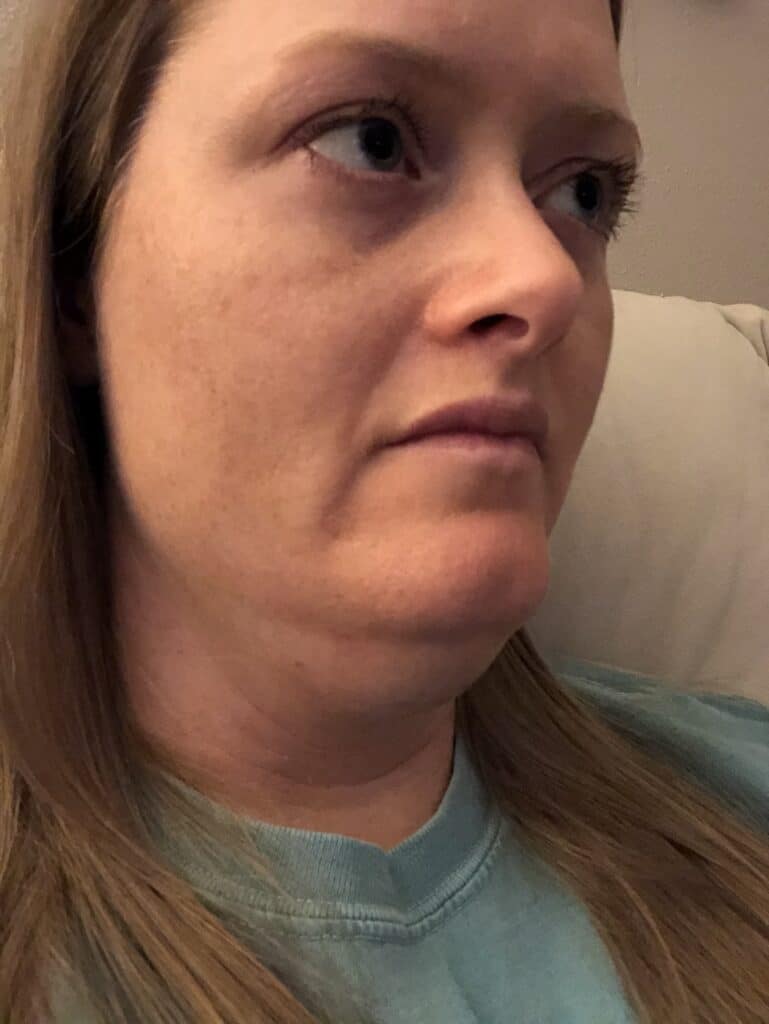 Here's the height of the swelling which was about 8 hours after I got the injections. Over the next 5 or 6 days the swelling receded but didn't go away enough that I felt I could see a difference until about 10 days after the injections. By then the swelling had gone down and I started noticing more definition in my jawline.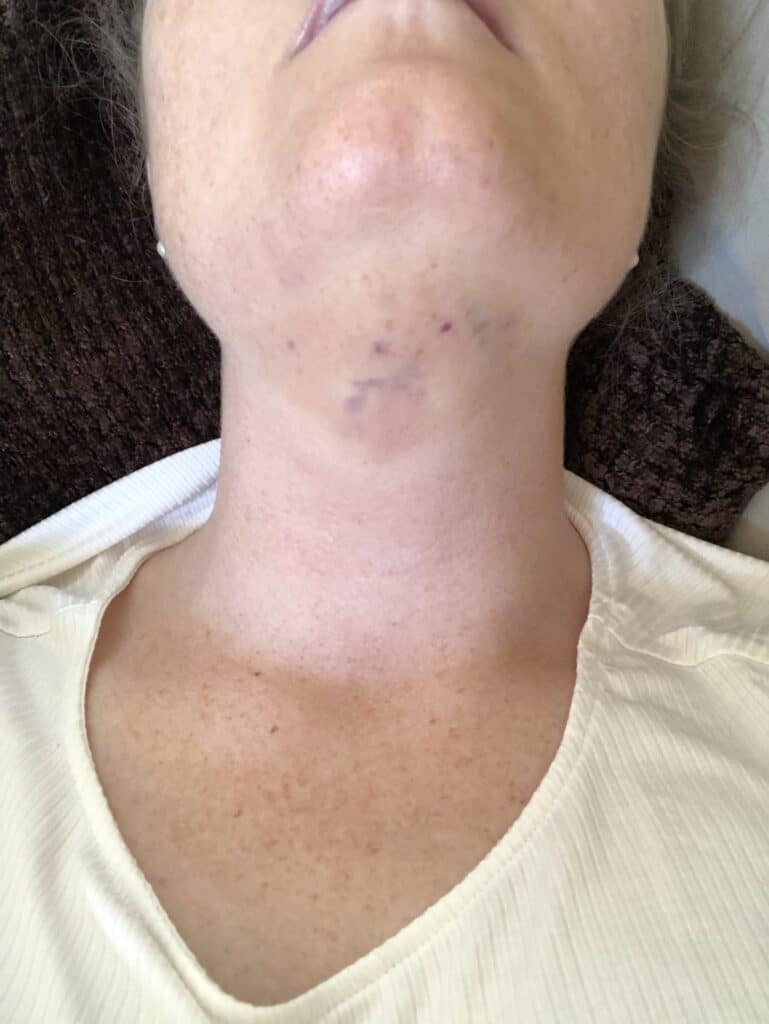 After my third round – my doctor hoped it could be my last so she really concentrated the injections which resulted in quite a bit of bruising.
How much does Kybella cost?
I live in Houston, TX and did my Kybella treatments in my dermatologist office. Each round of Kybella treatment cost me $600 for a total of $1,800. If you were to do the full 6 treatments the total cost of Kybella would be $3,600 if you are in a similar market. Your number of treatments should be determined at your first appointment. Factors that affect the number you might need are: years of age, amount of fat, level of health, and personal goals.
My Kybella Before and After
Now here's what you've been scrolling for: my Kybella before and after photos! It's pretty hard to get the exact same angle to compare – even in my photos from the doctor's office I was smiling in the second photo and it's not exactly the same. But I could still see a difference! I ended up pretty happy with my final results!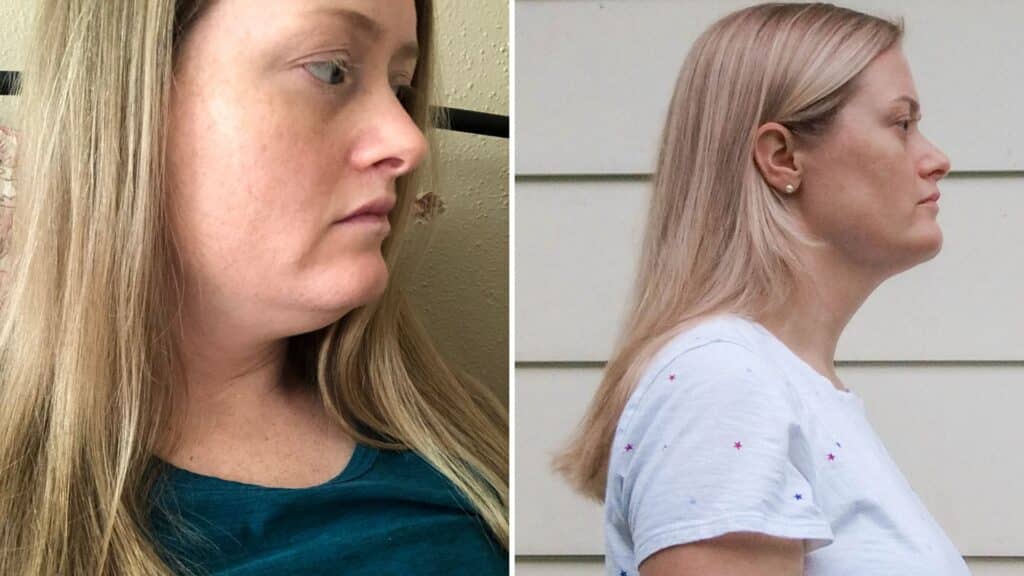 My side view is where I saw the biggest difference. When I'm relaxed my "gobble wobble" as I liked to call it, doesn't hang as low. As I mentioned above, I also have less to grab under my chin! This is a huge win for me – plus the results are a permanent solution!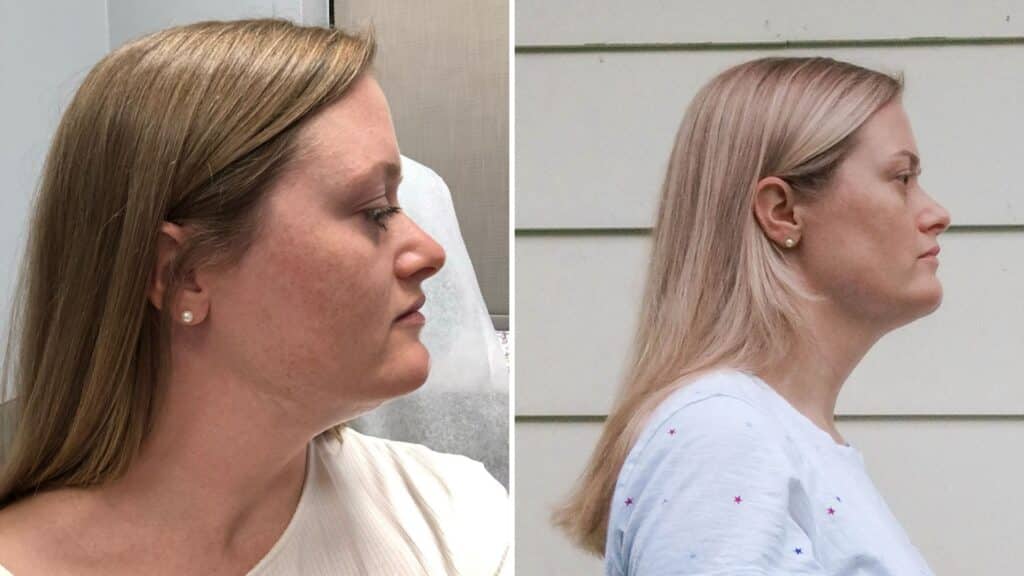 Because my husband and I were inadvertently on two different continents during the last 18 months, we spent a LOT of time on Facetime. I am very pleased after my Kybella treatment at how my face and chin looked on camera. I also noticed it when I do Instagram stories or record for my YouTube channel!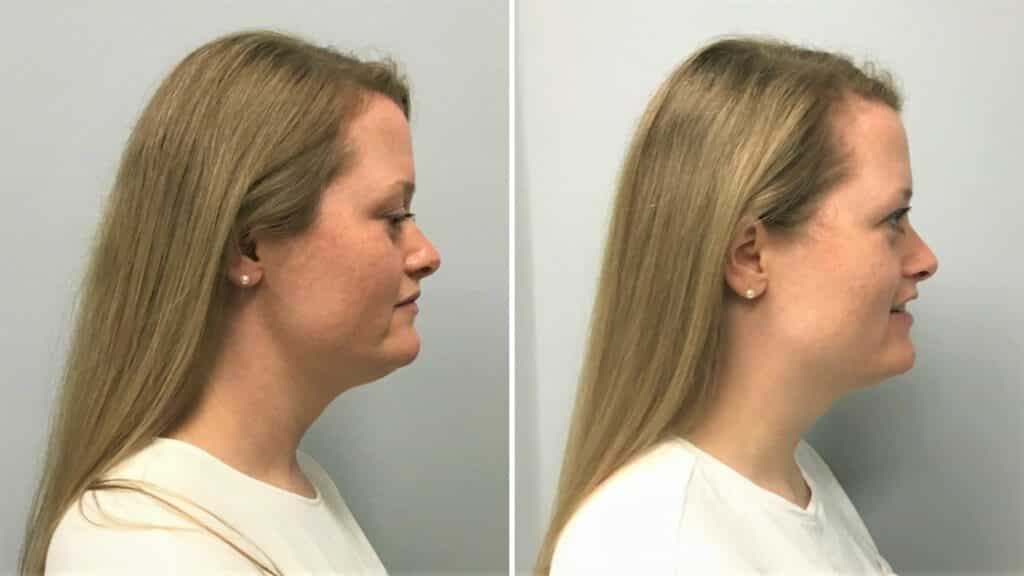 Obviously results will vary, but most doctors offer a complimentary consultation that will let you know right away if you're an ideal candidate.
I hope this post inspires you to get Kybella treatment if you are a candidate! If you have any other questions about my injectable treatment experience, feel free to drop me a comment below or on Instagram!