Wondering what to do with pressed flowers? Learn how to preserved dried flowers in resin!
We get flowers for a variety of reasons: birthdays, anniversaries, happy reasons, and sad reasons. No matter why, usually we'd love to make them last forever. The best way I've found is to press them and put the dried flowers in resin.
Resin is incredibly simple to use and the perfect way to preserve flowers. The two part epoxy mixes up in less than 5 minutes and usually sets in about 24 hours. There are a variety of molds in lots of different sizes so you can customize your beautiful design however you want!
What to do with pressed flowers:
For this project I used a few bright colored blooms from my yard. I pressed them between wax paper in a book and left them to dry out. I had a few small, square and rectangular molds I used for these. These beautiful dried flowers in resin looked gorgeous in these picture display stands I picked up at Dollar Tree!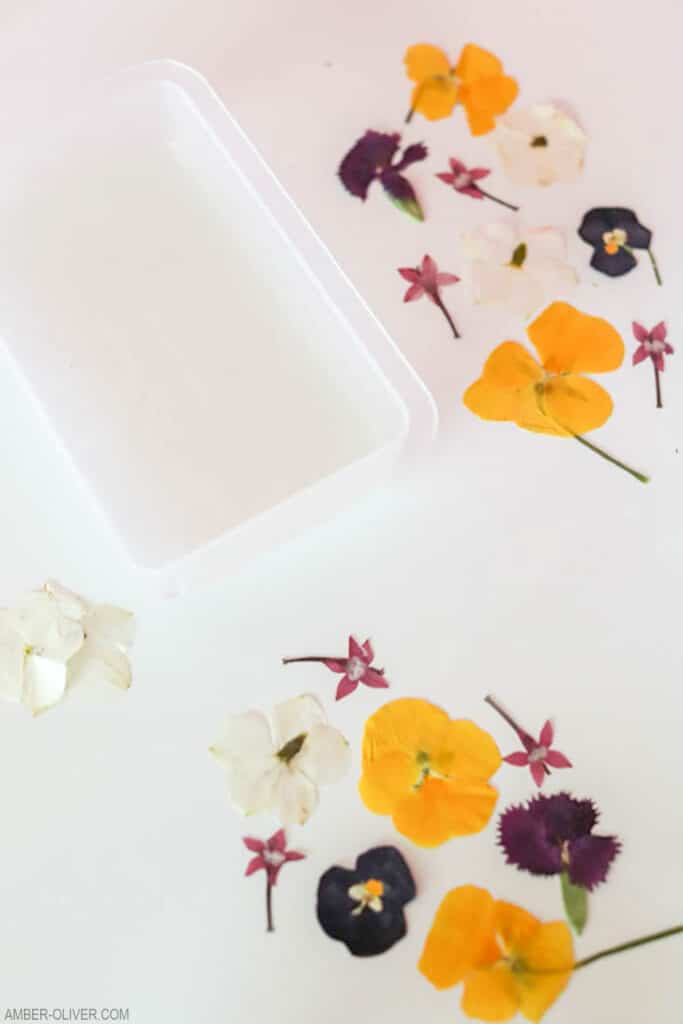 Yield: Dried Flowers in Resin
DIY Dried Flowers in Resin
Wondering what to do with pressed flowers? Learn how to preserved dried flowers in resin!
Instructions
Start by preparing your EasyCast Clear Casting Epoxy. This is a multi-step process so don't start mixing until you are ready to do the whole project from the beginning to end! Start by mixing EQUAL parts of the Hardener and the Resin.
Stir them together for 2 minutes! Be sure to scrap the bottom and sides of the cup gently.
After 2 minutes, pour from the first cup to a new clean cup and mix for 1 more minute.
AFter the resin is mixed, pour a small amount in the mold.
Gently set the pressed flowers on top of the resin.
Wait about 20 minutes after setting the flowers to add another layer of resin on top. This helps them not move!
If bubbles appear on the surface of your resin you can blow on it with a straw or use a lighter to pop them.
After you've allowed enough time for them to set, you can remove them from the molds!
Shop Resin Supplies

I hope this project inspires you to try dried flowers in resin for your next DIY project! If you're looking for more resin projects, please visit our Resin Archives!