Back in August, I had the chance to meet the Ryobi team at Haven Conference. I had so much fun in their decorative cutting class and actually came home with a new scroll saw! When I got home, I had a list of fun things to cut and for Halloween I made wooden cut outs for a Halloween sign on our front porch.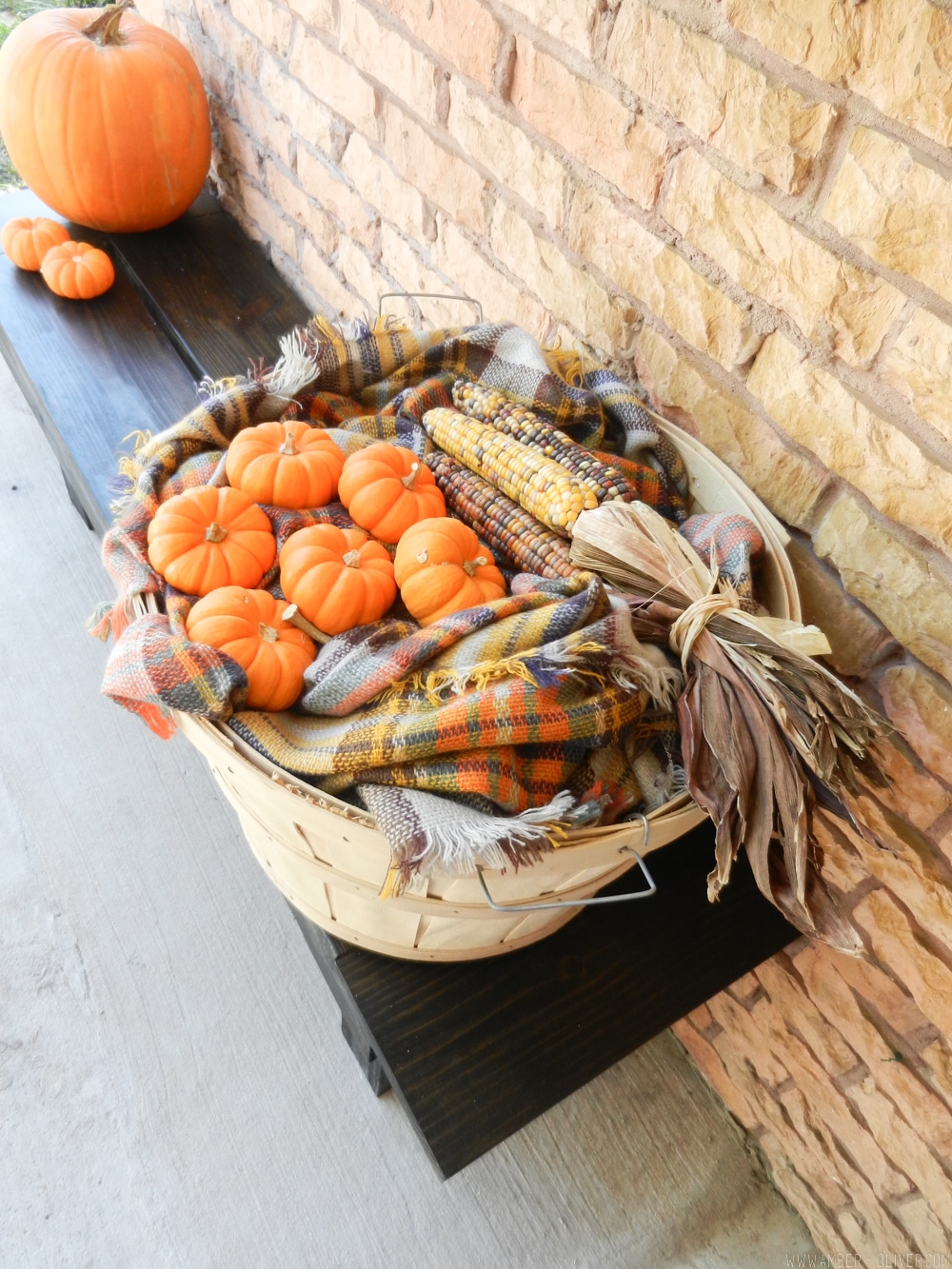 The scroll saw is actually really simple to use and probably one of the safest power tools. It's important to wear safety goggles (there's a chance the blade could break and pop off and saw dust flies around!), as well as ear protection as it can be a bit loud. Ensure your work space is clear and you have proper ventilation before you begin. Be sure to follow the instruction manual so you know how attach the blade, adjust the tension, etc. Using the scroll saw reminds me of the sewing machine; you basically just guide the wood through gently with your hands.
Instead of tracing the words, I decided to cut right over the words. I used a spray adhesive to temporarily attach the paper to the wood and I used clear packing tape on any areas that came loose. This makes the process so much faster!
I learned the easiest way to do this was to make shorter cuts instead of trying to do one long continuous cut. If you cut into the points, then pull back, and cut to remove the smaller pieces it goes much eaiser. I skipped cutting inside the letters, but if you need to, I suggested cutting those first with a jigsaw. You can also drill a hole, then place through the scroll saw but that requires removing and reattaching the blade. Since I'm lazy, I just skipped this step.
After I got the words cut, I painted black with some DecoArt Outdoor living paint. I made the spatters with a paint brush and the Maxx Gloss paint in orange. I had the perfect setup with the HomeRight Spray Shelter and it made cleanup super easy!
I wanted to hang the letters on my front porch, so I used command strips to attach to the brick. I was surprised it work, but it's held up for over 2 weeks!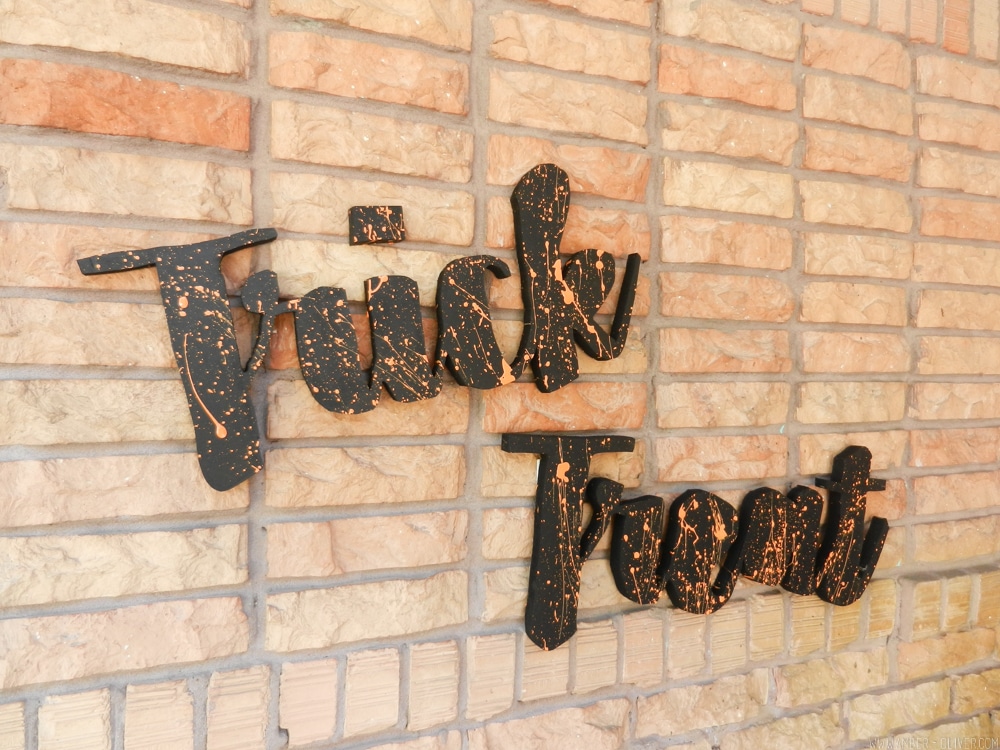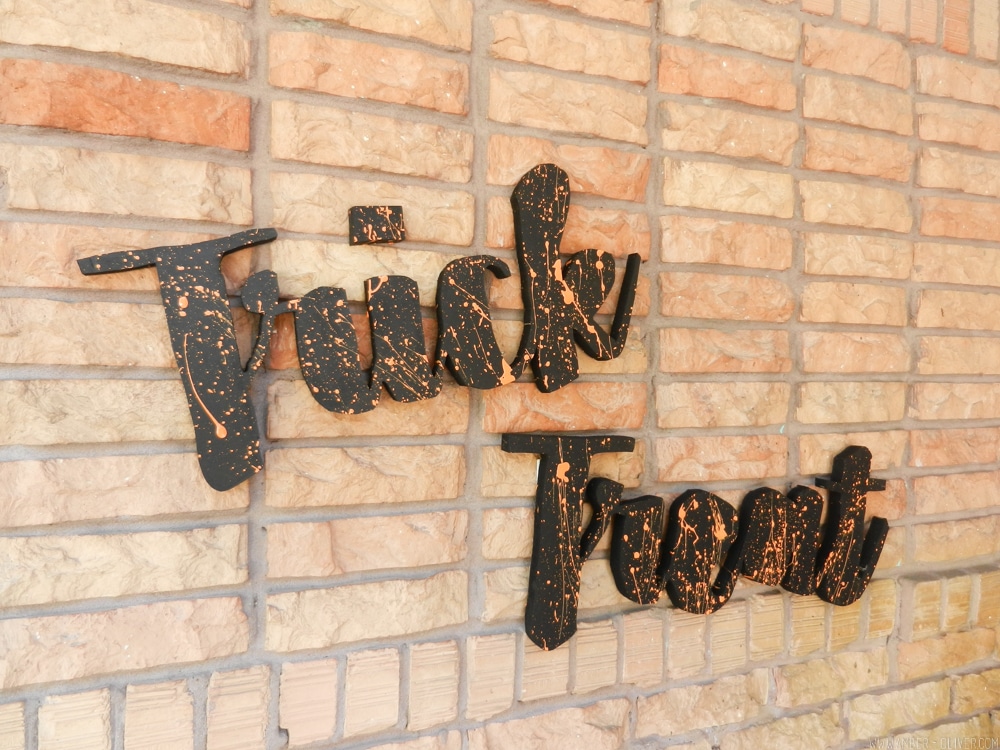 This was a fun Halloween project, but you could make wooden cut outs of any DIY oversized words! Customize decor for your porch around the holidays, or cut out a name to display in a kids room. So many possibilities!
YOU'LL ALSO LOVE:
Shamrock Succulent Wall Planter