Last month Eric and I got the chance to take an Alaska winter vacation! 6 years ago, Eric had a 3 month internship in Alaska working 2 weeks on the north slope then had two weeks off in Anchorage. During one of his breaks, I was able to come visit.
Let me tell you – it's WAY different visiting Alaska in the summer! Since we were visiting in December on our Alaska winter vacation, we had the chance to see LOTS of snow! The most snow I've ever seen in fact. Eric was there for a week, but I arrived EARLY Wednesday morning (I was still awake when I received my daily The Skimm email).
Eric worked Wednesday and Thursday so I spent time with my friend Erin who lives in Anchorage. The weather was unseasonably warm and the snow was melting so it wasn't the prettiest. We saw Potter Marsh near Anchorage and took a drive down Turnagain Arm and saw Beluga Point. it was rainy and cold so we spent most of our time eating Pho and catching up 🙂
On Thursday night, Eric and I headed up to Talkeetna, Alaska! We were on a quest to see the Northern Lights in Alaska, so we had to get far enough from the city lights of Anchorage. We took the two hour drive to Talkeetna and stayed in an Airbnb.
When looking for a place to stay, many of the cabins available for rent were "dry cabins" so they didn't have any running water. We weren't feeling that adventurous (especially in the dead of winter) so instead I found a room in a house that was available for rent through Airbnb. We got lucky and no one rented any of the other rooms so we ended up getting the whole house to ourselves for the price of one room – SCORE!
The drive to Talkeetna on Thursday night was prettyyyy scary as it was snowing really hard and really dark outside. When we arrived at the house it was pitch black and a bit scary in the woods. I've never seen anywhere SO DARK! Luckily we didn't run into any moose. That would have been the perfect night to see the lights but it was snowy and cloudy so we never got a glimpse 🙁
Note: We almost always stay in an Airbnb when we travel. They save a ton of money and we've stayed in some pretty nice places! If you haven't tried – sign up today for $40 in travel credit 🙂 
Our first morning in Talkeetna we had breakfast at the Talkeetna Roadhouse. We had reindeer sausage and biscuits and HUGE sourdough pancakes – very yummy!
Afterward, we walked over the the Talkeetna Ranger Station and learned all about Mt. Denali – it was still too cloudy to see it though. We walked along Riverfront Park which was really pretty even with the river frozen and everything under several feet of snow. We spent the rest of the afternoon perusing the small shops, visiting with locals, then headed home and warmed up by the fire.
Our last day in Talkeetna started with an exciting adventure – we went on a sled dog ride! We were told the day before there wouldn't be anyone to take us out because of the weather. Luckily, Flower Kennel was willing to take us out!
She said she took a chance because we sounded young on the phone and the ride would require some athletic ability – boy was she right! Eric got to ride and a drag sled, behind the main sled I rode in, and and certain points he had to run up hills and do quite a bit of breaking and maneuvering.
The ride started out through some trees, then we were out in the middle of a huge field. Except it wasn't a field – we were on a frozen lake!! It was so much fun. It was definitely the highlight of our Alaska winter vacation.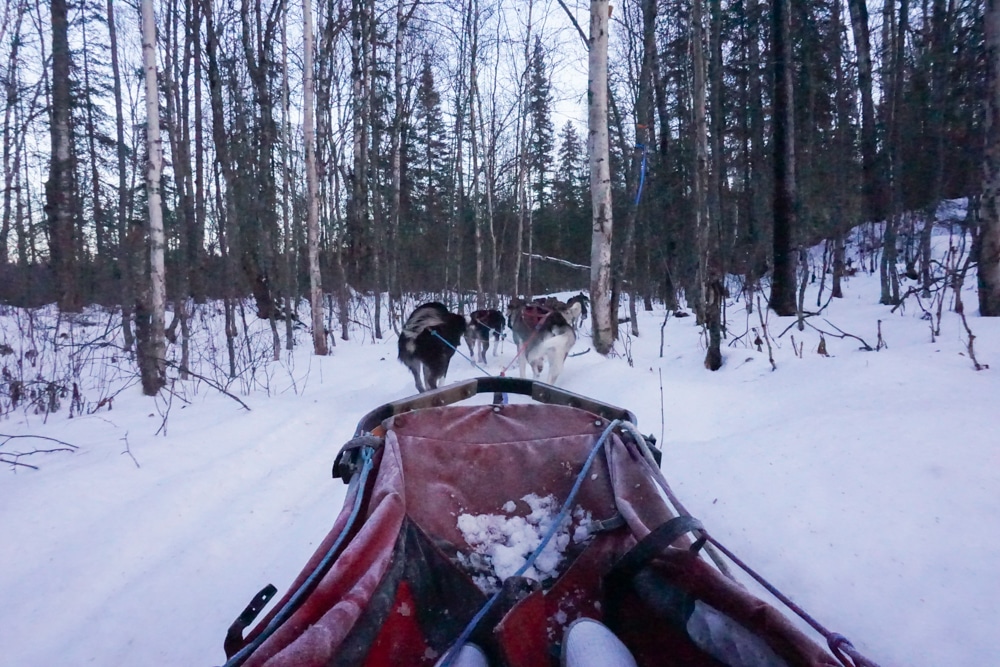 Right before we hit the road back to Anchorage, we caught a glimpse of Mt. Denali! The weather was clear and sunny for the first time all week and the view actually took my breath away. You can watch our quick Facebook live to see a glimpse of the tallest point in North America: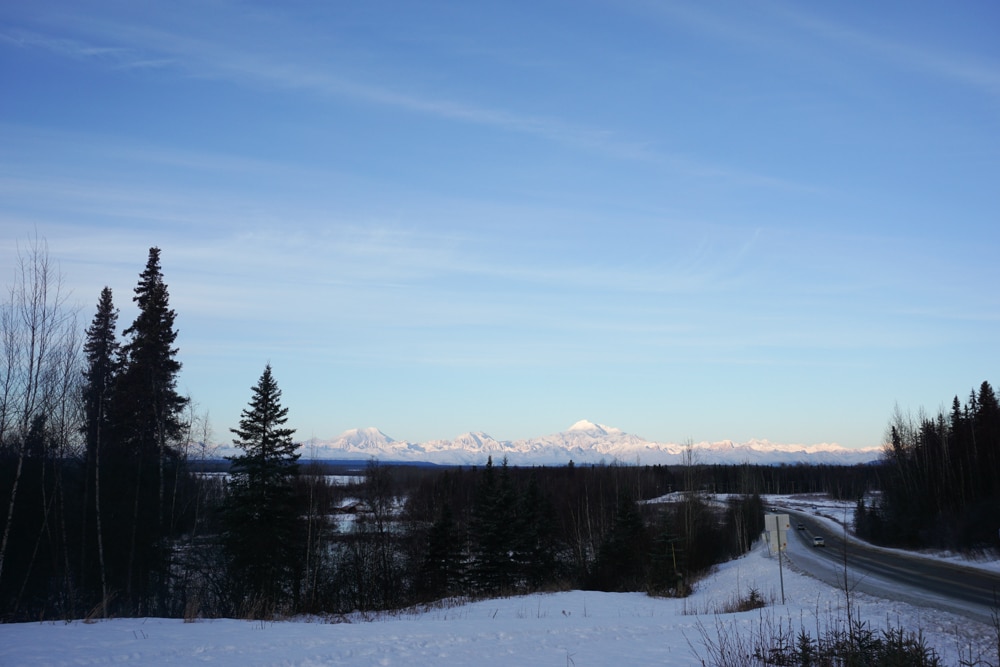 I was glad to check a "bucket list" item off with this trip. If you hope to see the northern lights or go dog sledding some day, I totally recommend an Alaska winter vacation.
Check out our Alaska winter vacation travel recap video!