We kicked off May with last minute trip to Mexico! We had been so stressed for so long and we wanted to celebrate that Eric got a new job! Throwing the trip together last minute, you'd expect it to cost a lot. I'm going to share how we did a 4 day trip to Cancun, Mexico (on a major airline!) for around $1,000 TOTAL!

Airbnb
We wanted to take a chance and stay outside of somewhere that was all-inclusive like a resort. Those are great, very convenient, but we wanted the opportunity to explore a new city on our own without being restricted to a single place.
When we traveled around Europe 4 years ago, we didn't have all the the apps and technology we do now. I was pretty excited to try Airbnb internationally, and we found a heck of a deal!
We found an amazing apartment between Downtown Cancun and Zona Hotelera. It was a gorgeously decorated 2 bedroom apartment that had beds for 6. The modern kitchen opened to the dining room and living room and the back patio doors opened floor to ceiling to the back patio.
The patio was also decorated and was just steps from a beautiful pool. We loved staying at this place! The best part: we got it for less than $50 per night! (Price varies) I totally recommend this place and you should sign up for Airbnb ASAP! Use my link here to get $20 off your stay!
Hopper
I recently discovered the Hopper app. It was voted the best travel app of 2015 by Apple and for good reason! Using this handy app, I was able to book us 2 round trip tickets to Cancun (on American Airlines!) for less than $200 each!!
This app is especially great if you are booking a trip in advanced. It has the option to watch a trip for you and will let you know when to fly and buy.  I have a trip to Atlanta in August I've been watching for weeks because the price is predicted to go down. The app charges a small fee, but compared to what we saved it's nothing!
The Beach
In Cancun, there are tons of beaches you can pay to spend the day at. They offer unlimited food and drinks for usually around $75-$100 per person. While these places are nice because they have chairs and towels and most have water sports options, we went to the free public beach. 
On Playa Delfines, they have little huts all over the beach you can set up under and have a nice place in the shade. We brought beach towels our awesome Airbnb provided and set up on the beach with snacks from Superama By Walmart.
We got gallons of water, beer, snacks, etc. all from the grocery store. We saved a ton of money that way, and got to spend the day on the beach which was all we really wanted anyway.
Food
The restaurants in Cancun are also really cheap compared to Houston. We had a delicious brunch at Cafe Antoinette for less than $20 – with tip! I had crepes con plátano y Nutella with a large iced coffee, Eric had a croissant with ham, cheese, and bechamel sauce along with a large iced coffee, and we shared a fruit, granola, and yogurt plate. Seriously less than $20 USD and it was SO GOOD! Only one of our meals was more than $20 the whole trip.

Tours
Our one splurge on this trip was to take a tour out to see Chichen Itza and the Ik Kil cenote. We also had a quick stop in a small town called Valladolid. On this trip we did a day that was exactly what I wanted (the beach) and a full day for Eric (this tour).
We had a chance to explore and learn more about a different culture. We also saw some pretty amazing things. Chichen Itza is one of the New Seven Wonders of the World and the cenote was absolutely beautiful.
When you are sightseeing in Cancun, there are tons of shops trying to sell you tours. In fact, when we picked up our rental car they were trying to sell the tour there!
I'm glad we waited because we were quote so many prices, and ended up getting our tour for $40 each! That included lunch, transportation, entrance at both sites, and a guide for the entire tour. It was a long day, over 12 hours, but we traveled in an air conditioned charter bus and had a really great tour guide.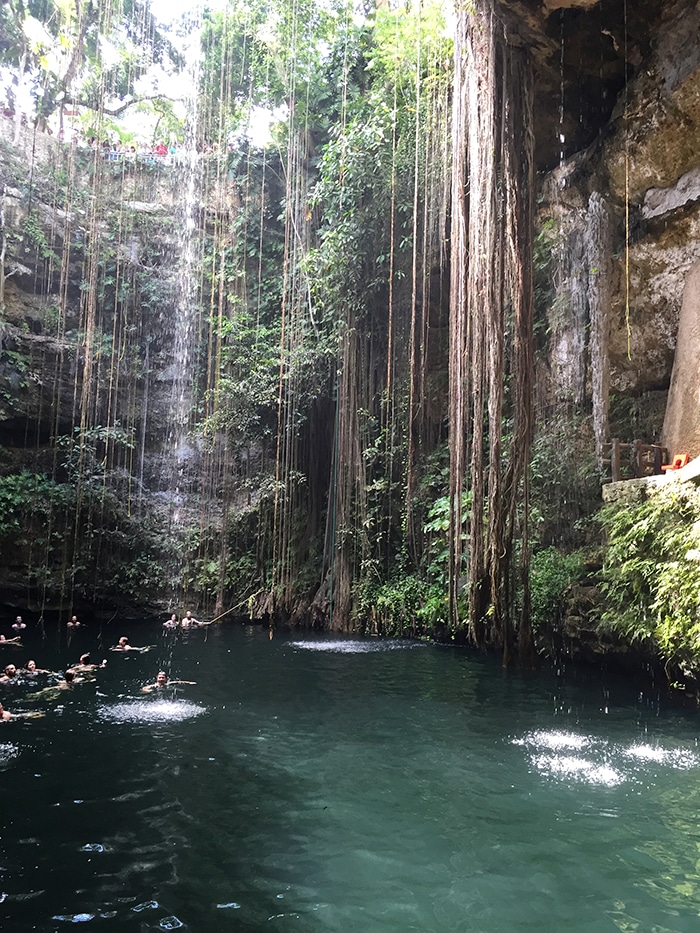 Hopefully you can use the resources I've mentioned above and I hope that my tips will help you on your next trip. I encourage you to take a chance, and book on Airbnb in a new place.
Get a rental car (ours was around $150 thanks to USAA discount) and get to know a new city in a foreign country. Honestly, driving around was one of my favorite parts! I put together a video to recap our trip. I shot the whole thing on my iPhone and put it together in Adobe Premiere. Enjoy!