We've had an interesting Christmas and New Year's Eve celebrations – we've been in Macau, China for the past few weeks! Eric left for a 3 week work assignment on December 17th, and I came over on December 22nd. We've had plenty of time to explore while here, so I wanted to share a summary of what we've done:

Travel to China (Days 1 and 2)
Eric's trip over was a bit of a headache. I dropped him at the airport early Saturday December 17th, but after checking in his luggage he was told there were mechanical issues and his flight was delayed. This would have caused him to miss his connecting flight, and since there were tons of weather delays he was sent home! So I came back and picked him up at the airport, just to bring him back the next day. He ended up leaving a day late, then had a huge delay in San Francisco (8 hours to sightsee at least!), and his bag never made it out of Houston. So he arrived to work a full day late and without his luggage. Not the best way to start his trip, but at least he got to fly first class!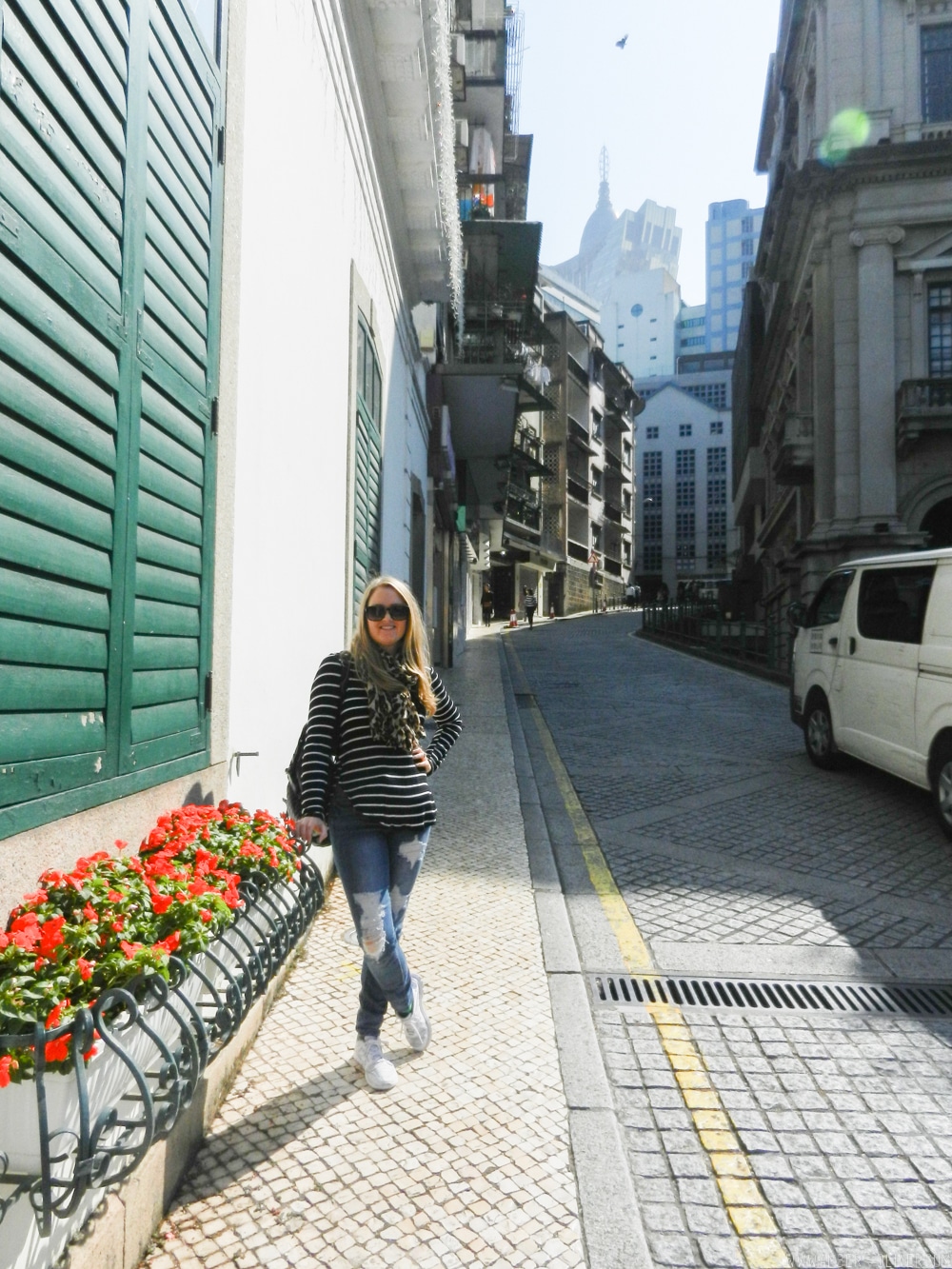 I flew on EVA Air for the first time and got to fly in the Hello Kitty airplane! I was ECSTATIC! If you are ever going to Asia, I recommend it! I flew Elite class, which is not quite as good as First class, but it was super nice! The seats are twice as large (so I only sat by one person instead of 3) and it reclined to a comfy position. I stayed awake as long as I could since I boarded at midnight in Houston and it was 2 PM in China. After a few hours, I fell asleep for about 7 hours. The flight to Taiwan was over 16 hours and was the longest flight I've ever done. Taipei to Hong Kong was a quick flight so I landed in China around 9 am. Customs was basically non-existent, so I got my luggage and got a ticket for the ferry to Macau. I met Eric around lunch time and had to stay awake for at least 9 more hours!
Day 3
My first day in Macau was overcast, humid, and about 70 degrees F. We dropped my bags at our hotel (Eric's work has him in the Sheraton Grand Macao Hotel on the Cotai Strip) and grabbed a cab to Old Taipa Village. My first meal here was at a Portuguese restaurant. Macau is unique because it was settled by the Portuguese and you can really see the influence in the old areas of the city. Also, Macau (along with Hong Kong) are the only areas not part of Mainland China. This means we weren't behind the "Great Chinese Firewall"! After lunch, we grabbed Boba Coffee and walked around Old Taipa. I was supposed to stay awake until at least 9 PM to try to adjust, but I zonked out at 7 PM. I slept fine and had zero jetlag!
Day 4
Christmas day was so much fun! I did feel a bit weird, but we made the most of it. We took a cab down to Coloane and visited Seac Pai Van Park, which is home to the Macao Giant Pandas! The pass into the park was only $1.50 USD. When we first arrived the only panda we saw was asleep, so we hiked up into the park and found a great view! We did a quick Facebook live before heading back down. The panda was awake then! We watched him eat, and boy can they eat! We headed back to Cotai and for our Christmas dinner had Hot Pot at Xin.
Day 5
Monday morning Eric headed to work and I worked from our hotel room. This was the start of many days of this routine. Eric got 2 hours for lunch, so we'd meet up each day to eat then walk around a bit before both going back to work. This day we ate at the food court in The Venetian; the ceiling looks like the sky! Eric had Pho and I had Ramen. That night we went to Old Taipa Village and explored R. do Cunha. Macau is such a diverse city. We are staying on Cotai near the hotels and casinos, but this area is SO different. It's a small and peaceful community with narrow streets and picturesque markets. Portuguese and Asian restaurants,  ancient temples, and colonial villas blend with the area's old-fashioned street lamps, cobblestone streets, hanging flower baskets, and street vendors. We walked back to the hotel through the Carmel Garden (beautiful even at night!).
Day 6
I woke up and wanted to watch TV, so I found an English channel. They were playing Pirate's of The Caribbean, and did every day for the rest of the week, haha! Not sure why that movie is so popular! After lunch, I walked around Cotai. Macau is called "The Vegas of Asia" and if you've ever been to Las Vegas, you'll know the casinos and hotels are basically huge shopping centers. There were designer stores everywhere and these were the real deal. No Chinese knockoffs here. I found a beauty store called Sasa and spent almost 2 hours browsing. I had to use Google Translate, but found some fun items to try. That night we went back to Taipa and had my favorite meal in Macau, tapas at Casa de Tapas Macau. After dinner, we stopped and got foot massages (1 hour for only $25 USD!).
Day 7
The middle of the week it got pretty cold. We enjoyed nice days for most of the trip, but for a day or 2 it got down in the 50s F. We had lunch at Bene and sipped hot tea before heading back to work in the afternoon. That evening we were both tired so we ordered pizza and beer from room service. Netflix works in Macau so we watched The OA (It's super weird!).
Day 8
Thursday we had an awesome lunch at The Golden Peacock (one of the many Michelin recommended restaurants in Macau). I was ridiculously full after the Indian buffet. Eric's coworker is from India so he gave us the low down on all the food. I want to get Indian when we're back in Houston! I tried to walk off my lunch that afternoon and visited The Parisian. We actually skipped dinner that night we were so full from lunch!
Day 9
I got to FaceTime Barkley and it totally made my day! My pup is having so much fun hanging with awesome friends. By this point in the trip, I was a little tired of foreign food so we found a McDonald's. The food tasted the exact same but they had other options like a cup of corn instead of fries or crayfish with mayo. After work that evening, we headed to the Macau Peninsula and explored for the first time. We walked around (everything was still decorated from Christmas!) and snacked on street vendor food. Eric accidentally ate octopus balls! (But he liked it!)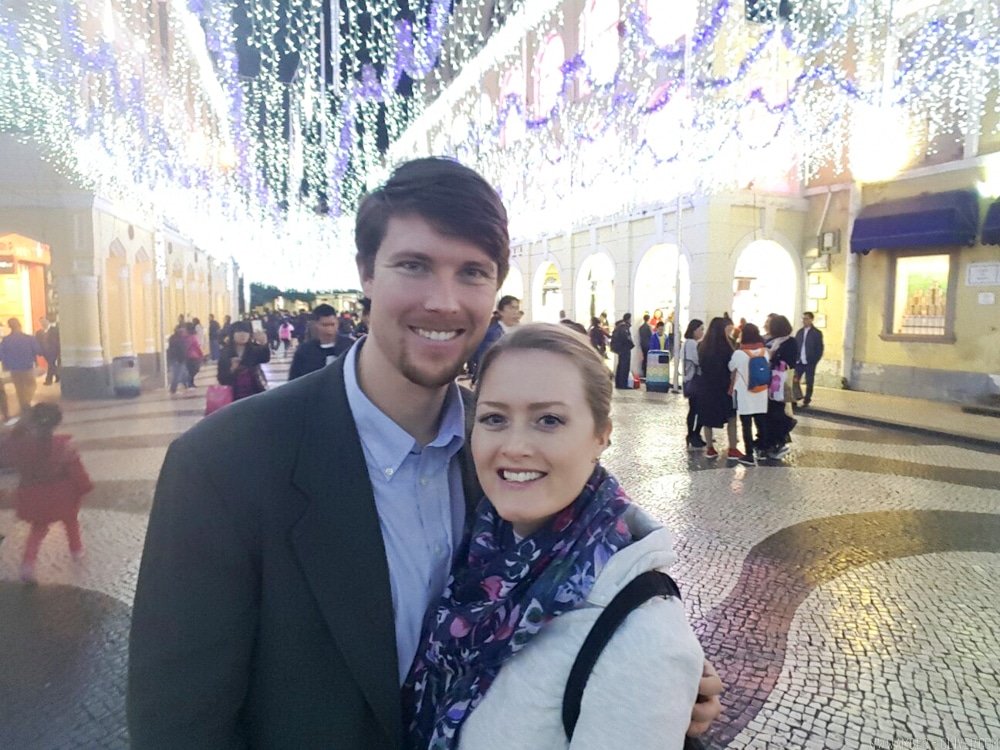 Day 10
Saturday was New Year's Eve! We spent the entire day doing the Macao walking tour from Sendao Square. The weather was gorgeous and this was one of our favorite days! That night we welcomed in the New Year with Eric's coworkers.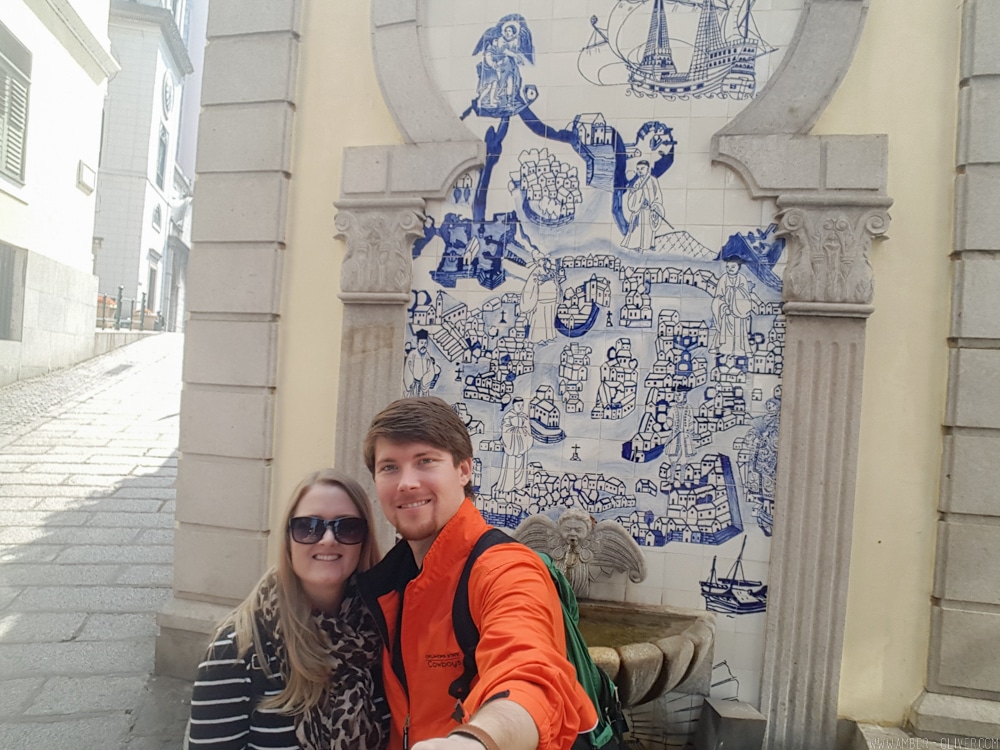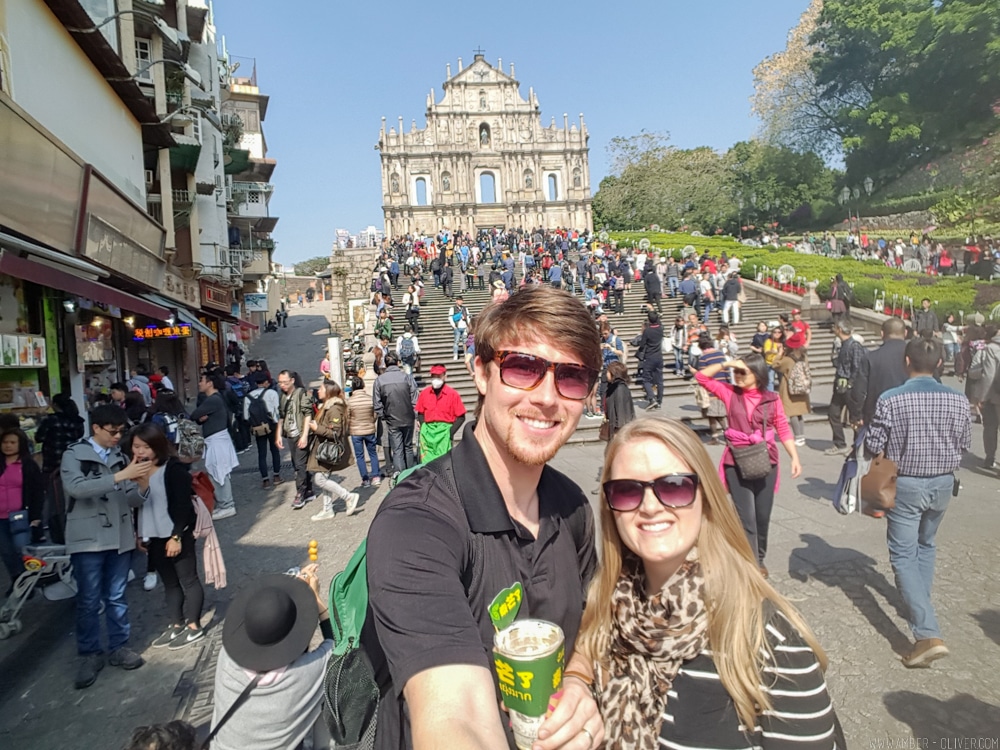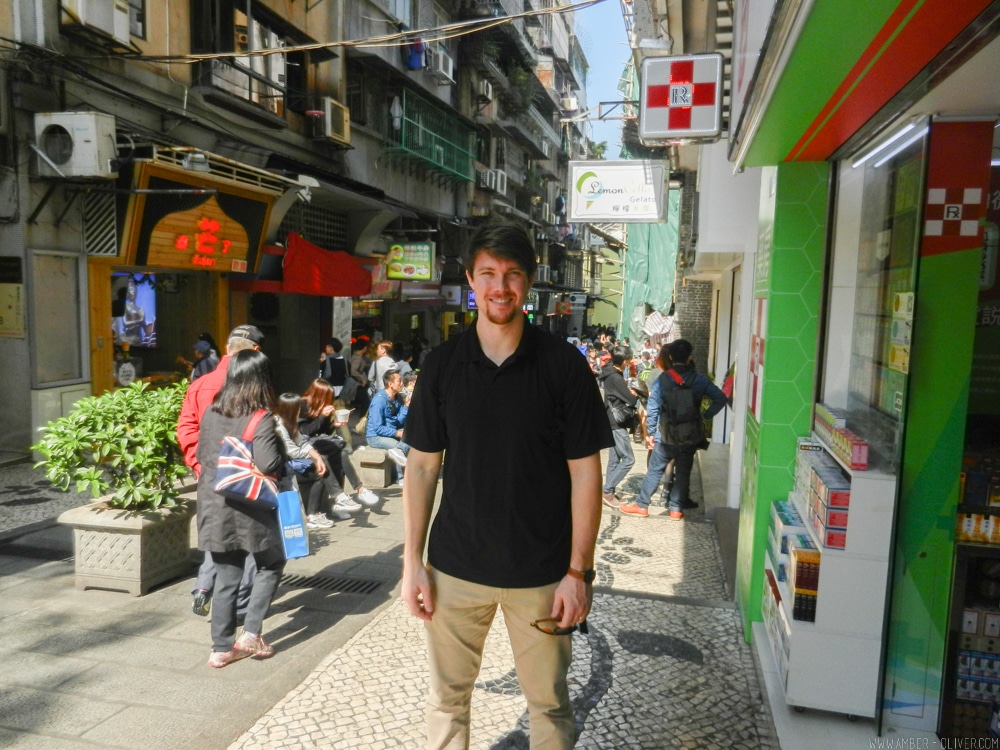 Day 11
Sunday morning we slept in, then grabbed Dim Sum for the first time in China. In Houston we ordered Dim Sum from a cart, but here we had menu where we had to choose. I liked the cart better because I like to see what I'm eating! We finished with hot tea then headed back to our room to do laundry. Since we are traveling for about a month, we had to wash a few items to wear again. We weren't able to find a laundromat, so we hand washed in the tub. Turns out, it's cheaper to pay Chinese workers to hand wash than to keep up machines in a laundromat, so next time we used a service (about $5 for 3 lbs of clothes!). That afternoon we did another one of the hightlights of our time in China, tea at the Palms! Everything was delicious! That evening it was back to Tiapa to explore, eat pork buns from street vendors, and get massages again!
Day 12
My second Monday in China, we were back to our work routine. I worked from the hotel until meeting Eric for lunch in the food court. He had FRIED EEL and I wasn't feeling adventurous, so I opted for a Happy Meal. We walked to the Wynn and took a gondola ride, had ice cream, then headed back to work. The weather was beautiful, so I made my office poolside that afternoon. That night we had tickets to The House of Dancing Water and it was AMAZING! I'd totally go again.
Day 13-15
The rest of the week was a lot of the same routine. We worked, grabbed lunch, I spent the afternoons working by the pool, then out for dinner. Tuesday we had a really amazing couples massage complete with hot tea before and after. It was incredibly relaxing! Tuesdays dinner was the Michelin recommended Antonio's. The service was subpar, but the African Chicken was delicious! Wednesday night we went to an expat bar and played Trivia. Friday night we packed up, had dinner with Eric's coworkers, said our goodbyes, then headed to Hong Kong!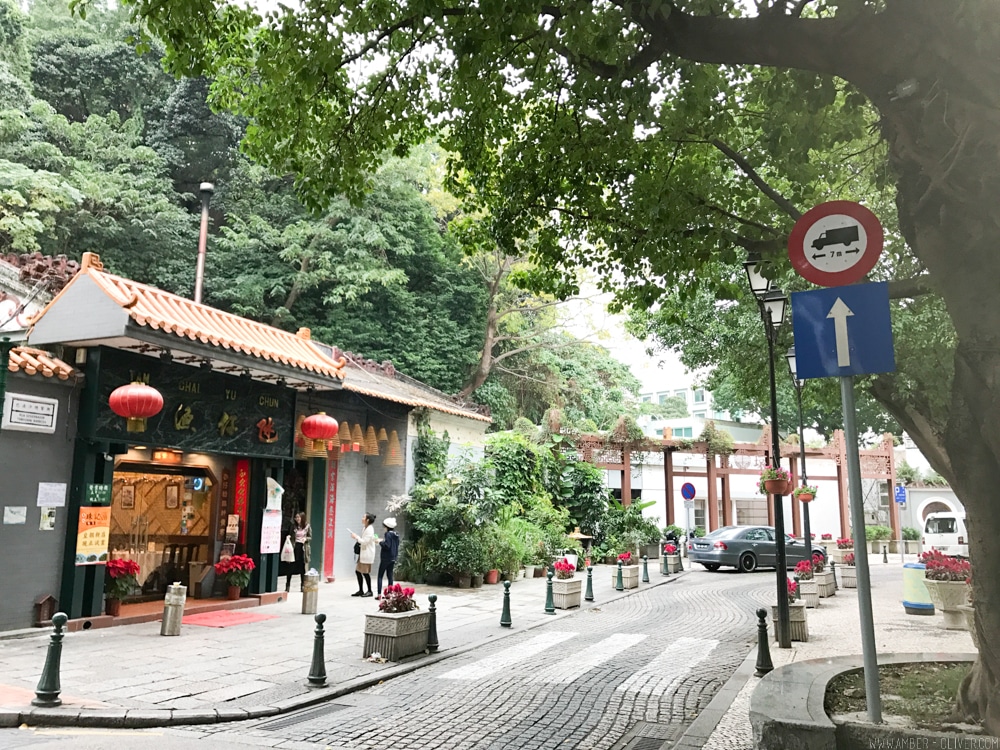 We spent the weekend in Hong Kong and had an awesome day at Disneyland on Saturday. We flew to Thailand on Sunday night and are spending a week here in Phuket and Bangkok. Follow along for more photos and videos coming soon. Browse some other travel recaps HERE.