I'm not sure there's a name for my home decorating style. If you look at my Pinterest account, you'll see that I love all kinds of different styles. I love the homey feel of the "farmhouse" style, the colors  and eclectic styles of "boho", and the warm of "rustic" styles. We are totally a form AND function home – you'll find we don't live in an uber chic modern home of sleek appliances and moody hues. My decorating philosophy is "if I like it, I use it"!
I've tried to incorporate more light outside on our porches and in our landscaping. We installed low voltage landscape lighting and added string lights around our patio. When the heat and humidity let up here in Houston and we are able to dine on our patio we also put out lanterns and candles to make a relaxing space to spend time in the evenings. I wanted to add some wall scones with DIY rustic candle holders that make our space feel even more inviting.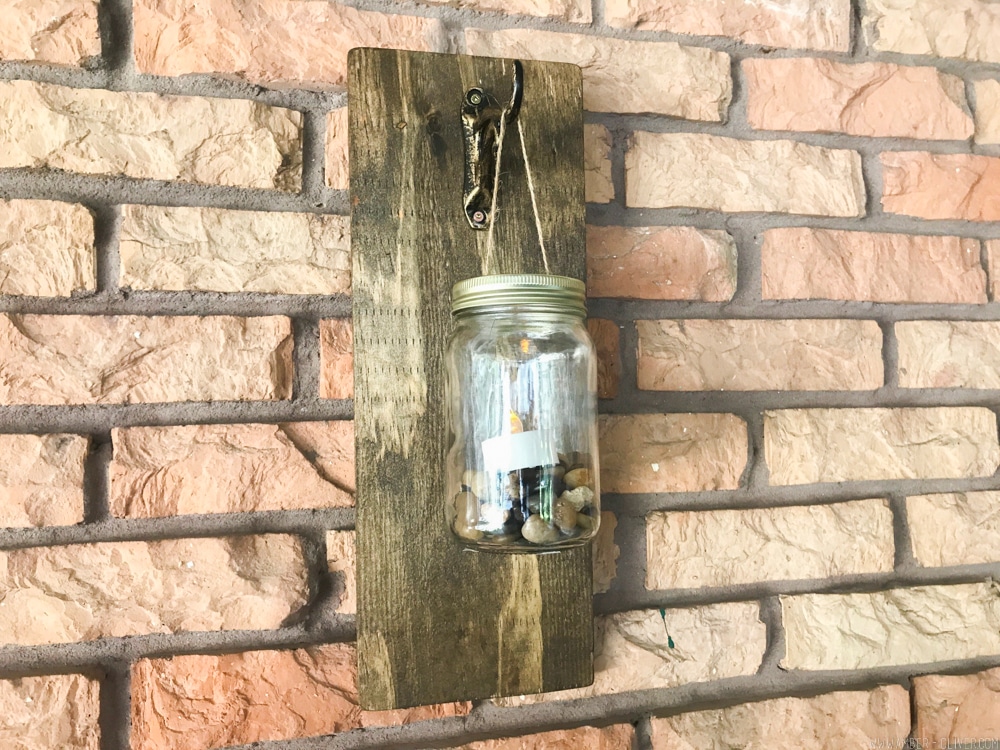 DIY Rustic Candle Holders
These DIY rustic candle holders can easily be adapted to fit any style. If you aren't into the rustic look, try painting the wood or used different rocks or filler for your jars. These instructions are for one, simple double the materials for 2, etc.

Piece of wood – mine was approximately 6×16 inches
Wall bracket
Twine
Rocks or filler
Drill + small drill bit
Palm sander
Wood stain
Step 1: Cut the wood piece. I used a piece of scrap wood, so luckily I only had to cut to length! You can cut from plywood or use a board. Old fence posts would be great for this project!
Step 2: Sand and stain your wood. If you're using reclaimed wood, you can skip this part, but if you're using new wood that's in good shape you may want to ding it up a bit if you want a more rustic look! Take a hammer too it, poke some holes, and rough it up before sanding off any jagged edges and staining the wood.
Step 3: Attach the wall bracket at the top of the board.
Step 4: Remove the top of the canning car. Drill two holes on either side of the lid. Tie a knot in one end of a length of twine then determine how long you want your jar to hang on the piece. String the twine through the holes you drilled in the lid and knot so it stays.
Step 5: Add rocks or filler to your jar (you could also use sand!) then place your "candle" in the jar.
Step 6: Mount your wood piece on the wall, then hang the jar from the hook!
Note: I did not use real candles as they won't burn with the lid on. The fake candles are safer and they give the same ambiance I was going for!