Summer is here! Summer is here! If there's one thing that screams summer (aside from the stifling Houston humidity) I'd say it's watermelon! I'm sure you *can* get watermelon year round, but this is my favorite summer time fruit. Plus, pink and green are my favorite colors! I've scoured the web and found the cutest watermelon items. Everything from clothing and accessories to pool floats and items for the home.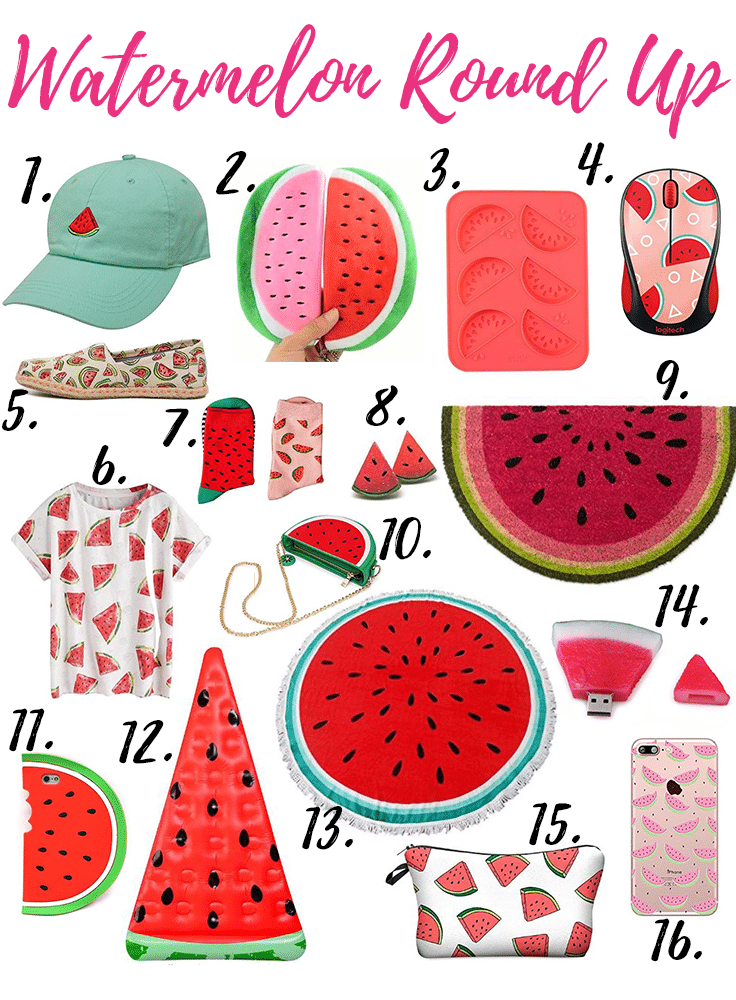 1. Watermelon Baseball Cap: This cotton hat is perfect for those hot days, when you just want to throw your hair up and be done with it. Plus it comes in 13 colors!
2. Watermelon Pouch: These little pouches would be perfect as pencil cases or to hold makeup! They come in a two pack so you get pink and red. Share one with a fellow watermelon lover.
3. Watermelon Silicone Mold: This mold is dishwasher and oven safe! Use it to make watermelon shaped ice cubes, candies, soaps, etc!
4. Wireless Mouse Watermelon: What a cute office accessory! Plus, I've used Logitech for years so it's a trusted brand.
5. TOMS Women's Classic Slip-On: These are probably the first thing i'm snagging from this list! I love TOMS shoes; they're comfortable and cute.
6. Short Sleeve Watermelon Tee: Tie up in the front and pair with some cut off jean shorts and this would be a perfect summer casual outfit.
7. Watermelon Socks: I hate bare feet, and wear socks around the house everyday. So it's no surprise I like to find cute, printed socks! These watermelon ones are adorable and you get 2 different prints in the pack.
8. Watermelon Earrings: So these aren't the most "grown up" accessory, but this is supposed to be a fun list! They are hypoallergenic plastic post studs for metal sensitive ears.
9. Door Mat: I want this for my backdoor! We use the back patio a lot during the warmer months so this would be perfect way to wipe feet before coming inside.
10. Cross-body Shoulder Bag Purse: This reminds me of all the crazy accesorries I saw in Hong Kong! Not the most "mature" accessory but you're talking to the lady with a dog face purse 😛
11. Phone Case: A cute watermelon accessory you can carry year round.
12. Pool Floats: Crazy pool floats are all the rage right now, and this watermelon slice is perfect!
13. Watermelon Blanket: This could be used at the beach as a cover up, a beach blanket, a towel, or even a yoga mat.
14. 8GB USB Flash Thumb Drive: Another fun office accessory. I can never have too many USB sticks.
15. Travel Case: Another cute watermelon pouch. This one is a bit large and would be perfect for traveling.
16. Phone Case: One last phone case. This one is a bit more sleek but just as adorable!
For a fun watermelon DIY, check out my tutorial for fruit themed mason jars: