After spending a few weeks in Macau, China were were ready to head to Thailand! But not before a weekend trip into Hong Kong and a day at Disneyland Hong Kong!
Macau and Hong Kong are the two places in China you can visit without a visa. Both places are "Special Administrative Regions" so they have their own money, language, government, etc. So kinda like visiting two different countries – but not really!
We took the ferry over late Friday night and grabbed a taxi from the Ferry terminal to our hotel. We stayed at Bishop Lei International House which was in a great location and overlooked Hong Kong Harbor. We got in after midnight and went to sleep in our TINY room as soon as we got there.
Saturday morning we got up and had one of my favorite days of the entire trip – we went to DISNEYLAND HONG KONG! This day was seriously magical!
I'd never been to Disneyland or Disneyworld so it was basically a dream come true! This is the smallest of all the Disney parks, but it had plenty to do! Most rides only had a 15-30 minute wait. One of our favorite rides (we rode multiple times) was HYPERSpace Mountian. It was StarWars themed and we loved it!
We also ate a ton of yummy food like the Dole Whip and The Pineapple Dole Whip Float!
These ridiculously cute donut ears are from Once Upon An Ear!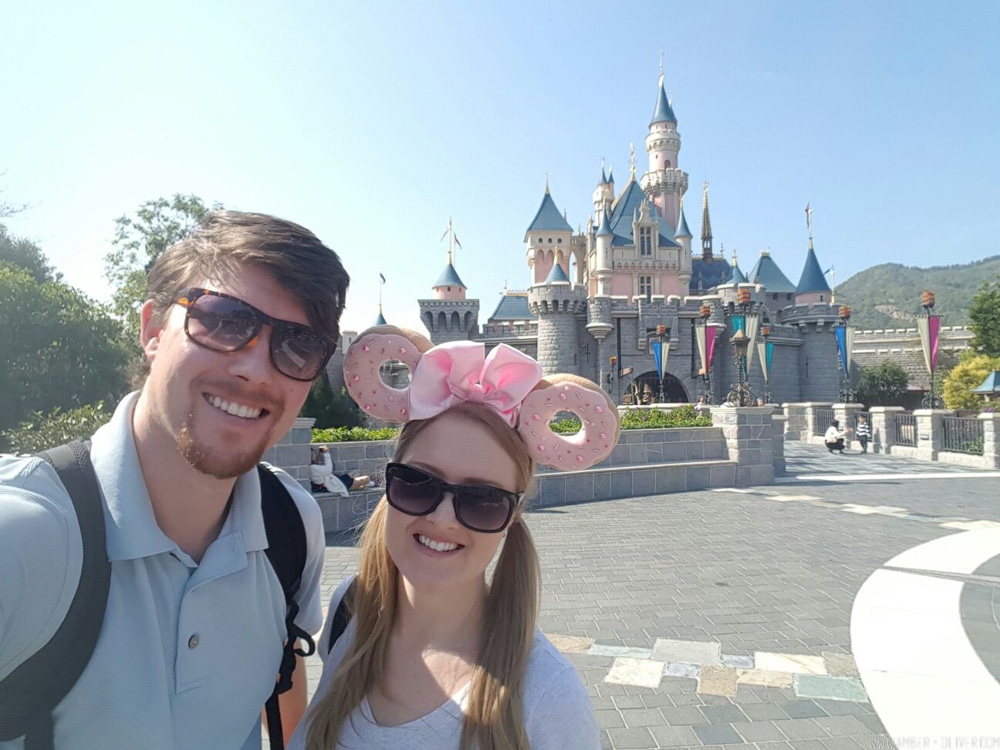 We spent all day at Disney, then took the subway back to our hotel. We changed clothes and went for dinner and to explore. One of the top recommendations we got was the Temple Street Night Market. You could buy pretty much everything here: clothes, food, electronics… even people 🙁 We saw many, many prostitutes during our time in Asia.
Sunday we dropped our bags with the hotel concierge and used their free shuttle to get us to the MTR Central Station. From there we rode the Hong Kong Tramways to see the city. It was super cheap too; like $0.30 in the US.
It was fun to squeeze on the double decker cars with all the locals and get great views from the top deck! The city is densely packed and it is impressive how vertical the city is.
Not only are there lots of very tall building but the whole city was built on hills. There were outdoor escalators everywhere that made walking around a little easier. This also meant there were views all around!

I ate a lot of simple Chinese meals (rice and chicken) and loved every single thing I ate. Especially all the sweet things like these egg waffles! (Mine is filled with Nutella and Eric's with peanut butter!)
We kept seeing these huge crowds of women ALL OVER the place. They literally filled the streets, parks, etc. and were all camped out. At first I thought they were refugees. We thought it was weird there were no men or children – it was ALL women.
Turns out all these ladies work and live in homes around Hong Kong and Sunday is their only day off. Since they live where they work, they all meet up in public places so all the parks were filled! They had their own little community complete with tents, food, and fashion shows!
We ended our time in Hong Kong by visiting The Hong Kong Observation Wheel. We spent about 20 minutes seeing views of the city and Victoria Harbor before grabbing an Uber back to our hotel then leaving for the airport. Luckily the subway is a quick and easy ride to the airport! Our next stop was PHUKET, THAILAND!
Check out my video recap from our time in Hong Kong and at Disneyland Hong Kong: