This post was written in partnership with Mionetto Prosecco. Please read my disclaimer page for more information.
We have spent so much time on our back patio this year! We love hosting weekly dinners at our house, and recently I realized I was making multiple trips in and out of the house when setting the table. I could only carry 2 or 3 cups at a time; I needed a tray to carry all those drinks! I created a DIY serving tray with just a few materials and one afternoon of work!
DIY Serving Tray
Whitewood Board – cut down to desired size
Drill and drill bits
Cabinet Pull x2
Wood Stain (I don't plan on putting food directly on the tray*)
Tung Oil Finish
*I recommend doing your own research before finishing any project you will have food on.

Measure and cut your wood using the circular saw. I didn't use any specific size; just eyeballed the size I wanted and cut. When we were about to cut the wood for the tray, Eric held up his arms and asked how big I wanted it. I thought it was too big since it was as wide as his shoulders instead of mine. In hindsight, I think I should have made this tray a little larger. I just didn't want it to be too big so it wouldn't get too heavy.
Use the router to finish the edges of the wood. I'd never used a router before but this was fun and easy! It made a huge difference – the tray has a professional/finished look to it.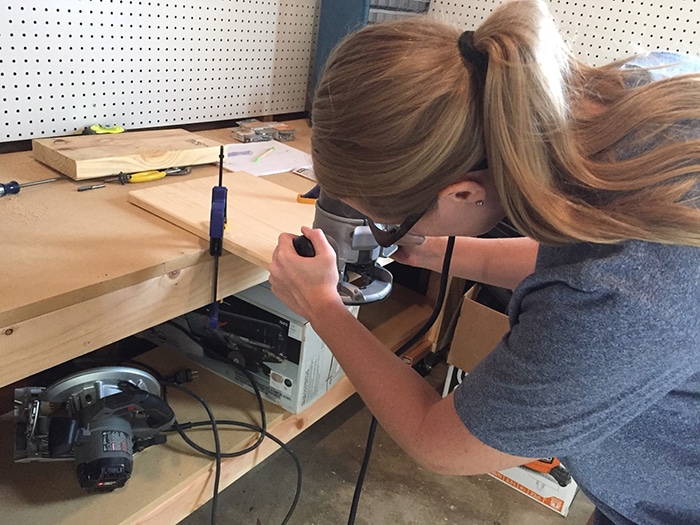 If you aren't using a finished wood, you'll need to sand the wood at this point. I also recommend pre-drilling the holes for the handles.
Apply stain and allow time to dry.
After the tray dried, I traced the word Cheers! with a cutout from my silhouette. I then used the wood burner to burn it on.
Apply wood finish and let dry.
Attach the cabinet pulls as handles.
Lastly, pop open a bottle of bubbly and enjoy your newly assembled DIY serving tray!
I love having this adorable custom DIY serving tray! On its inaugural use, I used it to serve Mionetto Prosecco! I love a bit a bubbly and this sparkling wine is so good! It's not just for special occasions either; I love to serve it on our back patio with a few friends enjoying the sunshine. Mionetto Prosecco is great for spring/summertime entertaining and is perfect to make delicious cocktails.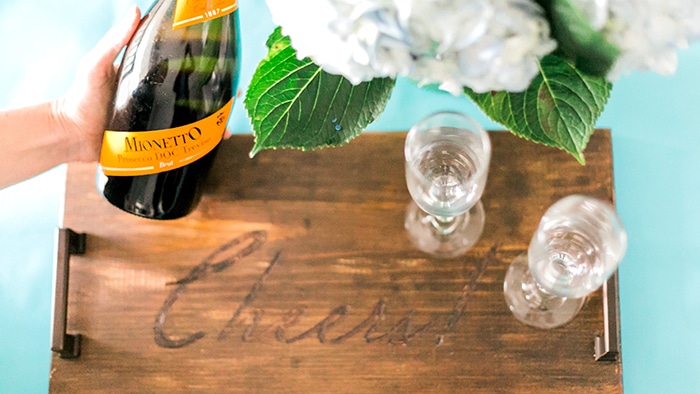 How would you drink Mionetto Prosecco? Do you mix yours with a little OJ for a Saturday morning mimosa? Or just the bubbles for a Tuesday evening at home?

Follow me! INSTAGRAM | TWITTER | FACEBOOK | BLOGLOVIN
This is a sponsored post written by me on behalf of Mionetto Prosecco. Content for ages 21+.