We are moving abroad for 18 months and used PODS storage for our long term storage! This post is sponsored by PODS Houston.
Back at the end of January, Eric packed up as many bags as he could take on the plane and officially moved to Macau SAR, China. The plan was for me and the dog to join him as soon as he got settled and we could arrange my visa and the pet shipping. We were super excited to move abroad but had a LOT to do to get ready.
We did as much packing as we could before Eric left, just leaving out the items I would need to live for the next couple of weeks. We had our home leased starting April 1st, so I had plenty of time to get everything moved out.
We spent several weeks cleaning out closets and drawers and did our best to downsize as much as we could. We had SO much stuff we didn't really need or want anymore. We made several trips to donate items to our local thrift store. We also sold or gave away the furniture we'd been wanting to replace anyway – no use storing stuff we didn't love!
We had a few options for long term storage. The first was to take our remaining items and store them with family members. Since both our parents are out of state, this would have been difficult and not to mention imposing! The second option was renting a storage unit near our home. We don't own a truck and so we'd have to rent or borrow one and this would have taken countless trips back and forth. The third option was a portable storage unit. This option was the most flexible and easiest. We went with PODS Moving and Storage here in Houston to solve our long term storage problem!
How does PODS work?
First decide what size container you need. We went with the 16′ after consulting with PODS Houston about which size would be best for us.
Next, schedule your delivery. They bring your container right to your home! Once ours was delivered, it was unloaded and ready for us in under 10 minutes!
The best part was I could now spend the next few weeks loading our container at my leisure. My mom came and helped one weekend and we were able to finish getting everything boxed up and loaded in.
After your PODS container is loaded, lock it up and call for pickup! If you're moving, you arrange to have your container delivered to your new address. If you're moving abroad like us (or just need to store your stuff!) they pickup your container and take it to your local PODS Storage Center, where it will be safe and secure until you need it again.
How to pack a PODS Storage Container
We basically divided our container in half. On the right side, we loaded in the furniture. We put our mattresses/headboard up against the wall of the container and strapped them in so they'd stay upright.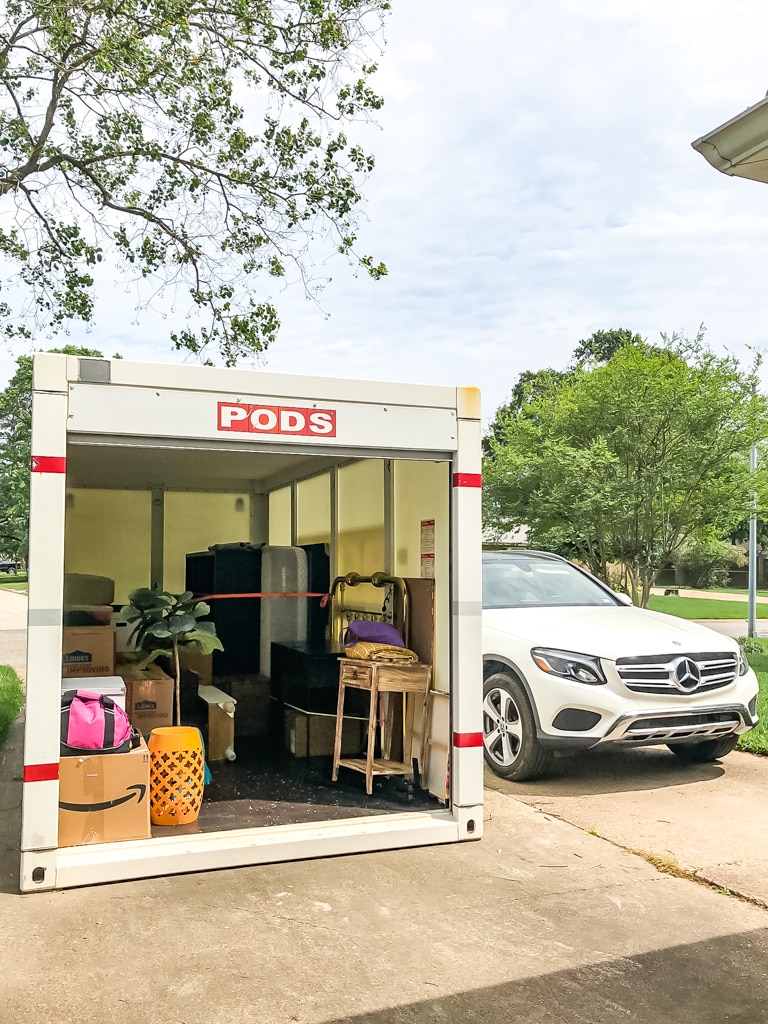 We then slid in the remaining furniture (bookshelf, desk, etc). On the left side we made several rows of boxes. We put the largest/heaviest boxes on the bottom then added more on top.
We positioned everything so it wouldn't slide, and wedged the boxes in so they would hold each other in place. I threw large bags with soft bedding, pillows, etc. on top since it was ok if those moved.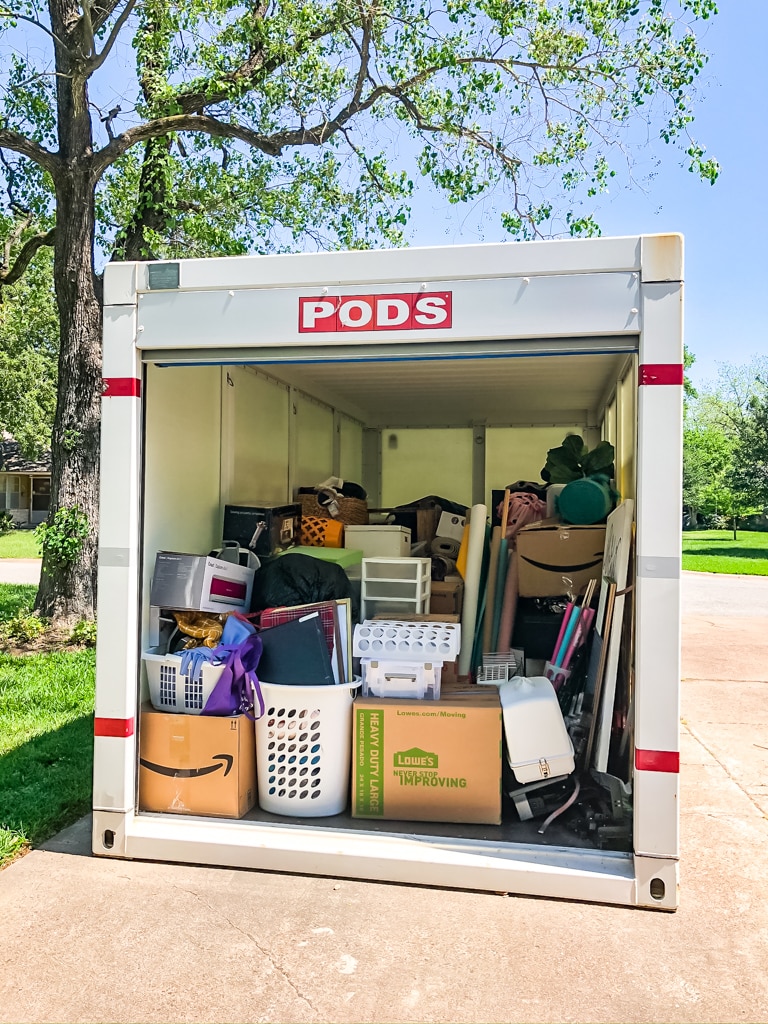 It was a bittersweet day when PODS Houston came to pick up our stuff. We're so happy to know that our belongings are safe and secure and were so pleased with the ease of using their service. Next up, getting myself and Barkley overseas!
Thanks for stopping by my blog! If you enjoy DIY projects I hope you stop by our archives!