As part of our backyard makeover on a budget, I decided to sew a few pillow covers instead of buying new outdoor pillows. You may recall, from this post, that we built a DIY outdoor sectional using FREE wooden pallets. I searched and searched for cushions that didn't cost a lot and ended up trying CRIB MATTRESSES and guess what? They work perfectly! They're the prefect size and they're waterproof! The finishing touches for this project were each of  the pillows I made an envelope pillow cover for!

We got those teal crib mattress sheets from Target on clearance for about $20 bucks and I knew I wanted some colorful pillows to match. We found the tropical printed fabric and I threw in some solid pillows as well as the black and white. I especially love the black and white one because it matches our hammock!
How To Sew An Envelope Pillow Cover
Step 1: Measure and cut your fabric. The width should be the same as your pillow and the length should be pillow width + 4  inches.
Example: If your pillow is a 16 inch square, cut the fabric 16″ wide by 36″ long.
Step 2: Pin one side of the fabric (short edge) 1/4th inch in and sew.

Step 3:
Then fold over so that the printed side is on the INSIDE! You can make your flap in the middle or closer to one side, just make sure you fold it so you are left with a square the same dimensions as your pillow.
Step 4: Sew along the perimeter of the fabric.
Step 5: Flip your envelope pillow cover and insert your pillow!
Note: if you use outdoor fabric DO NOT IRON. Trust me: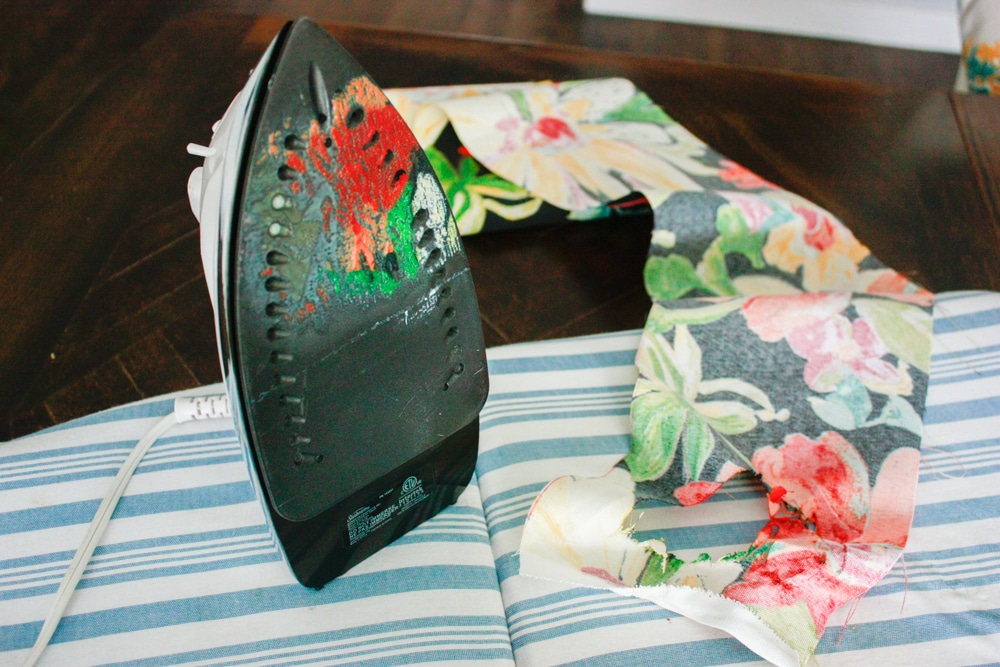 I was able to sew all of these in one afternoon. Envelope pillow covers are my home decorating secret! It's the easiest way to make something look more put together – just throw some pillows on it! Another secret is wrapping your outdoor pillows with a plastic bag before putting on the pillow cover. This makes them extra water proof!