Howdy y'all!
Is my Oklahoma and Texas showing?
I get tired of using the same opening and closing remarks in emails, but my go-to's are "howdy" for an opening and "kind regards" for a closing. Howdy is one of those southern colloquialisms that I've always embraced – there's just something playful and welcoming about it. Howdy immediately brings to mind thoughts of sweet tea and warm embraces. Maybe I'm thinking about it a little too much, but that welcoming feeling is what I was going for with these DIY door hangers: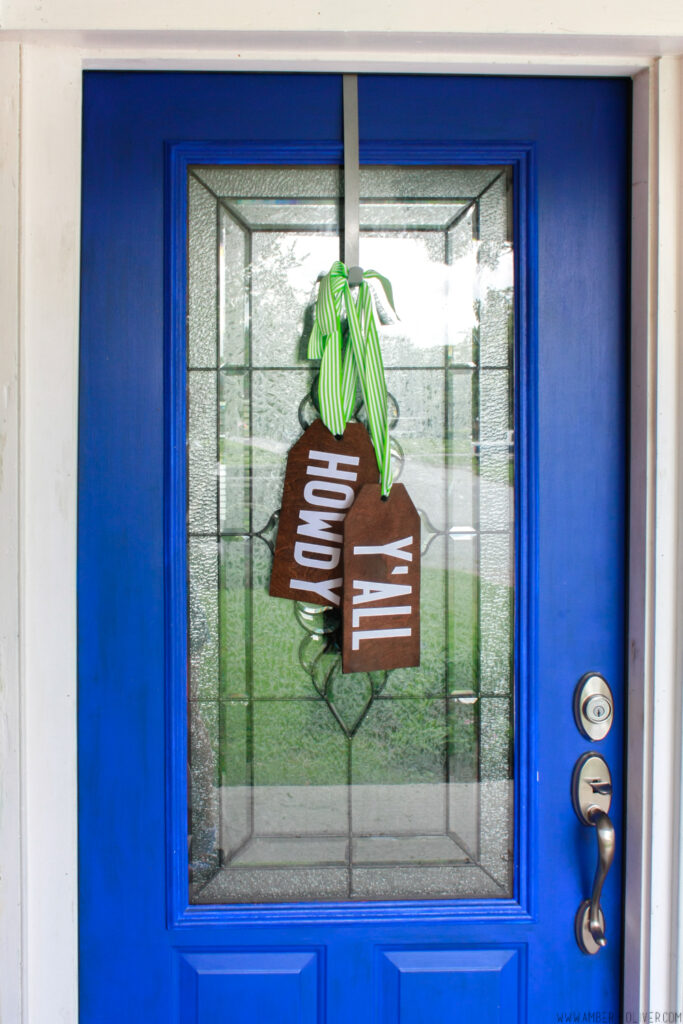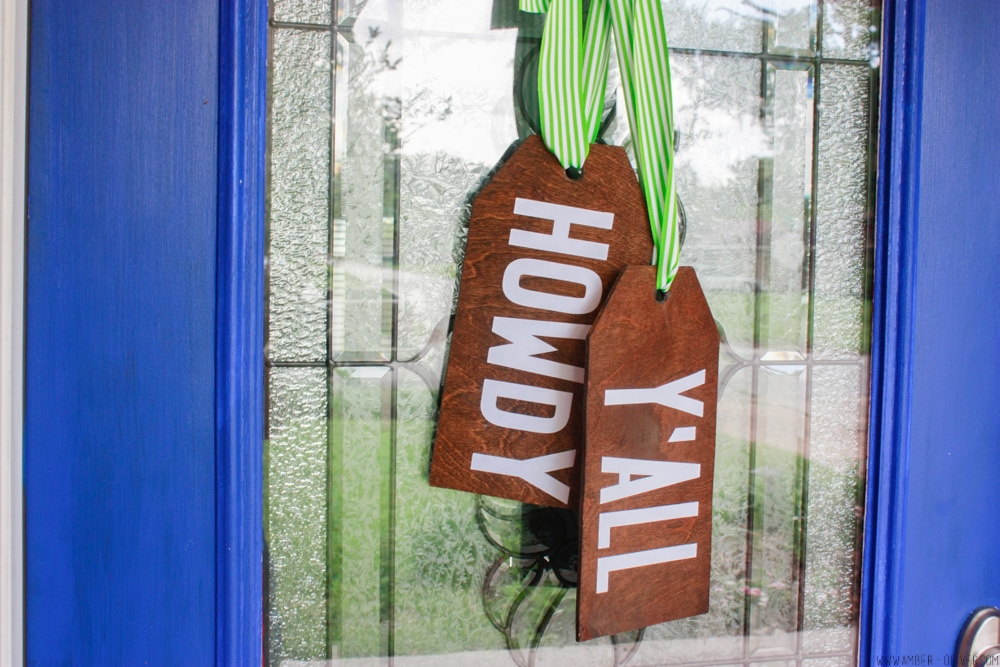 From the warm wood to the playful stripes these DIY door hangers are the perfect greeting for your front door! They'are simple to cut out, and since they are short/straight cuts they are good practice for using a scroll saw!
Yield: 1 Set of Door Hangers
DIY Wood Door Hangers
Tools
Instructions
I enlarged a tag I found in the Cricut Design Studio, and cut it with my Cricut so I could easily trace it on my 1/4 inch plywood for these wooden door hangers.
After the tags were traced, I cut them out using my Ryobi scroll saw. Once they are cut, sand the edges and stain the wood. Last, apply a fun saying cut from outdoor vinyl.
You can use my "HOWDY Y'ALL" found HERE
Recommended Products
As an Amazon Associate and member of other affiliate programs, I earn from qualifying purchases.
Also: are you as obsessed with my royal blue front door as I am!? I did it a few months ago using "Morning Glory" from the DecoArt Americana Decor Outdoor Living line of paint. They now have a special line of paint just for front doors! Check out their new "Curb Appeal" line.
What will your DIY Door Hangers say?
If you liked these wooden door hangers, you'll also like:
Shamrock Succulent Wall Planter