I had the BEST birthday party this year! I'm not sure why, but birthdays are really important to me. I've actually kept pretty much every birthday card I've ever received and I think I can tell you what every one of my birthday cakes has looked like!
I'm also a huge fan of CHRISTMAS! Not so much for the gifts, but the whole spirit of the season. As I mentioned in my Prosecco Punch post yesterday, Eric and I will be in China on Christmas this year. We will actually be abroad for a month starting in mid December. We are very excited about the opportunity, but a little bummed to be missing Christmas with our families.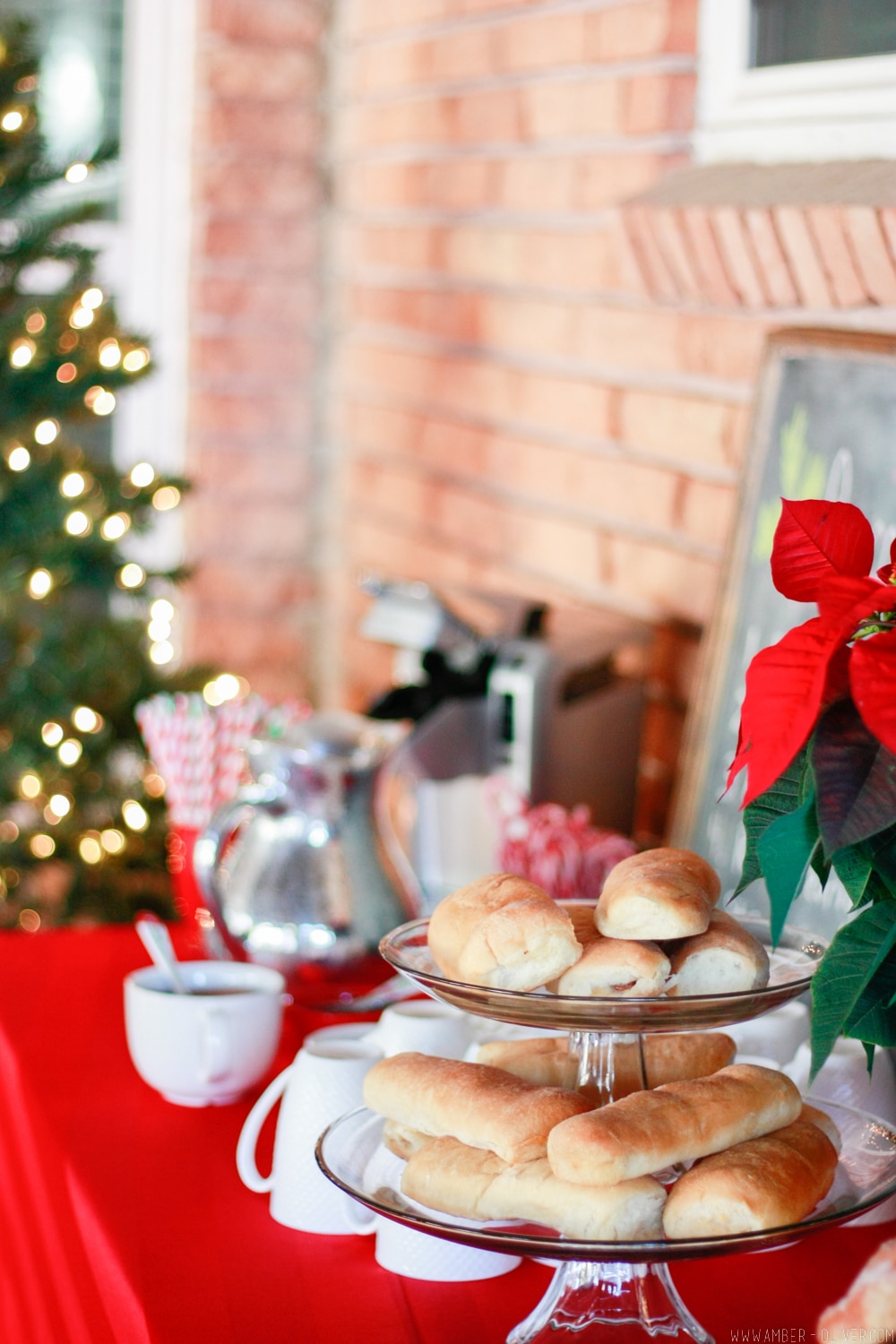 I was so excited to have a Christmas themed birthday party – two of my favorite holidays rolled into one! I received product for this post in exchange for an honest review. Please see my disclaimer page for more information. We got our party decor from Shindigz!
They have a huge selection of party supply items for pretty much any theme you can think of! Because we were on the back patio, the paper  party pack was perfect. Luckily we had no spills, and cleanup was easy! I found the cutest "Be Merry" confetti plates that were the base for all the decorating decisions.

The Hot Cocoa Bar was one of my favorite features of the party. We FINALLY got a cold snap the day of our party (the temp dropped from the 80s into the 50s!) so we had to have cocoa!
I setup the Keurig with hot water, had mugs and festive straws on hand, and had a variety of mix-ins (marshmallows, chocolate chips, and cinnamon). We all wore our tacky sweaters and sipped cocoa and of course a few cups of my Prosecco Punch!

Looking for Christmas themed cocktails? Try this Cranberry Christmas Spritzer!
Shindigz has a large selection of balloons (so many colors!) so we put together a red and green banner (simply string the balloons on a heavy string or cord). The "Merry Birthday" balloons made the perfect backdrop for photos!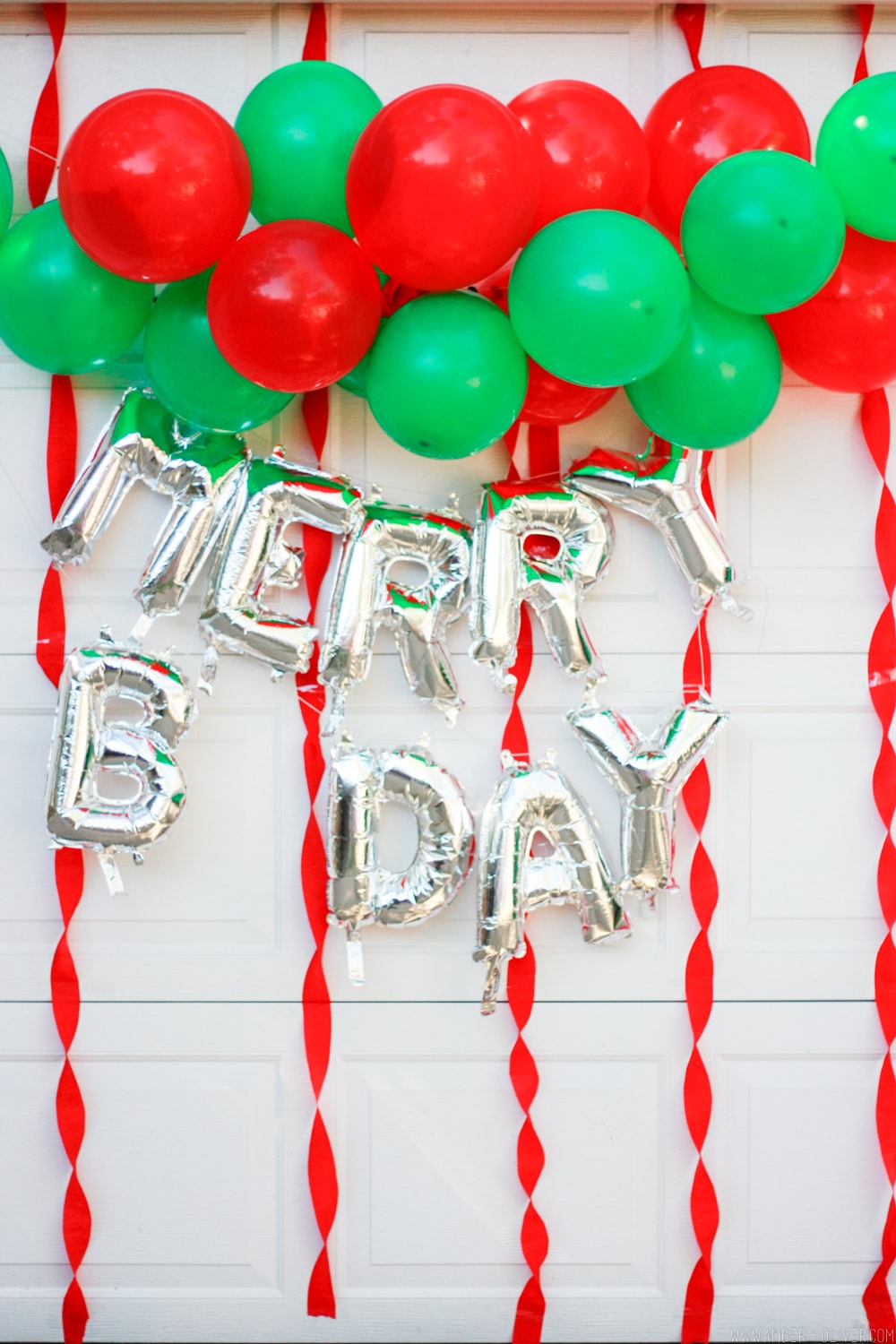 House of Hough is a speciality linen company here in Houston, Texas! They have a showroom and warehouse in The Heights and are just minutes from where I live. I was so excited to collaborate with them for my backyard birthday party!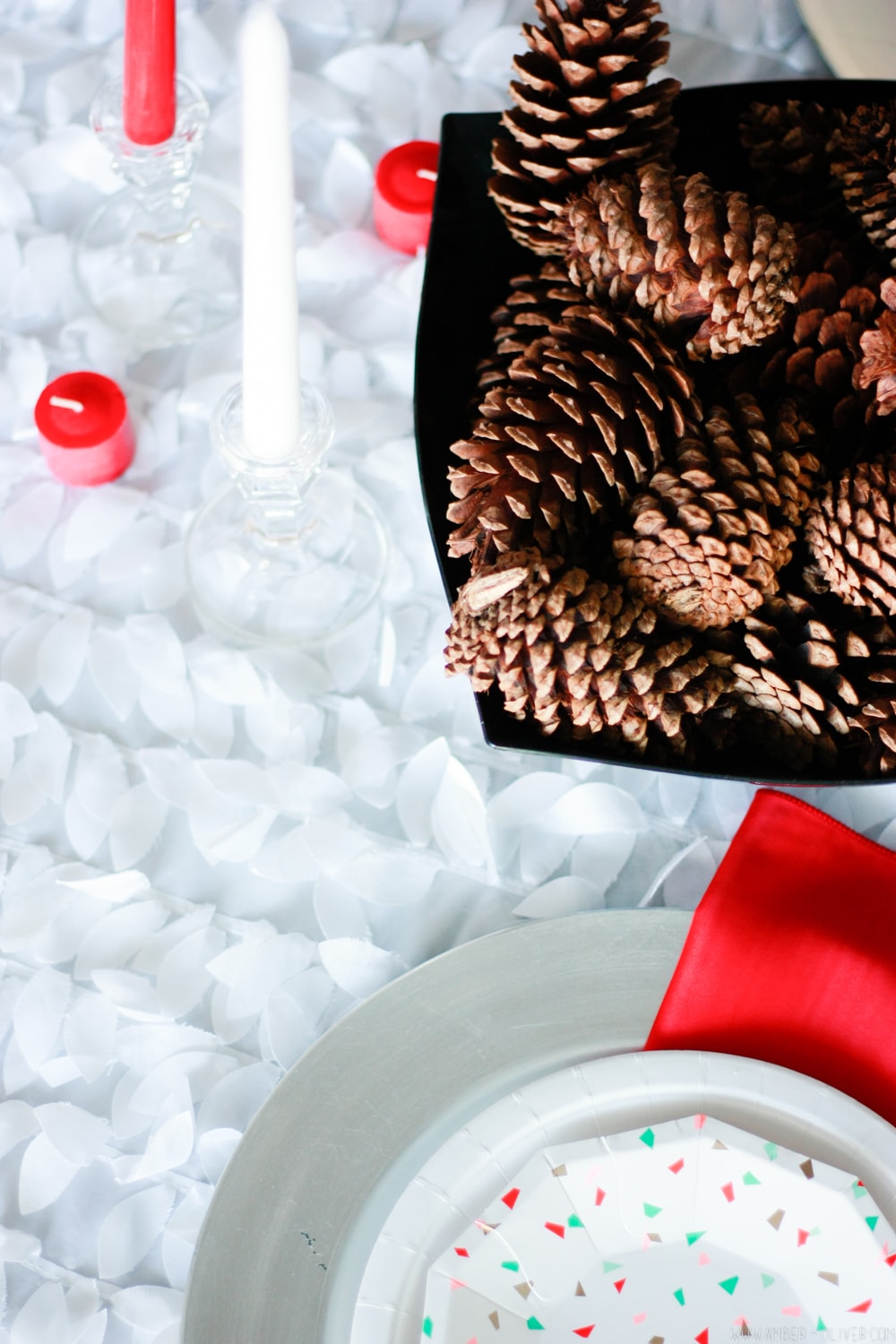 I was a little overwhelmed because they have SO. MANY. GORGEOUS. LINENS. Luckily, the ladies were super helpful and knowledgeable and we picked out some beautiful linens for my Christmas themed birthday party!
The fluffy white runner was my favorite but the red tablecloth on the patio totally transformed the space! If you're in Houston, you should check them out next time you need table linens – no matter how big or small the occasion! 
Shindigz offers customization options on so many items! I got "Merry Birthday, Amber!" put on lollipops and stickers! Where else can you get something that says "Merry Birthday" haha! 
Shindigz Supply List:
Be Merry Confetti Dessert Plates
Silver Megaloon Junior Balloons
Christmas Tree Print Rainbow Swirl Lollipop
Christmas Tree Print Personalized Sticker
Thank you to Shindigzand House of Hough for helping make my Christmas themed birthday party look amazing. A big thank you to all my friends and family who came out to celebrate. It was a memorable afternoon.