This past month has been really, REALLY busy! We bought our first house! We started looking over a year ago and watching the market. We first met with an agent in August of last year and got a plan in motion since our apartment lease ends June 2015. We came into the process prepared but were still surprised by a lot of things! This post is to share with you what I learned about buying (especially for a first time buyer) when you are looking "in the loop" in Houston.
If you aren't familiar with Houston, it's basically divided into 2 circles. "In the loop" is anything inside the 610 circle (the smallest circle around downtown). Without traffic you can get pretty much anywhere in about 15 minutes; double that during rush hour. Then there's the beltway (Highway 8) that makes a loop around 610. Anything outside of that takes at least 45 minutes to get downtown or anywhere central. Since I work downtown, I really wanted to stay somewhere close. We also have church, Junior League, friends, and other activities that all take place inside the loop. You can guess what that does to property prices. Below is a comparison of some of the options we found when looking for a home in the loop.
*House photos from Zillow.com
Midtown Townhouse:
I've been in Midtown for nearly 3 years. I actually really like living there. I walked to the train to get to work everyday. There are plenty of restaurants and bars within walking distance. It was the perfect meeting place for friends before going out and central for all the things going on in the city. When we started looking for a house we found that if we didn't want to be in an apartment but wanted to stay in Midtown, we'd have to purchase a townhouse. The problem in Midtown is we'd have to continue to walk the dog everyday because you can't get a big back yard down there. This is an example of what we found (we didn't consider it; WAY too expensive). It is really big though! 3 bed/4 bath 2,455 sqft for $449,900.

A cheaper option for a townhouse in Midtown lacked any style or exciting features. It was very basic and actually pretty small/cramped inside. 3 bed/2.5 bath, 1,330 sqft, and CARPET throughout. Look at that kitchen 🙁 $299,990

Townhouse in the Heights or Downtown
We looked at townhouses in the Heights and one Downtown. The problem with both was parking and green space. The one downtown we considered was in a "gated community". Sounds great, right? What that actually means (and what we found to be true in the Heights as well) is there's a gate around a group of 8 or so townhouses that are built with no space between them. It also means there is no parking for guests. We nixed the house downtown despite the location (proximity to work) and nice interior (it was very modern and only about 6 years old). The reasons being we didn't feel it was safe (deplorable conditions nearby), zero yard for the dog so we'd have to walk where we didn't feel safe, and there are no grocery stores nearby.
In the Heights we saw a couple of townhouses that look really cute in the pictures. This is why it's so important to go see the house yourself! When I walked in I could tell immediately this place wouldn't work. The dining table is in the living room (same as in the downtown townhouse) and it felt SUPER cramped. It felt like an apartment inside. There was a teeny tiny yard but the view over the back fence was PORT O POTTIES. Yes, seriously a storage yard for port o potties. That's the problem I found with the Heights. You can get some great homes (if you are OK with a townhouse) but you will have pretty much no yard, a tiny cramped street, and god knows what across the street from you. The house below (we actually looked at 2 in the same "gated-community") is 3 bed, 2.5 baths, 1,464 sqft and $309,900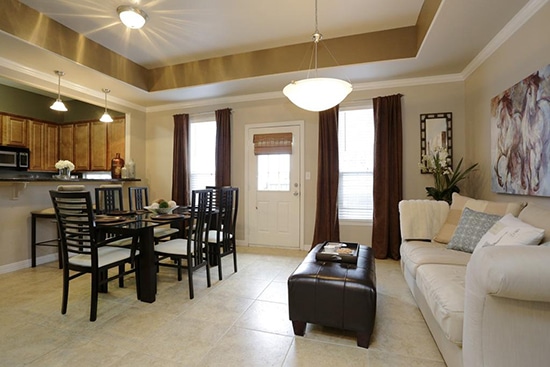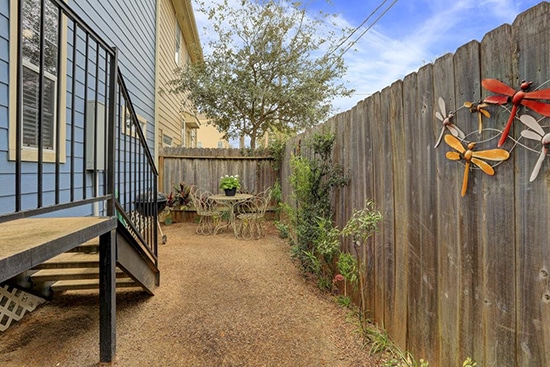 Single Story in the Heights
The last type of house we looked at was a single story, older home in the Heights. This is another example of how important it is to go look at the property. Pictures are definitely deceiving. I loved this cute little house when I saw it online! The porch was darling and I loved the look of the remodeling they'd done inside. When we actually went and saw it we were shocked. First, the back splash was actually a STICKER- it was not tile at all!! Next, the detached garage was decrepit and that's where the laundry hook ups were! So you'd have to carry your clothes in the Houston rain across the backyard. Lastly, the neighborhood was not appealing. The houses were very close together, had chain length fences so you could see all the trash piled up in the neighbors yards, and there were cars everywhere on the street since all the driveways were so narrow – and this was in the middle of the day! This house is 3 bedroom, 2 bath, and only 1,300 sqft. It's cute but not a quality home ($315,000).

We were so lucky to find the house we ended up purchasing. After seeing so many different types of homes (and having many go under contract before we could even view them) we were so excited when we found what ended up being ours. It is technically outside the loop (but only 1 block from 610!) so we are now "loop adjacent". It's in an older neighborhood so there are huge oak trees, wide streets, and it has a YARD! We thought that was impossible to find! Look forward to many new posts featuring our new home and fun DIY projects I have planned!
Follow me! INSTAGRAM | TWITTER | FACEBOOK | BLOGLOVIN