Add a new spin to an old technique and create easy tie dye wall art with these 3 creative shibori dye patterns!
Are you ready to get creative and add some pizzazz to your walls? Shibori tie-dyeing is the perfect way to add a burst of color to any room.
History of Shibori Dye
Shibori is an ancient Japanese dyeing technique that has been around since the 8th century. It is a Japanese term used to describe a number of different resist-dyeing techniques that involve folding, twisting, and compressing cloth to create unique patterns. Shibori tie-dyeing has become a popular art form in the crafting world and can be done in an infinite number of ways.
Shibori is often associated with the color blue because one of the most commonly used dyes in shibori is indigo, which produces a deep, rich shade of blue. Indigo is a natural dye that has been used for centuries in various cultures around the world. In Japan, indigo dyeing has a long history and was especially popular among the lower classes. During the 8th century, indigo dyeing became an important industry, and the emperor Shomu established regulations to control its production and use. Today, indigo is still a popular dye for shibori and other textile arts due to its rich, vibrant color and ability to create unique patterns. However, shibori can also be done with other natural or synthetic dyes, resulting in a wide range of colors and hues beyond blue.
How to Shibori Dye
To get started, you will need a few things: a shibori kit (with indigo dye), natural fibers (the best fabric to use is white cotton natural fabrics), rubber bands, plastic to protect your work surface, long rubber gloves, mild detergent, and any number of the following: elastic bands, wood blocks, cardboard, string, and binder clips. This is not your typical summer camp tie dye! The dark blue dye will look beautiful in your home!
The first step is to prepare your fabric. Wash it in warm water with mild detergent, rinse it in cool water, and squeeze out any excess water. Next, soak it in a solution of soda ash and warm water for about 20 minutes. Rinse it in cold water again and squeeze out any excess water. This part is optional but is supposed to help! (I skipped it!!)
Shibori Folding
Now comes the fun part – creating your shibori design. There are a number of different folding techniques you can use to create different patterns. Some of the major shibori techniques include kanoko shibori, kumo shibori, miura shibori, and nui shibori.
Kanoko shibori involves binding small sections of fabric with thread or rubber bands to create small circles. Kumo shibori involves pleating the fabric accordion-style and then binding it with string to create big circles. Miura shibori involves folding the fabric in a zigzag pattern and then binding it with string. Nui shibori involves stitching the fabric before dyeing it.
Another popular shibori technique is itajime shibori, which involves folding the fabric in a number of different ways and then clamping it between two pieces of wood or other small objects to create thin lines or larger shapes. The pole-wrapping technique involves wrapping the fabric around a pole and then compressing it with string to create stripes or other patterns.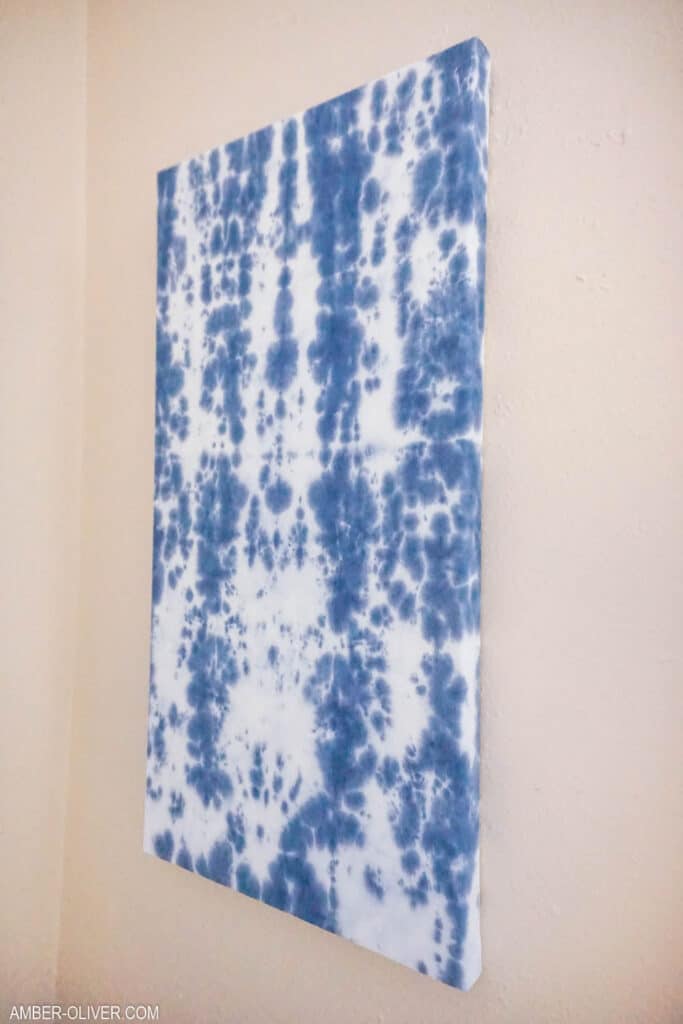 Dying Shibori
Once you have created your shibori piece, it is time to dye it. Prepare your dye bath according to the instructions on your indigo kit. Make sure you wear long rubber gloves to protect your hands from the dye. Dip your fabric into the dye bath, making sure it is completely submerged. Leave it in the dye bath for about 10-15 minutes, or until it reaches the desired color. Alternatively, you can use a bottle like I did, and just squeeze the dye onto the fabric.
Remove the fabric from the dye bath and rinse it in cool water until the excess dye is removed. Squeeze out any excess water and hang your piece up to dry. You can also use your washer and dryer, but some people may be apprehensive to do so. You will notice that there are white spots where the fabric was bound or compressed, which adds to the overall effect of the shibori pattern.
Easy Tie Dye Wall Art
The end result is a beautiful piece of art that can be hung on your walls or used in a number of different ways. You can experiment with different patterns and colors to create a variety of different results. Shibori tie-dyeing is a fun and easy way to add a pop of color to your home decor.
Shibori Dye Patterns
For this shibori pattern, I used string and card board in the shape of a rectangle. Fold the fabric so it will fit between two pieces of cardboard then wrap tightly!
This pattern also uses cardboard, just in a triangle shape. This one is my favorite! Wrap tightly and fold accordion style to recreate this design.
This simple shibori pattern doesn't need any folding. Simply wrap rubber bands! I'd love to create this one on a white tea towel!
This one didn't turn out as planned but looks cute nonetheless! I think it would need to be tighter to create the circle designs.
Easy Shibori Tie Dye Wall Art
Take a new spin on an old DIY project and learn how to make easy shibori tie dye wall art!
Tools
Instructions
To make this project as simple as possible, I used this Shibori dye kit!
Prepare your fabric before you mix up your dyes.
Start by filling the dye bottle to the fill line.
Shake until the dye is completely dissolved.
Working on a covered workspace, add dye to your folded pieces.
After you've added the dye to your fabric, follow the included instructions for care. The dye I used had me wash them immediately. If you need to wait, use a disposable bin to set them in.
Once the fabric is dyed and dried, IRON IT! This will make all the difference for your canvas.
Use a stapler to attach the fabric taut on the canvas.
Fold your corners neatly for a beautiful finished look!
In conclusion, shibori tie-dyeing is a fascinating and rewarding art form that can bring a unique touch to your home decor. Even if you're a beginner, with a bit of creativity, patience, and some basic materials, you can create beautiful and personalized pieces of art that will add color and texture to any room. So why not give shibori tie-dyeing a try? Who knows, it might just become your new favorite hobby!