We have 30+ free printable Thanksgiving cards that are a great way to share greetings this holiday season!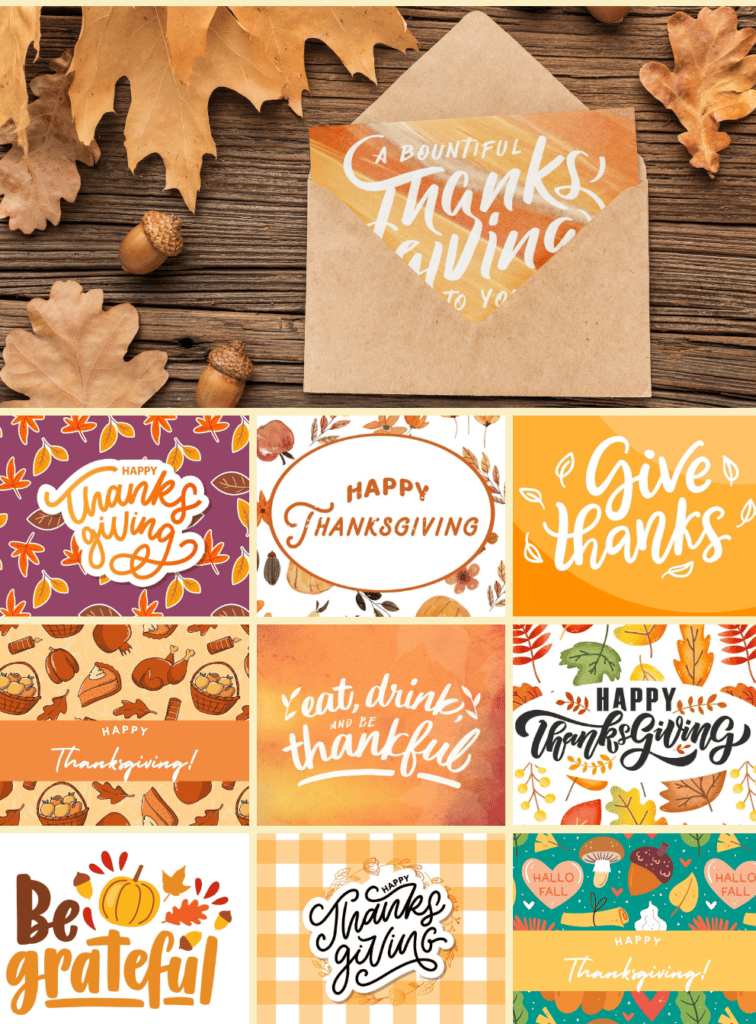 Printable Thanksgiving Cards
While you could easily send an online greeting card, I've always found HANDMADE cards to be such a sweet way to show a family member or friend that you love them and are thinking of them. We've all had a difficult time these past few years, and hopefully you are able to connect with your loved ones in person this year.
If there are still people you want to connect with but won't see in person, I suggest making your own thanksgiving card to send! My printable cards are available FREE for our subscribers for personal use. These are the perfect way to stay connected, even if they aren't joining you for thanksgiving dinner on thanksgiving day!
In 2020 I actually spent Thanksgiving alone. We were deep into the pandemic then and I was trying to be as careful as I could not to get sick. Of course, I didn't want to be the reason anyone else was sick either! By that point, our family had been separated for more than 10 months.
We were in the process of moving abroad when the pandemic hit. Immigration restrictions left us stranded – on two different continents! Our house was leased since we were planning to be gone for a few years. What's worse than filling out the census as homeless? Googling "thanksgiving dinner for one"!
One of the best things that happened during that time was all the snail mail and holiday cards I received. Friends and family did their best to make sure I didn't get too lonely and I got lots of lovely special deliveries! Cookies and flowers were my favorites, but Christmas cards and Thanksgiving greeting card deliveries were a close second!
Last year, our family was reunited so no more lonely holidays! We were back to our family schedules of swapping visits and of course our annual friendsgiving dinner! These printable cards will be great as a thanksgiving invitation, friendsgiving card, or any other way to say "happy thanksgiving"!
I have more than 10 different cards to offer! I had a great time designing these and feel so happy to share! You can download and print these thanksgiving printables in minutes on your home printer. Don't have a printer at home? Send to your local print shop and get professional looking cards for a few bucks!
If you're looking for thanksgiving crafts, I've got a fantastic post for you. You'll find 12 Gorgeous DIY Thanksgiving Decor Ideas to get your home ready to host
In the download, you'll see the thanksgiving card template as a PDF file. You can scroll through and see all the different designs and choose the one you like. Many include a single design that's made to fold so the inside is blank.
Personalized Thanksgiving Cards
I've also included a few inside inscriptions on these free printables. For those you'll have to do a double sided print to get the words on the inside of the card. Always do a black and white print on regular printer paper as a test run!
Most of these designs have blank insides. That makes it super easy to send a personalized thanksgiving card! For those, I've included a blank page that you can add your own text to before printing out. Of course a handwritten note is even more special.
Handmade Thanksgiving Cards
These free printables include 35 card fronts in both horizontal and vertical orientations. There are also 7 "collections" within the download. You can choose from the different card styles whichever is your prefered colors and designs. I have tons of designs inspired by the thanksgiving season. May are in classic Autumn colors like orange, red, and yellow with fall leaves, pumpkins, and acorns.
I have two sets with colors and text only – no designs. One is a set of watercolor designs with shades of orange and yellow. The other is more modern with swirls and stripes – also in gorgeous shades of orange. There's one set that has bold typography and cute thanksgiving illustrations. These include quotes like:
Happy Thanksgiving
Be grateful
Give thanks
Eat, drink, and be thankful!
My favorite set has a variety of Thanksgiving illustrations and uses a few unconventional colors. There are plenty of pumpkins and and acorns but a few unexpected designs as well. I love the pink card with pumpkin pie illustrations, and the teal card with pink hearts that say "LOVE FALL". Any of these would be an adorable "thankful card" to send this holiday.
These cards are all designed to be printed as 5×7 cards. The easiest way to do this is to print directly on 5×7 paper! Using a heavier cardstock is what makes the difference in this looking like a professional card. If you don't have the smaller paper, you can always print on the larger sheet and then cut off the excess.
If you have one of these old school guillotine trimmers, they make cutting cards fast and easy! You can slice several cards at once! You can also just use a craft paper trimmer. I have several of these and love that they not only cut, but most have a scoring blade as well.
Shop Supplies for Printable Thanksgiving Cards

So with these, you'd first cut the excess paper from your card. Then you'd swap the blade to the scoring one, and add a score line to the middle of your card. Now you can make a quick clean fold right in the middle for a perfect Thanksgiving card!
If you're looking for free thanksgiving decor, you could also use any of these free cards to frame and add a colorful touch to your mantel or bookshelf! The backside of these cards could also be used as cute thanksgiving place cards – just add names! Looking for more options? Check out these printable place cards from DIY Beautify!
I hope this post inspires you to send your own printable Thanksgiving Cards this year! If you use one of my more than 35 free printables – please let me know! I'd love to hear from you!
Don't forget to PIN for later!