We created a rainbow wall with Wall Control pegboard to make our garage tool organization both beautiful and functional in our organized garage!
My tagline for this blog is "bringing color and creativity wherever I land" – and this is actually something I try to live by. Why not surround yourself with beauty? I spend a lot of time in our garage working on projects but I absolutely hated the place. It's unfinished so the brown (and half painted) walls bugged me and it always felt dirty. You may be thinking, "It's a garage, it's not supposed to be clean and pretty!" but I challenge that! Why can't it be both beautiful and functional? Commence operation: organized garage!
The first step in our garage workshop renovation was cleaning. I took down all the tools and went through everything. I got rid of broken, seldom used, or junk items. I then went through the tools and things and put like items together. The garage honestly looked worse than when we started! But it was about to be so worth it.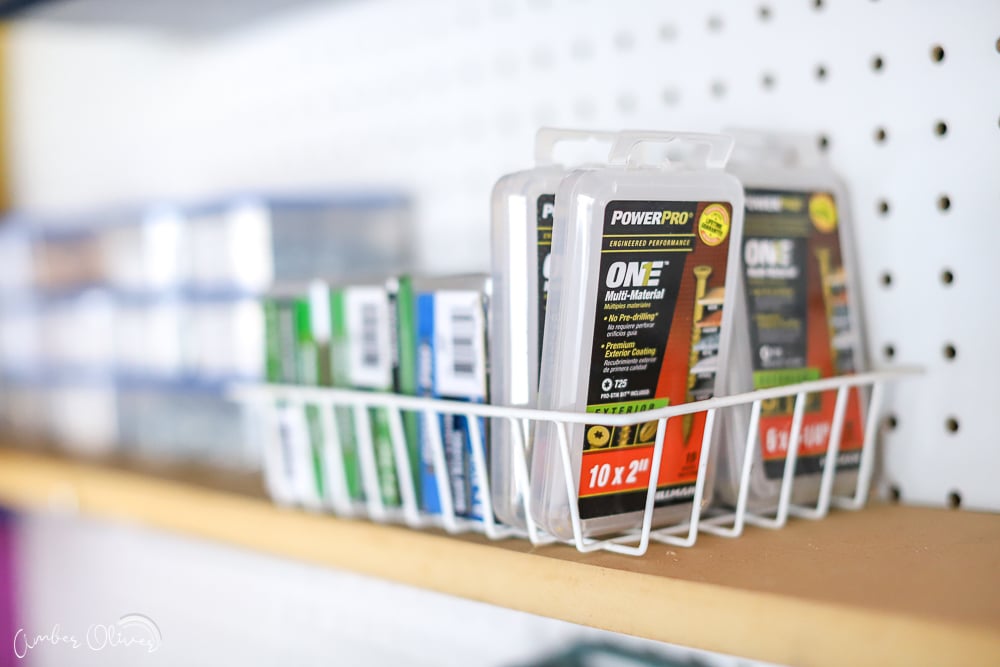 The old pegboard panels we used for our garage tool organization were functional, but we weren't fully utilizing them. I decided to add Wall Control pegboards all the way to the ceiling to expand our useable storage area. I moved the old pegboard sheet to the the other wall to expand the storage there as well. It not only looks better, but is actually a more useful part of the newly organized garage!
Wall Control Pegboards
Wall Control pegboards are available in both horizontal and vertical orientations. I knew I wanted to do colorful stripes, so I chose the horizontal peg boards. From here you choose between 8 inch or 16 inch heights. In order to add more COLOR, I went with the 8 inch ones! Then I had 12 colors to choose from. I chose White, Pink, Red, Orange, Yellow, Blue, and Purple. All the panels are 32 inches long.
Our exposed garage studs made it easy to find where to attach and screw in, but in some places the holes didn't line up to a stud. If you have dry wall, you simple anchor in but we had to add a couple extra vertical boards so we had a good place to mount. We added a few pocket holes to 2x4s and put them on the wall – easy peasy.
Wall Control pegboards are easy to install because everything you need is included. (screws AND anchors!) Because we were using these in the garage, I wanted something more durable than plastic or the old masonite peg panels. Not only do Wall Control pegboards look good, they are superior in durability, strength, and versatility. Now, who said garage tool organization can't be functional and pretty!?
After putting up our rainbow pegboard wall, I moved the workbench and everything back into place. To expand our plug options and make easier to access, I also installed a new power strip on the side of the work bench. It has plenty of plugs for tools and has several USB ports as well. Great for charging my phone or camera! I also mounted our Ryobi super charger here so we have a central "power station!"
The last big component of our organized garage was installing a new Rockler Dust Collector to keep the place dust free. After installing a Rockler Dust Collector to help with garage dust control, I can pop out and work on a project without getting messy. This is a game changer!
Garage Tool Organization
With everything installed, I was finally able to put all my tools back in place. The most frequently used hand tools went directly on the Wall Control pegboards so they were in easy reach. I also used hooks to put lesser used items up higher (if I can see them, my ADHD brain won't forget about them!)
I added shelves with plastic bins to organize the loose items like glues, our Dremel and it's accessories, etc. Bench top tools are easy to access under the work bench. Plus, they're now a breeze to attach to our new Dust Collector when it's time to use them.
An Organized Garage
Be sure to check out our YouTube video for this project: DIY Garage Makeover: 🌈 Wall Control Pegboard & Rockler Dust Collection ✨
This video shows you the full process of installing these Wall Control pegboards as well as all the other steps we took to get to an organized garage!