Bring in vibrant and playful holiday vibes with a pink and orange Christmas tree decorated with real DIY dried orange slices!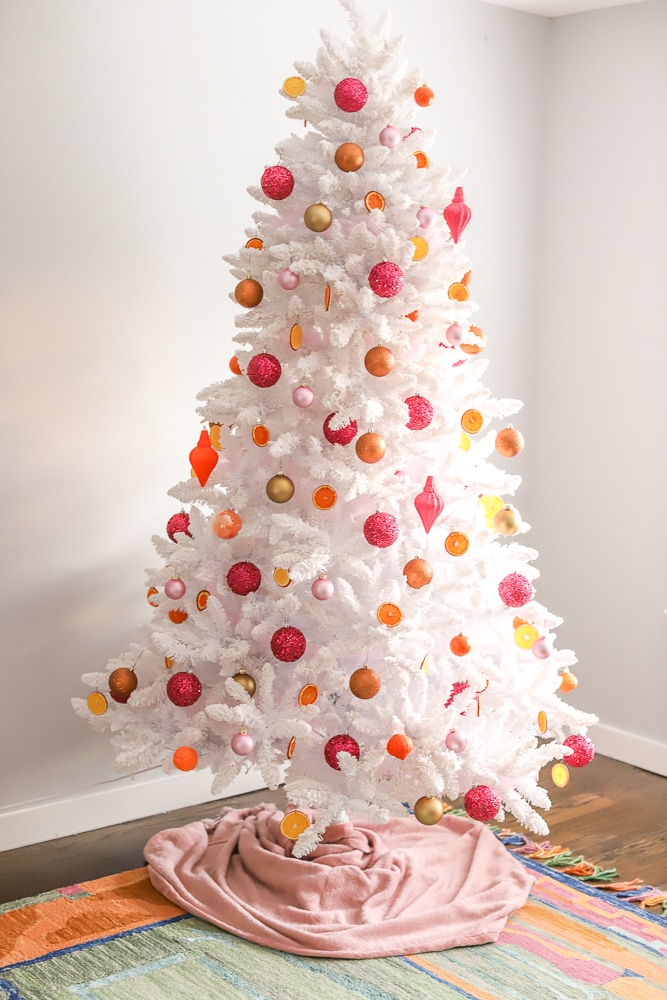 Since moving back into our home about 3 months ago, things have been in utter disarray. If you're new here – we were in the process of moving to China when the pandemic hit and left my husband and I stranded on two different continents for 18 MONTHS. We are still waiting for living room furniture and the bathroom (and by default the rest of the house) has been a mess during the One Room Challenge. When I was invited to the My Home Style Blog Hop Christmas Tree Edition by Stephanie at Casa Watkins Living I had NO IDEA we'd still be knee deep in chaos over here. (If you're visiting here from Two Twenty One – welcome to the party!)
Despite the mess, I was SUPER PUMPED to decorate this year and now at least one little corner of our home looks festive! I've been dying to get a white christmas tree and finally convinced Eric to get a flocked tree as a compromise. But once he saw this gorgeous white tree at At Home he CHANGED HIS MIND! We brought this beauty home and I couldn't wait to put some colorful and fun decorations on!
I absolutely loved my Rainbow Christmas Tree and would have brought it back, but wanted to try something new this year! My favorite color has always been pink and I've always loved a pink and orange color combo. When a friend casually mentioned putting oranges on the tree I don't think she thought I would seriously do it – but here we are! I dried orange slices and that became the star of this pink and orange Christmas Tree!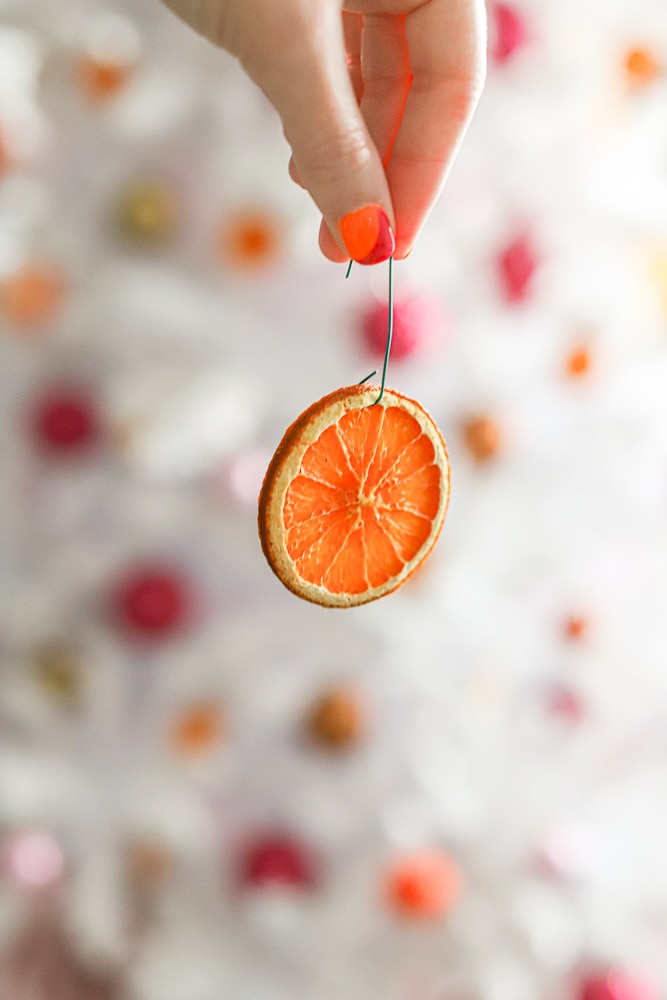 Pink and Orange Christmas Tree
Your next stop for more Christmas tree inspiration is at Zig and Company! Thanks for stopping by!

Monday
Casa Watkins Living // Up To Date Interiors // Mocha Girl Place // Kate Decorates // House of Hipsters // Monica Wants It
Tuesday
The Happy Housie // SKG Designs // Delineate Your Dwelling // Cuckoo 4 Design // Room Bloom Design // My Sweet Savannah
Wednesday
Iris Nacole // PMQ For Two // Stacies Spaces // Rebecca Propes // Liz Morrow Studios
Thursday
Au Petite Salon // Taryn Whiteaker Designs // The Honeycomb Home // Daly Digs // T Moore Home // Love Your Abode
Friday
Haneens Haven // Our Fifth House // Seeking Lavender Lane // Amber Oliver // Zig and Company