Like many Texans, we were disastrously affected by the 2021 Texas freeze and resulting power crisis. Hopefully you never have to deal with this, but I hope by sharing our story you'll gain some perspective about how real people were affected and learn what all is involved if your home has burst pipes like ours.
Our house is currently leased as we were set to be out of the country for 2 years. Because of the pandemic, I'm still in the US but in temporary housing. The condo I'm staying in was ALL electric, so when I woke up Monday morning (the power went out Sunday night) it was already pretty chilly. No heat, so it was about 61 degrees – not too bad but chilly. By that afternoon is was down to 48 inside so I stayed bundled in bed and tried to read and conserve my phone battery. When we got word the power was expected to be out several days I started thinking of contingency plans. The thought of staying all night alone in the dark, freezing, condo was not appealing. Plus, I had no way to cook! And no hot water, so I couldn't shower!
It took me about half an hour to free myself from the prison created by an electric garage door in a power crisis, but was eventually able to incredible hulk my way out of the garage. I drove slowly and carefully the 4 or so miles to my friend's house (the same friends I lived with for 5 months this summer! They are the BEST!) They also didn't have power, but had a gas stove and water heater so we were able to eat, play games by candlelight, and take quick showers. The water pressure was already really low on Monday night.
That night was miserable. I'm so glad I was with friends instead of alone (my buddy Macy the doggo slept upstairs with me) but we were all freezing. When the temperature inside the house is in the 30s and 40s you're cold even when you're piled with blankets.
The next afternoon we got word that a friend of a friend had power! We packed up and spent Tuesday night with them. Right after we arrived, the water pressure finally went out completely – so we no longer had running water. Our understanding was that between all the houses in Houston dripping their taps, and power loss at several water plants caused the water outage. The city didn't get water restored for 3 days. Luckily the house we were at had a pool so we were able to use buckets to flush the toilets. It was NOT fun, but we were thankful we had power.
Power was restored at my friends place on Wednesday so we were able to go back to their home then. My Condo still didn't have water or power, so I stayed with my friends another night. Since we finally had power, we had a LOTR marathon and tried to relax.
Thursday morning I got a call from our renters – a pipe burst and water was pouring through out ceiling. They were able to get the water shut off at the main but the damage was done. The renters had found somewhere to stay Monday-Thursday so no one was in the house when the pipe burst. I'd checked each day and there was no damage, so we think it wasn't until water was restored in the city that the damage started. In hindsight, we should have shut off the main water to the house before they left, but we thought the dripping pipes were sufficient – no one tells you to shut the water to the house off. The resulting damage has turned into a more than 7 week ordeal – and it's still not done.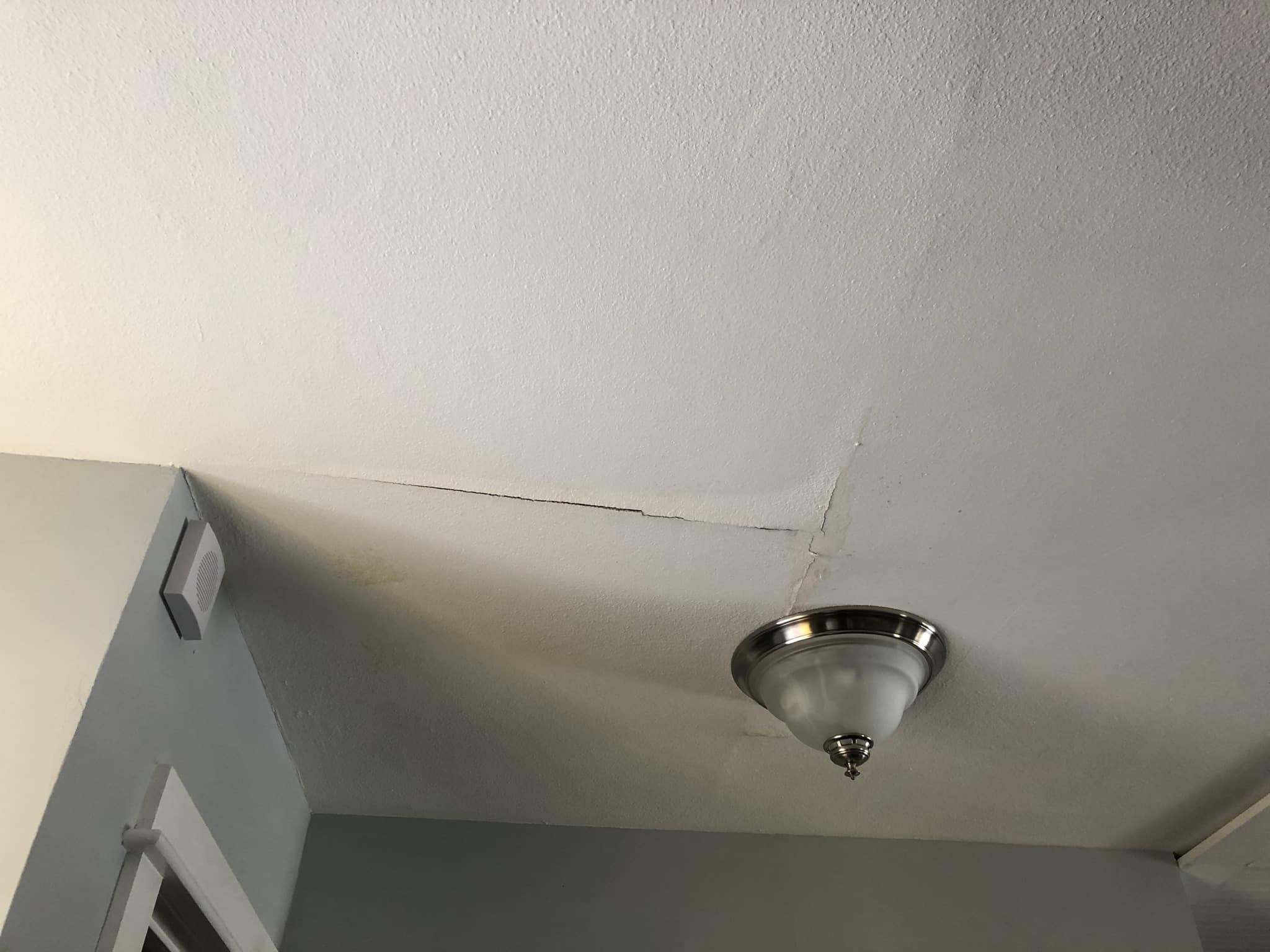 Because so many people in houston were affected by the Texas Freeze – our house didn't get water restored for 33 days. Our renters had to find other accommodations. A perfect example of why it's SO important to have RENTERS INSURANCE! Our Rental Property Insurance only covers the dwelling – not the renters belongings or their temporary housing.
What to do if a water pipe bursts in your home
Shut off the water main.
Unplug anything electrical.
Clean up as much water as you can. Use buckets or trashcans to catch any remaining drips.
Call a plumber.
Take as many pictures as possible.
Salvage anything you can.
Call your insurance and open a claim.
Call a water remediation company. Dry as much as you as quickly as you can.
Schedule your rebuild.
Because we had so many burst pipes, our insurance approved our pipe replacement. So we had all the galvanized pipes in the attic replaced with PEX pipes. PEX doesn't corrode and will expand if it freezes – so hopefully we never have to deal with this again! The new pipes were installed in a day and a half and were also wrapped in insulation for added protection in future freezes. The price to repipe our 1400 square foot, 2 bathroom home was $5,500.
Because it was already back in the 70s and 80s after the freeze, we feared mold. We had to use a water mitigation company to completely dry out the house and get rid of the resulting mold. The water remediation cost around $5000.
Once water was restored, we found out our sprinkler system was also damaged. The pressure vacuum breaker had to be replaced as well as one pipe had to be repaired. The sprinkler damage cost $434.
Our insurance had an adjuster out to our home within a week to assess the water damage and to price the replacement. The price to repair the floors, wall, ceiling, etc. was $6,041.88
After water was restored and the renters were able to move back in (though the house was still torn apart as we had to wait for the rebuild) a problem was found with the electrical. Because the old metal pipes were previously used to ground the electrical in the ceiling we were left with a dangerous mess. Power had to be shut off for safety as there were actual sparks in the attic! After all this, the darn place could have burned now!! The price quoted to fix/replace electrical was $19,000.
The cost for all our repairs due to the water damage from the Texas freeze is already over $35,000 and we aren't even done!