Learn how to make rainbow flower shaped DIY stepping stones!
One of my favorite things about our home is how much COLOR we've managed to fill it with! With this project we bring some of that color to our backyard as well! After we painted our patio, I wanted to add some more color to the garden.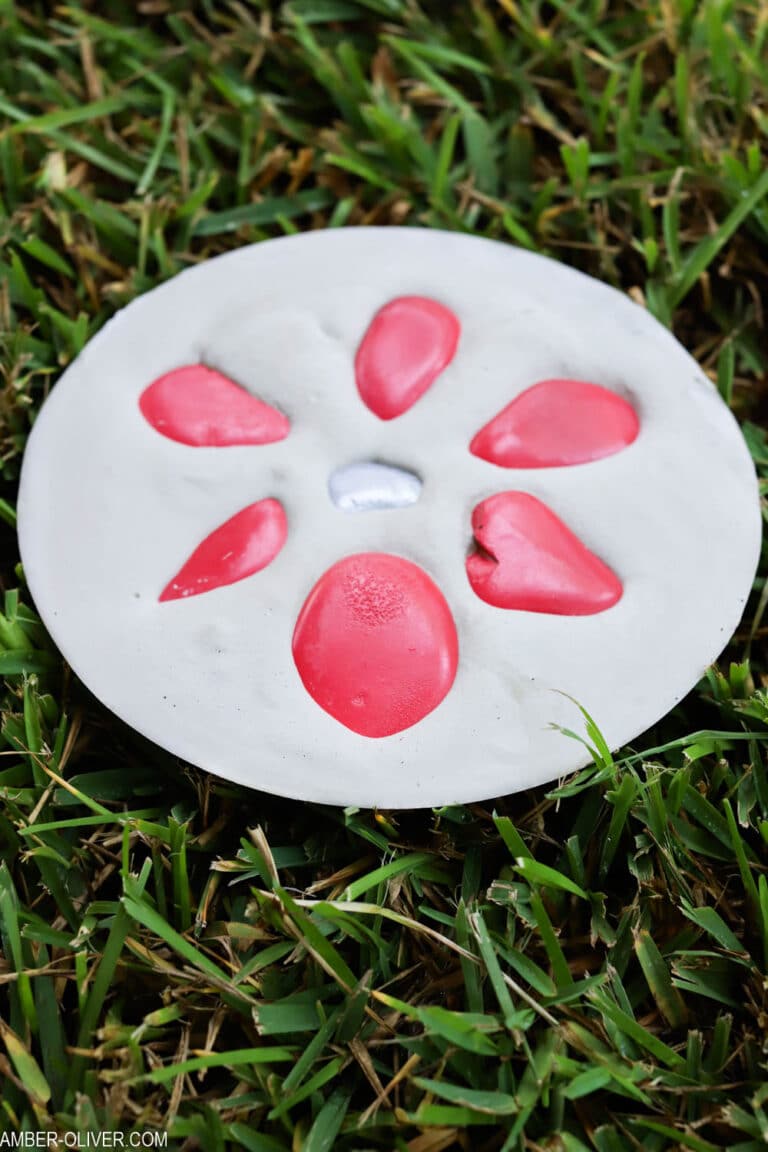 I created this colorful walkway in one afternoon! The concrete sets up really fast so once you have your rocks painted, you simply pour the concrete and place your stones!
I created a fun flower design, but you can do whatever design you like! Maybe do your family initials or spell out your name over several stones (as long as your last name isn't too long!!)
I found these pie tins at the Dollar Tree so they were cheap for this project! I first considered the disposable ones but they didn't have a smooth bottom – so these worked better!
I created these DIY stepping stones to be purely decorative. If you'd like to actually walk on them, you'll want to use a thicker pie tin and add in some reinforcement to the concrete so they won't break!
You can use whatever paint you'd like for this project, but I recommend not using cheap spray paint. If you want the color to last, make sure you use a quality spray paint! Go crazy with your colors! I love these rainbow shades of COLORSHOT!
Yield: 1 Stepping Stone
DIY Stepping Stones
Learn how to make rainbow flower shaped DIY stepping stones!
Instructions
Start by laying out your rocks. Seperate into groups of 5-6.
Next, spray paint each of your flower "petals" in different colors depending on how many stones you want!
Also, paint your flower middles - I used silver!
Now, grease the pie tins with petroleum jelly. This will make it easy to get them out later!
Mix up your concrete according to the package directions.
Use a disposable cup to scoop up some of the concrete.
Quickly spread the concrete into the pie tin.
Press the stones into the concrete to form the shape of a flower.
Let the stones cure completely, then remove from the pie tins. You may need to gently sand the edges.
I've linked to everything you need to re-create this project! Be sure to drop a comment if you have any questions!